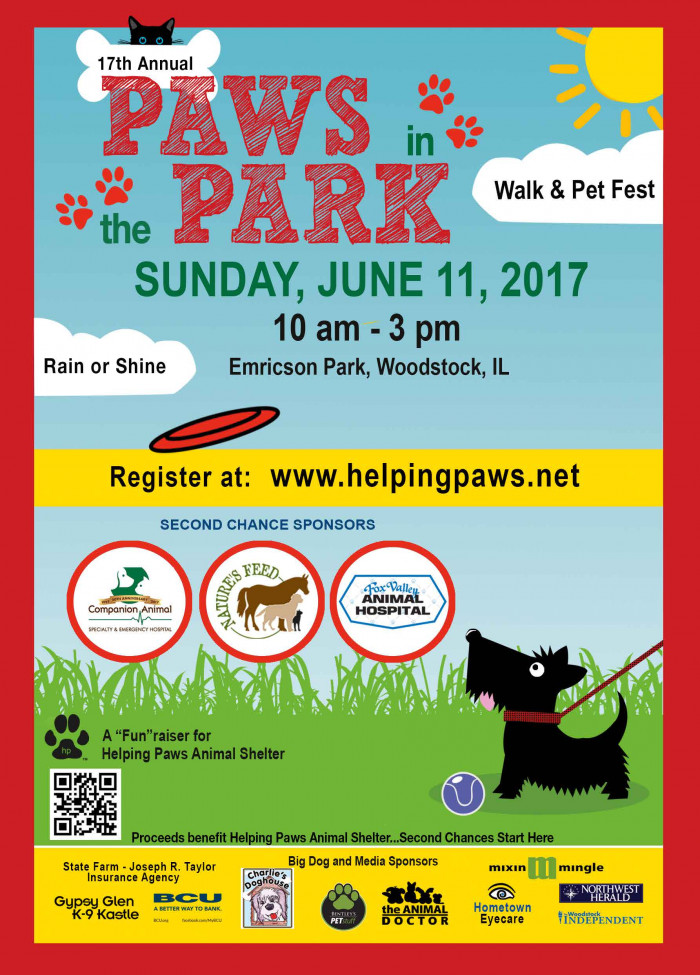 Paws in the Park Walk & Pet Fest is ready to paw-ty! This dog- and family-friendly event is one of Helping Paws' biggest fundraisers and lots of fun for the whole family.
Enjoy a walk around the nature path at Emricson Park in Woodstock with your friends, family and canines. After the walk, spend the rest of the day at the Pet Fest enjoying contests and games (for dogs and humans), a K-9 demonstration, get pics taken at our photo booth, play in the doggy pools, get your pets blessed, shop with vendors, raffles and more! There will also be food and beverages available for purchase from Rosati's Pizza and Scoops Dairy and Dogs of Woodstock! And, of course, meet some of our adorable shelter dogs that are available for adoption.
In addition to a fun day in the park, the funds raised will help the hundreds of animals at Helping Paws throughout the coming year. If you're not able to attend the event, you can still support the animals by becoming a "virtual walker" or make a donation. We could not do this work without our compassionate supporters like YOU!
So join us for a fun day and help us meet our goal of raising more than $25,000 to save the animals at Helping Paws!
Entry Fees
$35   Registration (Use promo code PAWTY if registered by May 26 and save $5)
$10   Additional dogs 
$40   Virtual Walker (t-shirt and goody bag sent via USPS)
$40   Event Day Registration
NOTE: All participants who register by May 31 are guaranteed a t-shirt in their size. Those registering after will receive a t-shirt while supplies last.
Team Up to Help the Animals!
There is definitely strength in numbers and it's always more fun too! Teams walking together bring energy and enthusiasm to the event. Anyone can build a team, or "pack" as they are known in the dog world. Just gather two or more people, including family, friends, co-workers, neighbors, etc. It's a great way to have fun and make a difference in the lives of homeless pets!
Benefits of creating/belonging to a "pack" include:
Complimentary team photo taken by professional photographer. Show your team spirit by creating and wearing team shirts, fun hats or more with your team or business logo.
Create a personalized flag to carry during the walk/event.
Chance to be recognized as "Top Pack" and win a special prize (based on donations collected).
Recognition on the Helping Paws website (for Top Pack winner) after event.
So, get your family, friends and more to come out to the Paws in the Park Walk & Pet Fest and show your support for the animals! Your "pack" or team can help raise awareness about adopting from a shelter and also raise pledges/donations to help take care of the animals at Helping Paws Animal Shelter.
Fundraising
Help us to raise even more by creating your own fundraising page when you register!
Helping Paws Animal Shelter operates on a limited budget based entirely on donations and fundraising events. With this in mind, participants are asked to obtain pledges (donations) to make a greater impact in helping the shelter take care of the animals until they find their forever homes. All of the proceeds raised go towards the housing, feeding and medical care of all the dogs and cats at our shelter. It also helps fund our "rescue program" to save adoptable dogs from kill shelters and bring them to a safe refuge at Helping Paws. 
NEW THIS YEAR!
Big Dog Lock In
Run with the big dogs (and cats) and WIN the first ever Helping Paws Animal Shelter Big Dog Lock In! The top fundraising team will be able to bring up to 15 friends to the shelter after hours and enjoy pizza, drinks and several hours hanging out with our beloved puppies and kittens.
Go to www.helpingpaws.net to download the Big Dog Lock In pledge form or create a team online. Additional information located under the EVENTS AND NEWS tab (details after April 27).
(Must raise a minimum of $500 to be eligible.)
Helping Paws Animal Shelter is a 501 (c)(3) organization.
All donations are tax-deductible to the extent of the law. Federal I.D. #23-7177946. Tax Exempt #E9983-2267-05
.