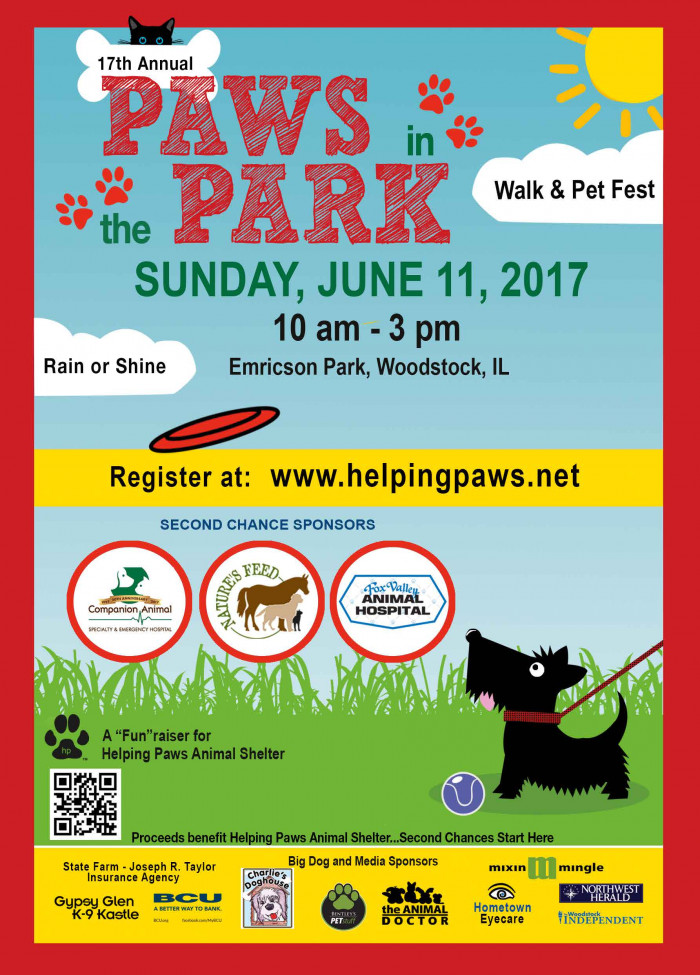 Paws in the Park Walk & Pet Fest is ready to paw-ty! This dog- and family-friendly event is one of Helping Paws' biggest fundraisers and lots of fun for the whole family!
Enjoy a walk around the nature path at Emricson Park in Woodstock with your friends, family and canines. After the walk, spend the rest of the day at the Pet Fest!
There will also be food and beverages available for purchase from Rosati's Pizza of Woodstock! And, of course, meet some of our adorable shelter dogs that are available for adoption.
In addition to a fun day in the park, the funds raised will help the hundreds of animals at Helping Paws throughout the coming year. If you're not able to attend the event, you can still support the animals by becoming a "virtual walker" or make a general donation. We could not do this work without our compassionate supporters like YOU!
So join us for a fun day and help us meet our goal of raising more than $25,000 to save the animals at Helping Paws!
Entry Fees
$35   Registration (Use promo code FREEDOM by May 30 and save $5)
$10   Additional dogs 
$10   Extra event t-shirts (through May 30)
$40   Virtual Walker (t-shirt and goody bag sent via USPS)
$40   Event Day Registration
NOTE: All participants who register by May 31 are guaranteed a t-shirt in their size. Those registering after will receive a t-shirt while supplies last.
Fundraising
This is your opportunity to show some love to homeless pets and change their lives for the better. We are looking for some Big Dogs to help us raise much needed funds to take care of the many homeless animals at our shelter. Our fundraising goal for this year is $25,000 but we know we can get there with your help!  
What can $5 or $10 Do for a Homeless Pet? A LOT!
Are you passionate about helping homeless pets, but unsure how to go about asking people to sponsor your efforts? You are not alone, but the more you do it, the more comfortable you'll get. 

Here's the best part: Anyone in your life who loves animals, will appreciate this opportunity to help! You can be a successful fundraiser for homeless pets by asking people you know to support what you believe in. Just a little bit of money from a handful of people can really add up! 
Ask each of your friends or family members for $5 or $10 each and very quickly you become a powerful fundraiser for the animals. You can set up your fundraising page online or download pledge forms on our website.
NEW THIS YEAR!
Big Dog Lock In
Run with the big dogs (and cats) and WIN the first ever Helping Paws Animal Shelter Big Dog Lock In! Geared towards young people, ages 7 to 13, this would be a perfect way to get younger fundraisers involved, such as Scout troops, school clubs, home school groups or even just family members. The individual or team who raises the most overall (minimum of $500) will be able to bring up to 15 friends to the shelter after hours and enjoy pizza, drinks and several hours hanging out with our beloved puppies and kittens. For more details and to download a paper pledge form, go to the Paws in the Park page on our website.
(NOTE: Top fundraiser must raise a minimum of $500.)
Helping Paws Animal Shelter is a 501 (c)(3) organization.
All donations are tax-deductible to the extent of the law. Federal I.D. #23-7177946. Tax Exempt #E9983-2267-05
.