4th Annual Black Tie Tour - June 25, 2017

Riders For A Cause
Riders For A Cause (Local Riders, Cancer Fighters) and the Black Tie Tour were formed out of a desire to help local families impacted by cancer. Founded by friends with a desire to make an impact in honor and in memory of loved ones fighting cancer, Riders for a Cause is an all-volunteer 501(c)3 non-profit organization. 
The Black Tie Tour is dedicated to cancer fighters and their families! 2017 Primary proceeds will benefit The Capital Health Center for Oncology at Capital Health Medical Center - Hopewell.  Additionally, we screen local cancer patients to help assist with medical costs involving their treatments.
Our efforts for 2016 raised approximately $100,000.  Of this $56,540 went to Capital Health Center for Oncology, with $15,000 going to various memorial contributions supporting cancer research and $8,000 helping local families.
Please help us by "Uplifting Hopes Using Our Spokes" to find a cure for cancer one mile at a time.
***************Scheduled Fund Raising Events*************
SEBO's Spin Party Feb 2017 @ RWJ, helping raise money cancer research money for Riders for a Cause
Dinner Gala 2016 helping to raise cancer research money for Riders for Cause

Meet some of our cyclist

Meet some of our Volunteers that make this all possible

"Designated Bar Tender" night at Amalfi's, Pennington, NJ helping Riders for a Cause raise cancer awareness and contributions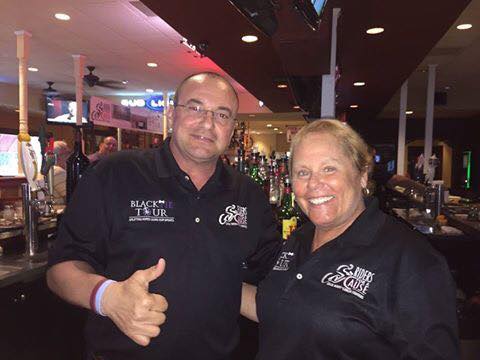 The Black Tie Tour is a sophisticated, upscale fundraising cycling event featuring two scenic routes (10, 25 and 50 miles) in central New Jersey.
2017 Highlights:
All registered riders receive a commemorative high quality jersey from VI3 Kustom Apparel, kids under 18 will recieve regular tee shirts.

Rest areas offer few surprises including fare that is not your typical cycling nutrition, as well as entertainment from TN-Tertainment DJ's and professional photography by Memory Makers Studio.

Course SAG support is provided by Bernie's Bicycles & Hart's Cyclery

The finish line features a delicious buffet selection catered by

local Italian restaurants along with

music, massages and other exciting amenities!

Cost is $95 to register and a $150 minimum fundraising requirement per person,

kids under 18 must be accompanied by an adult

(Kids do not have to adhere to the the minimum fund raising requirement)

20% discount if you register by March 31

15% discount if you register April 1 to 30

10% discount if you Register May 1 to May 15
2017 Victory Celebration Scheduled for October 6
Event Tickets will be sold up to date of event.
P
lease contact ridersforacause.com@gmail.com for more information