General Info
19th year of a XC Challenge organized by Excelsior Running Club.  The start and finish are located near the main entrance of San Bruno Mountain Park (about 0.85-0.90 miles from the Crocker entrance following the paved path).  This race location offers great views of San Francisco, Daly City, and Brisbane.  Open men's race starts at 9:00am, Masters Men at 10:00am, and Women at 11:00am.  Registration opens a little before 8:00am.  Pre-registration cost is $20 until October 20.  Late and race day fees will be $25.
Parking (Important!)

Due to limited parking spaces available at the main parking lot closest to the start and finish, we ask that you find street parking near the entrance on Southern Hill Blvd and Crocker Avenue in Daly City (1100 Crocker Avenue, Daly City, CA 94014).  Parking should be available along Crocker Avenue.  The race staging area is about 0.85-0.90 miles from the Crocker entrance following the paved path. We ask that only those who are designated to carry large loads of team supplies/equipment park at the main lot at 555 Guadalupe Canyon Parkway, Brisbane, CA  94005*.  This is important as we need to leave enough parking spaces for general park visitors to ensure we retain permit rights for future years.   Races are staggered one hour apart as part of the park permit conditions for managing parking.  If race participants do drive to the main parking lot and it is getting full, gate entry could be denied and the closest street parking from there is about 2 miles away (requiring an uphill climb for the warm up).  Parking along Guadalupe Canyon Road is not allowed.  Contact the RD if you have any questions regarding parking.
*Note that parking in the main lot requires an entrance fee of $6.

Public Transportation from San Francisco
Public transportation to the Crocker entrance could be an option but it generally requires an additional mile or 2 of hilly climb on foot (e.g. Daly City BART Station is a little less than 2 miles from the Crocker entrance and the 14 MUNI line's stop at Mission and Goeth Streets would be about 1.2 miles from the entrance).  Getting to the entrance on 99 Alta Vista in Daly City (about .7 miles from 43 MUNI line's Chicago Way & Cordova Avenue stop) is an alternative but it requires entering through 100-150 meters of steep narrow trail before heading straight on Saddle Loop Trail down to the race site (another 0.7 miles).  As another alternative, the 8 MUNI line has a stop at Geneva Avenue and Carter Street which is a little less than 2 miles from the race site at 555 Guadalupe Canyon Road (requires going uphill along Guadalupe Canyon on a bike lane).
Course Map
The course map can be found here:  http://www.pausatf.org/data/2015/map.pdf.
Results
Results will be posted on https://www.pausatf.org/usatf-pacific-cross-country-grand-prix-results/ after the event.
Prior year results can be found at the Pausatf website:
2017:  Not held due to park maintenance.
2016:  https://www.pausatf.org/2016-usatf-pacific-cross-country-grand-prix-event-results/
2015:  https://www.pausatf.org/data/2015/XCPRE2015.html
Other Notes
-San Bruno Mountain does not allow dogs or smoking on its premises. 
-Strollers are not allowed for the race due to the potential hazards.
-The race is part of the local Pacific Association USATF Grand Prix.  USATF membership is not required to participate in the race but it is required to be eligible for cash prizes.
 -Headphones are not allowed for USATF members.  Any USATF member caught using headphones during the race will be disqualified from scoring. 
View of Sutro Tower and downtown Sam Francisco from the side of Saddle Loop trail.
Crocker Entrance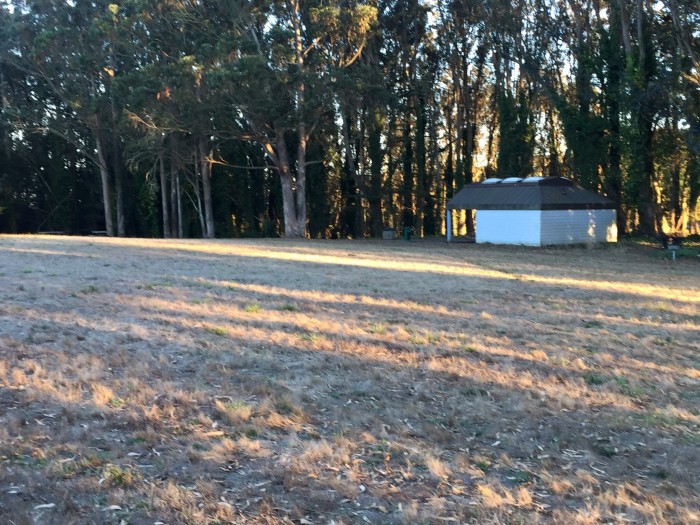 Starting Field
Service Road
Out-and-Back section of Saddle Loop Trail.
Edward Bacciocco, Jr Picnic Area
Old Guadalupe Trail
Start of Saddle Loop Trail.
Saddle Loop Trail
View of Cow Palace
Path back to finish area.
Registration fees
Open Men's Race (5K)
Closed
Online registration closed
---
Masters Men's Race (5K)
Closed
Online registration closed
---
Online registration closed
---
Event schedule
October 27 9:00 AM PDT - Open Men's Race 5K
October 27 10:00 AM PDT - Masters Men's Race 5K
October 27 11:00 AM PDT - Women's Race 5K
Contact information
Event contact

Chikara Omine

Email

Phone

+1 415-269-1022