Join us for the 2nd annual 
Miles For Migraine - Ridgeland, MS
Miles for Migraine will host its 2nd annual 2-mile Walk, 5K Run or Just Come Relax event in Ridgeland at Renaissance at Colony Park. This Fundraiser for Migraine & Headache Awareness, Treatment & Research will take place Saturday April 20, 2019.  
We welcome everyone, even if you are not feeling up for exercise. Consider signing up as an Advocate or a Volunteer instead. Advocates come to the event at no charge. The event is an opportunity to meet others who are dealing with migraine or cluster headache disease, visit our sponsor booths and take part in other engaging activities for the morning. Volunteers all receive a free shirt for their time. Find more information about volunteer roles, including our Thank You Team, by clicking on the Volunteer button to the right.
Dress up in your best purple flair for another chance at a fun prize!
Prizes awarded based on fundraising level:

 Raise $1000 earn a Miles for Migraine Wind Jacket

Raise $500 earn a Miles for Migraine Zip Front Hoodie Sweatshirt

Raise $300 earn a Miles for Migraine blanket




Raise $200 earn a Miles for Migraine cap

Raise $100 earn a pair of Miles for Migraine athletic socks or a bracelet of choice

       Raise $50 to become a member of Brain Hat Society
About the Brain Hat Society: People with migraine, their caregivers, and their friends and family should be recognized for their heroic efforts. Stigma imposes a huge penalty in the everyday lives of patients with migraine. It increases social isolation and causes adverse consequences to self-esteem and mood. Stigmatized diseases get less research funding, and payers are less likely to pay for the treatment of stigmatized diseases. In order to reverse the stigma of migraine we need to understand why it exists. By wearing your brain hat, you are doing several things: joining a community of like-minded people who want real change about the perception of migraine, and other headache diseases, while also showing the public that migraine is a severe, neurological disease. In addition, you will show others that raising funds to alleviate a shortage of trained health care professionals who treat these diseases is necessary to help you and your fellow community members obtain better access to treatments. Finally, you will have fun wearing this hat to our events! Each time you achieve a new fundraising or attendance goal, you will receive an iron-on patch to add to your brain hat. So, please join the club!    
AWARDS FOR TOP FINISHERS:
1ST PRIZE 5K FEMALE/MALE FINISHER:  
 2ND PRIZE 5K FEMALE/MALE FINISHER:  
 3RD PRIZE 5K FEMALE/MALE FINISHER:  
Registration includes: 
 t-shirt
 race finishing medal
 post event food and drinks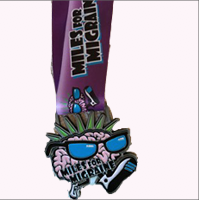 Register a team of 3 or more people at one time, before March 29th and get $3 off each registration!
Packet Pickup:
Packet pick up is at Fleet Feet Ridgeland location on Friday April 19th from 4-7PM. Their address is 500 US-1 Ste Z, Ridgeland MS 39157
 If you are unable to attend Packet Pickup, you will be able to get your packet between 7:45AM-8:45AM on race morning.
ALL EVENTS WILL TAKE PLACE RAIN or SHINE (Sorry, No-Refunds)
If you want to walk/run the 5k and can be finished by 10:30, then that is ok.
Strollers and dogs are permitted, but will be asked to consider starting towards the back of the pack.