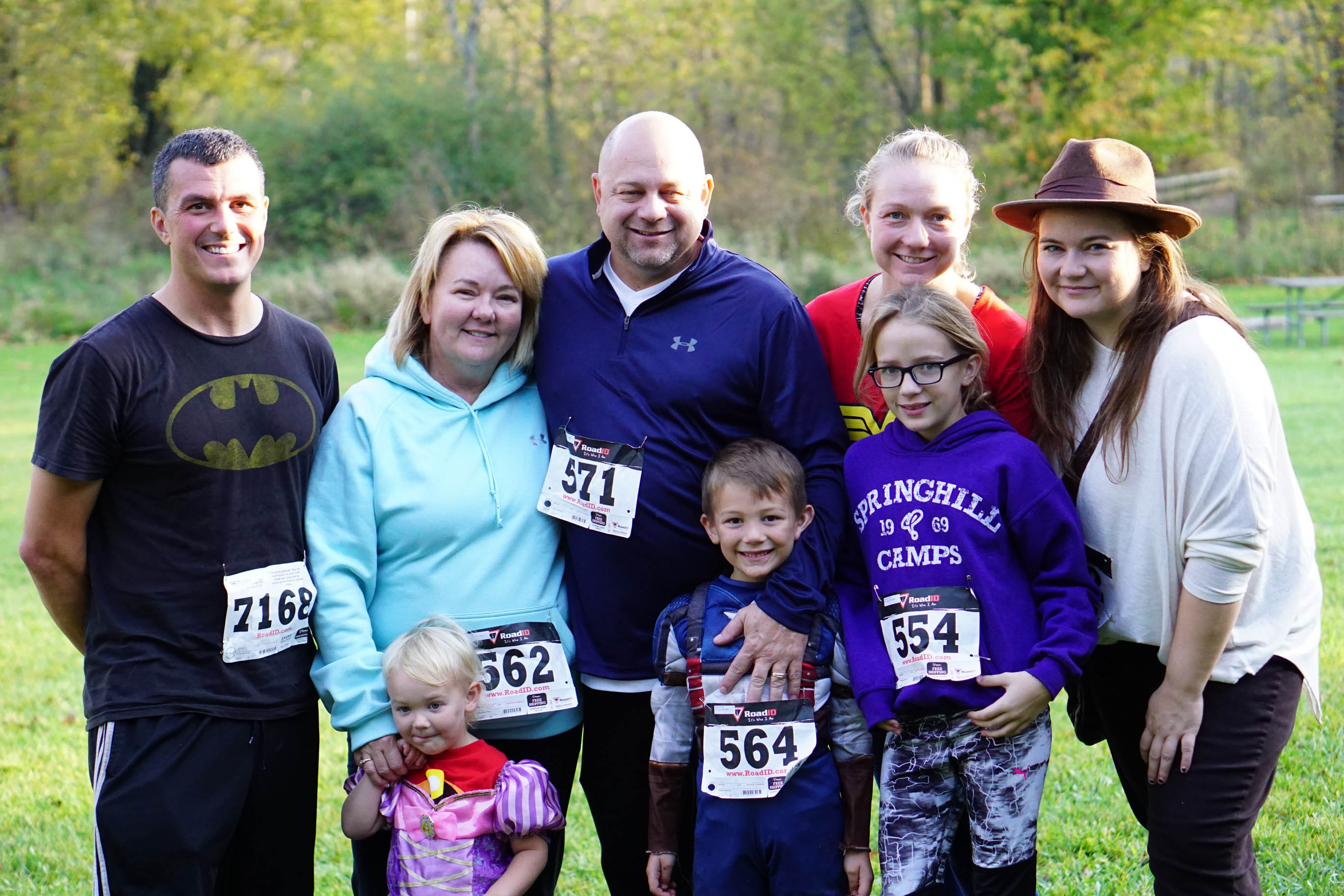 Boo Ha Ha! ENTER AT YOUR OWN RISK!!!!!! Some people try to blend in by wearing costumes!
This is a fundraiser for the Elkhart County Down Syndrome Support Group! Thank you for your participation.
If you like running paved country roads and enjoy rollers, this race is for you. Held at a charming county park in Bristol, Indiana, the courses are lined with old growth trees, horse farms and open space.
All courses start and end at Bonneyville Mill in Bristol, IN. Where is Bristol? In Northern Indiana, this park is just about 5 miles from the 80 Tollroad exit 101.
Monster Mile course will be staffed by the Boy Scouts again this year! This is a lovely path through the woods on a trail that passes by one of the most photographed creek areas in the area! The charming park is often the site for wedding and high school photos.
The 5K course (3.1 miles) is an out and back PAVED course from Bonneyville Mill up a grade to LoveWay riding stables and then back. Runners are always happy to see that turnaround point for the dowhill grade to the finish line! Follow GREEN signs and turnaround just past the LoveWay riding stables. Out and back.
The 10K course (6.2 Miles) gives you a plenty of hills for for the buck. Not your Nanna's 10K. Paved course, entirely on roads. Follow PINK arrows. Starts together with 5K, but they turn back sooner. :) Keep going up a few more hills :) and THEN you get to turn around and come back. Out and back course.
Half Marathoners- You've basically got a 3 mile warm up into the rollers. Then a nice downhill grade over to Middlebury where you can hammer out some quick splits. We go behind Northridge High School, and then on to the Pumpkinvine Trail for about a half mile.
NEW: You will go left on Shoemaker (instead of running the S-Curves) and head into the subdivision and slight up and then a long downhill down Crystal Valley. This way, runners are not crossing Wayne Street twice.
Save some for mile 10 :) when the grit sets in. Then a good downhill after mile 12 to bring it on home! When you finish this one, you will feel like you got a good workout! This course is on paved, country roads. This is not a trail run. Follow YELLOW arrows. Plan to complete the half marathon by noon. This is a loop course.
Packet Pickup and Onsite Registration
==============================
Friday, October 25 from 4:00 pm - 6:45 pm at Bonneyville Mill County Park in the One Room School Building. (white building) Saturday, October 26 from 6:30 am - 8:15 am in the One Room School at Bonneyville. We encourage first timers to come out on Friday to pick up so you can see the lay of the land. Parking for runners is in lots on the entrance to the park, since we actually run through the park during the race. We do have lots of volunteers to direct you to you park, so follow their instructions. Parking is about 200 yards away and in the grass.
Food: We will have warm cocoa, soup, home-baked cookies and more at the finish line.
Awards: Everyone gets a finisher medal! Cool prizes and Fleet Feet gift certificates for overall top 3 winners in the 5K, 10K and Half Marathon along with Age group awards 3 deep in 15 standard age groups! Lots of prizes for costume in many new categories such as kids, adults, home made, super hero, etc.
It's been just too hard to pick the BEST COSTUME, so we have added many categories for the costume contest.
If you are not a runner, we always need volunteers!
Registration fees
Terrible 10K
Closed
Online registration closed
Online registration closed

$35.00 – Early pricing

Online closes Oct 23, but you can still register onsite!
---
Half Marathon
Closed
Online registration closed
Online registration closed

$45.00 – Early pricing

Online closes Oct 23, but you can still register onsite!
---
Frightening 5K
Closed
Online registration closed
Online registration closed

$30.00 – Early pricing

Online closes Oct 23, but you can still register onsite!
---
Monster Mile
Closed
Online registration closed
Mile trail walk is not timed, but includes a shirt

Online registration closed

$20.00 – Early pricing

Online closes Oct 23, but you can still register onsite!
---
Race Day Details
Packet pickup and registration is Friday, October 27 from 4:00 pm - 6:45 pm.
Race day pickup and registration is Saturday, October 28 from 6:30 - 8:15 am
* You might want to bring a flashlight on race day for getting to the One Room School building and the Shelter for check-in.
* Boy Scouts will be out there to show you where to park. They are also actings as course monitors on the Monster Mile
* We have indoor restrooms at the race start, at the One Room school as well as several outdoor pit toilets in the parking areas.
* Historically, it has been crisp in the 40's to low 50s on race morning- pretty much PERFECT running weather. You might want to wear a "cast-off" top to the start and drop it at the first water top like they do at larger races. There are also large indoor restrooms, so plenty of room to change clothes after the race.
* We try to do awards as soon as possible after the race. If you have to leave early, let us know- you can always have a friend pick up your award!
* Please don't litter along the course. If you must discard a Gu packet or clothing, please do so at the water stops so we will see it to pick it up.
Event schedule
October 25 5:00 PM EDT - Packet pickup (night before) opens
October 25 6:45 PM EDT - Packet pickup (night before) closes
October 26 6:30 AM EDT - Packet pick-up and race day registration
October 26 8:15 AM EDT - Costume Parade
October 26 8:45 AM EDT - Half Marathon Starts
October 26 8:55 AM EDT - 5K Starts
October 26 8:55 AM EDT - 10K Starts
October 26 9:00 AM EDT - Monster Mile
Contact information
Event contact

Paula Turk

Phone

+1 574-293-1683

Website