Run for Veterans
TO OUR VETERANS
To the brave men and women who have served in all branches of the United States Military, we say thank you for your service! This event is being held in your honor to thank you for your service and the sacrifices you have made to ensure our way of life! This event will help provide services essential to the daily lives of those who have served! Your show of support by attending this event, will provide hope, strength and solidarity to the ones who need it most! Let's show strength in numbers and have the largest Veterans' Day gathering of Veterans' ever!
So, please join us for the 2019 Run For Veterans!
---
This is a benefit run to help local veterans. A portion of all proceeds and all other donations collected will benefit local veterans. The event will take place on Sunday, November 10th 2019 on the South side of the Las Cruces Dam Open Space Trail at 1:00 pm. Prior to the start of the race, there will be a presentation by the color guard, the playing of the National Anthem followed by a moment of silence.
The run will head north along the trail behind the dam then loop around the Veterans Memorial before heading back to the Start/Finish area. An awards ceremony will follow runs. We strongly encourage all disabled veterans that can participate, to participate in this event as this event was created to honor your military services while raising funds to improve services available to you from local veterans' agencies.
Current Discounts
GROUP DISCOUNT: Sign up 5 or more at one time and get 20% entire group price ( must register all member at same time)
14 AND UNDER YOUTH DISCOUNT:
1mile - $15.00 5k - $20 10k - $30
* discounts only good though last day of regular registration
This Years Fundraising Drive: Honor Flight
Honoring our Nation's War Veterans
We are happy to announce that this year's recipient of our fundraising drive will be Honor Flight Southern New Mexico & El Paso, Texas. More info is to come about this wonderful cause for veterans.
Honor Flight Network is a non-profit organization created solely to honor America's war veterans for all their sacrifices. They transport our heroes, at no cost to them, to Washington, D.C. to reflect and be honored at their memorials. Please visit their site for more info https://www.honorflightnm.org/
How to Help Fund Raise
How can you help raise money for Honor Flight?
There are several ways you can help fund raise via this event
1. Register for one of the races, then set up your personal pledge page. (how to set up pledge page) Then tell friends to donate on your behalf. (How to share pledge page)
There are prizes for the top 3 fundraisers!!!!
2. Donate directly to fundraiser by clicking the donate button on right hand side.
Fundraising Competition
1st - free pair of shoe up to $130
Provided by Bluebird Running Company!!!
Giveaways
First 100 sign ups will receive a free TOTE BAG from FARMERS INSURANCE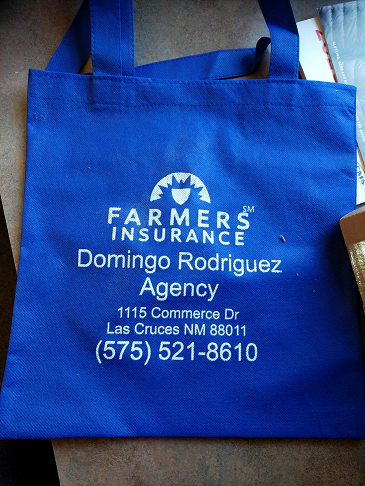 Other giveaways may be added as they become available!
Sponsors
We Would like to thank our Sponsor for their support of this event. Be sure to support them by clicking on their logo on the left hand bar to visit their website!
Bib Placement
We will be using a RFID chip timing system with camera backup (ask us how to purchase a photo of your finish) to capture your race time. All participants will be assigned a bib number with RFID chip attached to the back. For us to properly time your race, our staff and video camera needs to be able to read your bib number as you cross the finish line. Race bibs must be worn on the outside of your clothing on the front of your jersey/shirt (as shown in the picture to the left). Please do not, crimple or fold the bib as this will damage the RFID chip. If you do not wear the bib as requested, your chip may not be read properly, and no time will be recorded in the results.
You may keep both your bib and chip following the race. It does not need to be returned.
DID YOU KNOW? Timing systems have a very difficult job. They must read hundreds, or perhaps thousands of timing chips as they cross a start, split, or finish line. This can be especially challenging in wet or harsh conditions. All our systems operate at an ultra-high frequency and therefore are less susceptible to interference, but not impossible. Each of our chips contains a tiny microprocessor and transmitter, as well as two antennas. The antennas send the chip number to the receiving antennas connected to the timing system. The chips have no internal battery. So how do they transmit a signal? When the chip comes in range of an antenna, it receives a wakeup signal from the timing system. That signal is strong enough that the chip can harness the energy within the signal to power itself on for less than a tenth of a second. During that short time, the chip transmits its number to the antenna. In fact, the chip may do this several times. Proper placement of the chip is extremely important. For running events, the chip is placed horizontally on the back of the bib. For best results, the bib should be pinned on the chest with safety pins using the top two holes
Finish Line Photos
Relive the moment you crossed the Finish Line by purchasing your digital copy!
Photos are $10.00 and can be ordered at the Timing Tent after completion of your race by simply filling out a form or emailing, when you get home, at info@athleticsracemanagement.com with your; name, bib number, event and approximate finish time and maybe what you were wearing to help us locate you if for some reason we are unable to find you by your bib number.
Packet Pick Up
Packet pick up is scheduled to open at 11am day of race at race course.
Day of Registration
Day of Registration with Start at 11 am till 12:45 pm.
Please bring cash or check.
Maps
All Races will Start and Finish near the Lohman trail head of the Las Cruces Dam Open Spaces Trail
5K: Due to a course change by city, the 6k is now 5k
1 lap with minimal two way traffic
10K: due to course change by city, 11k is now a 10k
2 lap course
Refunds / Transfers / Disqualification
NO Refund on race entry fees. Athletics Race Management does allow for race fees to be transfer to other race events if available.
---
Transfer Policy: $4.00 fee for any transfer (event to event or participant to participant)
---
Disqualifying participants for using someone else's Bib. Any participant who runs under someone else's bib will be disqualified and will not be scored. For the safety of our runners, and in case of a medical emergency, it is imperative that the registration data associated with the race number belongs to the person wearing the bib. If race organizers become aware that a runner has participated in one of our events with a bib that is not registered to that runner, both the runner and the person to whom the bib is registered will be prohibited from participating in subsequent Athletic Race Management events for a minimum of two years.
Registration fees
1 Mile Fun Run
Closed
Online registration closed
Online registration closed
---
5K
Closed
Online registration closed
single loop race around course

Online registration closed
---
10K
Closed
Online registration closed
two loops around the course

Online registration closed
---
Contact information
Name

Race Director

Website