Robinson Preserve Twilight Race Postponed
The team at Fit2Run, Robinson Preserve and Pace Manatee Center for Girls, have been working tirelessly to provide our registrants with the best possible runner experience, and we understand that going out for a run can be a valuable tool in promoting overall health.
Given the current public health concerns facing our communities, to help slow the spread of COVID-19 and to heed recommendations from state health officials, Robinson Preserve Twilight 5K/10K will be postponed to Friday, September 4th, 2020. All currently registered participants will automatically be registered for the new event date.
The 12th Annual Robinson Preserve Twilight 5K & 10K presented by Conley Subaru is a festive and fun event for the whole family! Festivities kick off with age bracketed Kids Dashes at 5:30pm, then runners and walkers hit the trails for a 5K or 10K race with stunning sunset views. Relax after the race and enjoy the awards ceremony with food and beverages under the stars at beautiful Robinson Preserve. Food provided by Mahana Fresh, Sweet Tomatoes and Detwiler's.
All participants receive a finisher's medal and race shirt, plus food and drinks at the after party! The tradition of an exciting awards ceremony continues this year with awards honoring local race community legends. Age group awards for 1st-3rd finishers will be given this year in memory of Doug Schiller and Overall Winners in 5 categories will be awarded trophies in memory of Bill Robinson
Spectators can purchase food and beverage wrist bands and shirts for $10 each.
Proceeds From The Race
Proceeds from the race benefit Manatee County's Robinson Preserve and PACE Center for Girls.
Race Course
5K
10K
Race Day Parking
Parking is available throughout the area surrounding Robinson Preserve. Please note: NO parking is available inside of the main Preserve entrance, however there is limited parking at the expansion lot on the corner of 99th and 9th. Road parking at the Palma Sola lBotanical Gardens is available for handicap visitors only. We ask that all visitors please keep this lot open for those participants. Mango Park, Fiddler's Green, Wisteria Park, Palma Sola Point, and Colonial Woods are all available for street parking. Golf carts will run from the corner of 9th and 99th to the Preserve entrance and from 17th Ave at Mango Park entrance to the Preserve entrance.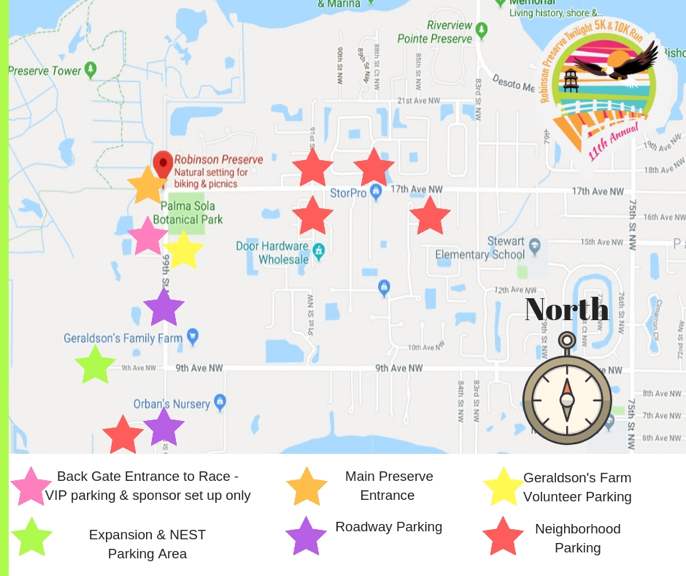 Cancellation Policy
We value runner safety. In the event of severe weather or other hazardous conditions, the director(s) reserve the right to cancel the race for the safety of its participants. Registrations cancelled due to public safety concerns will not be refunded, but instead used to cover event costs, with the balance being treated as a charitable donation to the event beneficiary.
Conditions that may result in event cancellation include (but are not limited to): lightning, high winds, flooding, fires, and other acts of God.
Contact information
Name

Fit2Run

Email

Phone

+1 941-531-8022

Website