*** If you are looking for the 2021 ROGERS RUN FOR L'ARCHE Event info,
please click HERE

Continue to 2020 Run for L'Arche Event info:
"Thank you to everyone for your dedication to #LarcheCalgary and your commitment to the #VirtualRunforLarche. If you have any questions please direct them to runforlarche@rogersinsurance.ca. Please be patient as it may take us a few days to respond due to overwhelming demand."
Due to the formal ban of events larger than 250 people, as decreed by the City of Calgary and Alberta Health Services, we are saddened to announce the cancellation of the 10th Anniversary of the Rogers Insurance Run for L'Arche, presented by Economical. We were greatly looking forward to this event, and we know you were too, but the safety and health of our core members, our community, our volunteers, and our friends was too great to risk moving forward.
In its place, we want to offer the chance for all of our runners to join us in a "Virtual Run" of the Rogers Insurance Run for L'Arche, presented by Economical, and we hope that you will participate! On March 28th, we urge you to get out there in your Run for L'Arche T-Shirts and run a 5K, 10K and the Half Marathon on your own or with a few friends! You can still fundraise for L'Arche Calgary, asking your friends and family to support you while you "race anyway on Race Day"!

If you would rather not participate in the Virtual Rogers Insurance Run for L'Arche, we understand. Unfortunately, because the expenses to our suppliers have already been paid, we will not be able to offer refunds. However, L'Arche Calgary still needs your support, and we ask that you donate your registration fee to L'Arche in return for a tax receipt.
For those runners who are interested in the Virtual Rogers Insurance Run for L'Arche, we can distribute the Race Kits with race bibs, swag and of course, our 10th Anniversary Run for L'Arche T-Shirts ahead of the original Race Day of March 28th.
If you would like your Race Kit mailed to you, we can certainly make arrangements for this. Please contact us at runforlarche@rogersinsurance.ca before March 20th in order to get the race kit to you in time.
Don't forget to take plenty of photos or videos to share on social media using the hashtags #RogersInsuranceRunforLarche and #VirtualRunforLarche. Tag us too! @LarcheCalgary @RunforLarche.
We will be watching!

We can't forget about the WestJet Raffle: https://www.larchecalgary.org/westjet-raffle-page! We will still be drawing the winner of the WestJet Raffle on March 28th and announcing the winner on our social media platforms, so make sure you get your tickets and stay tuned on Race Day! With the current travel ban, we know many of you are not looking to travel anywhere any time soon. But, we want to remind our friends that these two tickets up for grabs are valid for one year after March 28th.
We also want to give a great big thank you to our volunteers who have signed up to volunteer your time to the 10th Anniversary of our Run. If you would like your commemorative Volunteer t-shirt, please contact us at runforlarche@rogersinsurance.ca by March 20th, 2020, and we can make arrangements to get this to you.
Volunteers are also more than welcome to participate in the Virtual Run for L'Arche!
We wish to thank the following sponsors who have committed to continuing to support us:
McLennan Ross
Fasken
Service Master Restore.
ServPro
Crawford & Co
FirstOnSite
Evan J. Strong Funeral Services
One Contact
Pure IT
Strides Running Store
Thank you to our volunteers, runners, community members and friends for your ongoing support through these uncertain times. We hope to see you all posting on social media on March 28th! If you have any questions or concerns, please direct all of your inquiries to runforlarche@rogersinsurance.ca. Please be patient as it may take us a few days to respond to the influx of emails.
"Exciting news!! In celebration of the 10th Anniversary of the #RogersInsuranceRunforLarche, we are raffling off 2 round-trip tickets anywhere #WestJet flies! For more details on the #raffle, and to purchase your tickets, visit our website: https://www.larchecalgary.org/westjet-raffle-page #LarcheCalgary"
2020 will be the 10th annual Run for L'Arche and to date has raised over $460,000 for L'Arche Calgary, a charity which helps and supports people with developmental disabilities.
The Half Marathon, 10 KM and 5 KM distances are Canadian Certified Timed distances and the courses are primarily flat! The Start / Finish line is located at Fort Calgary with three new certified routes. Run for L'Arche features super cool shirts, medals to all finishers, age category medals including 70+, lots of cheering along the way, special recognition and valuable prizes for the top fundraiser and top fundraising team and fun awards for insurance industry participants. Everyone is a winner at the Run for L'Arche!
For the kids and family, the 1K Fun Run & Obstacle Course has developed into a central feature on race day with hot chocolate for the kids and an emphasis on fun! And the Run's mascot Winter Willie is always a popular attraction.
The Run for L'Arche is a popular early season start to the Calgary race calendar and we welcome all levels of runners to participate.
Over the years this event has grown to over 450 participants on race day including over 100 volunteers, friends and family. We even have celebrity race starters!
Economical Insurance has been the principal sponsor since its inception in 2011. L'Arche Calgary commented: "Great community minded organizations like Economical and the Roger's Insurance Planning Committee, are both a real asset in supporting the Calgary community". Recently Strides Running Store has come on board and lent their valuable expertise to further raise the profile of the event.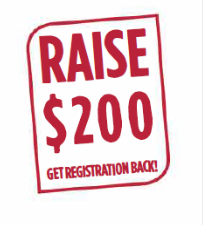 Start Times
Half Marathon - 9:30am
10K - 9:40am
5 K - 9:50am
1K Fun Run/Walk - 10:45am
Note: No early start times are permitted, as course set up, course marshals, water stations, chip timing and Emergency Services will not be available before 9:30am
Race Day Registration Fees ( Cash and Cheque only)
Half Marathon - $75
10K - $50
5 K - $50
1K Fun Run/Walk - $20
RUN THE DOUBLE
Back by popular demand! Run in both the Original St. Patrick's Day Road Race (March 15th, 2020) and the Run for L'Arche (March 28th , 2020) and receive a $25 gift card form Stride's Running Store! You can choose any two distances and all you have to do is cross the finish line in both races to earn your gift card!
Paid parking is available through the Calgary Park Plus system on the grounds as well as community street parking nearby. The LRT is three blocks away and Fort Calgary is serviced by transit.
Donations
Sometimes people wonder what difference their support makes. As a donor, you provide people with developmental disabilities the opportunity to be an important part of a community; you help individuals live life with dignity by contributing to their involvement in day programs, work, church and other public events; you ensure their homes are safe, comfortable and well maintained; and most of all, you remind people that they are not forgotten but are loved and respected. Thanks for being a crucial part in building a compassionate world and a more human society.
Fee Notes
1. Online registration will close at 11:59pm on Sunday, March 22nd, 2020.
2. An online processing fee will be applied to your online registration into this event.
3. All funds payable in Canadian Dollars.
4. VISA, MC, Amex, and Discover Card accepted.
5. Your credit card statement will show a charge from Fast North Corp or Race Roster for your online registration into this event.
Race Kit Pick Up Dates and Locations
Race kit pick-up dates and times:
Economical Insurance
Suite 700 322 – 11th Ave SW
Tues. March 24, 2020
11:00am – 4:00pm
Economical Insurance
Suite 700 322 – 11th Ave SW
Wed. March 25, 2020
11:00am – 2:00pm
Marda Loop Strides
3566 Garrison Gate SW
Thurs. March 26, 2020
4:30pm – 8:00pm
Fish Creek Strides
1119, 380 Canyon Meadows Dr., SE
Fri. March 27, 2020
4:30pm -8:00pm
Race Day – Fort Calgary
Sat. March 28, 2020
8:30am – 10:00am
Top donors
| No. | Name | Amount |
| --- | --- | --- |
| 1 | Jarrels | CA$2,137.39 |
| 2 | Frank Walsh | CA$1,000.00 |
| 3 | Alice Payne | CA$641.84 |
Top teams
1

L'Arche Calgary

View page
2

CapriCMW

Raised:

CA$1,035.02

View page
3

Top Runners

View page
Event schedule
March 28 9:30 AM MDT - Half Marathon Start
March 28 9:40 AM MDT - 10KM
March 28 9:50 AM MDT - 5KM
March 28 10:45 AM MDT - 1K Fun Run/Walk Start
Contact information
Event contact

Nicole Talbot - Runner and Volunteer Experience Coordinator

Email

Phone

+1 403-809-4435

Website