This race, organized by the Wainwright Runners, offers a challenging and refreshing start to your running season. Join us for either a 10km or 5km run, a 5km walk or a 2km kids run!
The route is out and back along a paved multi-use trail (Ascot and Area Recreation Trail RR#70) beside the CFB Wainwright Buffalo pasture. As you can see, the route is rolling terrain and should challenge all running abilities.
Every participant receives a race shirt (if you sign up before April 10th, 2020) and a sapling (tree) for getting out and running with us. For those lucky enough to place in the top three spots of their running category, they will receive a hand-painted mug by Canadian Artist Debra Cherniawsky-Durrer. Pictures of the mugs from past years are below.
This year we will be donating half of our race profits to the Centennial Centre for Mental Health and Brain Injury for fitness equipment. So please help us donate as much as possible by coming out to our race.
You have the option of making the Bison Run your 1st race in the Battle River Series. You can register for all three races by clicking HERE or on the "Register for Series" button on the right panel.
Volunteers please click HERE or on the "Volunteer" button on left side panel. Remember volunteers are also included in the Series awards
Special $20 Discount for U18yrs in 5K and 10K sub-events
"A call out to our local parents, coaches and teachers. We would like to invite all our local 17yrs and younger runners to the Wainwright Runners Bison Run April 26, 2020. This year we are offering a 20$ discount for all U18yrs runners that enter our 10K and 5K races. (The discount will be applied at end of registration process.) These runners will still get a shirt if registered by April 10, still get a finishing tree and still be eligible for awards. For an added boost we have a specific award catagory in our 5K event for U18 particiants. To the coaches out there if we get big enough support/interest from schools we could even divide up the results for school/club vs school/club! Hope to see you there. Race Director Shane Mascarin"
Processing fee
| | | | | |
| --- | --- | --- | --- | --- |
| Distance | Base fee | Transaction Fee | Site Fee | You pay |
| 2km kids | $15.00 | $0.98 | $1.25 | $17.23 |
| 5km/10km (early bird) | $35.00 | $2.27 | $1.25 | $38.52 |
| 5km/10km (regular) | $40.00 | $2.60 | $1.25 | $43.85 |
| 5km/10km (Sign up between April 20th - 26th)* | $45.00 | $2.93 | $1.25 | $49.18 |
*Late sign up on-line is between April 20th and April 24th. There is NO on-line sign up April 26th.
*$20 discount for U18 yrs in 5K and 10K sub-events will be applied at end of registration process and before payment.
Categories
The 5km Run has six categories
Under 18yrs (male and female)

18yrs to 40yrs (male and female)

Over 40yrs (male and female )
The 10km Run has six categories
Under 35yrs (male and female)

35yrs to 49yrs (male and female)

50+yrs (male and female)
The 5km Walk (all ages) will have male and female-only category.
For the 2km Kids Run we now offer four categories
3yrs to 6yrs (male and female)

7yrs to 12 yrs (male and female)
Awards
If you are lucky enough to be one of the top three runners in your category you will win a hand-painted mug by Canadian Artist Debra Cherniawsky-Durrer. Please visit her website to see more of her work.

Awards will be given to the top three runners in all categories.
Race parameters
The course is on a paved path called the Ascot and Area Recreation Trail (RR#70).
Due to our "Spring" weather, please try and prepare for variable conditions. Dress in thin layers but several of them to stay somewhat dry and warm! You might want to bring some warm clothes to change into after the race.
Strollers are allowed.
Personal music is allowed, but please only use one bud so you can hear other runners and be aware of your surroundings.
Dogs are permitted if they remain leashed and are in the company of their owners at all times. Please also pick up after your dog.
For the 5km elevation graph (x2 of this for the 10km race) click here.
Swag
Register before Apr 10th (cut off date for free t shirt is Apr 9 at 11:59pm) and you will receive a FREE short sleeve shirt with the race logo.
Adult t-shirts are gendered and all kids shirts are youth sized. The t-shirts are a thin 100% cotton, which makes them flexible material while at the same time plastic-free!
Package pick-up
Pick up your package at Armstong's Clothing and Sport

Address: 919 2 Ave, Wainwright, AB T9W 1C5
Time: 4pm-6pm Friday April 24.2020
For those travelling you can pickup your package the morning of the event at the site from 9:00am-9:40am.
NOTE: An adult must accompany kids 12 years of age and under to the race site and must remain on site during the race.
Thank You!
Directions to race site
Please park at Davco 402 4 ave S Wainwright AB, and walk into the Start Finish Line. Race location is here.
Timing and results

Ellis Timing is manually timing our race. All participants will receive an official time. Results will be printed on-site and available here.
If you placed in the top 3 of your categorie, and were not at the awards, please email wainrunners@gmail.com. to arrange pick up time and place. We will get your award to you.
Food
Fruit, muffins and bagels will be available to all participants. Refreshments are available for those who bring their own cup or bottle.
In support of Earth Day, plant a tree, bring your own bottle and bring old shoes to recycle!
In honour of Earth Day, Monday April 22nd, we are providing every race participant with a small sapling.
Please visit this site for instructions on how to plant and take care of your tree.
To help reduce our impact on the environment:
Bring your own cup or bottle for refreshments please and thank you!
Battle River Series
Wainwright Runners is excited and proud to partner with Lougheed Race for the 2019 Battle River Series. The Series embraces three races, Bison Run April 28th (5km walk/run and 10km run), Lougheed Race August 11th (5km walk/run, 10km and half marathon) and Bison Dash September 15th (5km walk/run). All a runner needs to do is complete a race at each event and you will win a series medal!
Run and/or volunteer in all three events and you win the Series medal.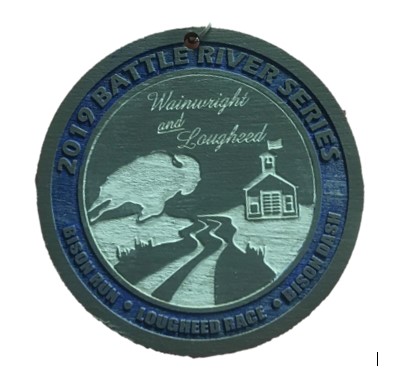 Remember to join Wainwright Runners club and get $5.00 off each Wainwright Runners events.
A BIG THANKS to the following:
WAINWRIGHT AEROMODELLING CLUB
Thank you to the MD of Wainwright for supporting this race.

Thank you to DAVCO for providing access to close parking.

Thank you to Armstrong's for providing a venue for pre-race bib pick-up!

Thank You to Aeromodelling Club for providing a venue for race day.

Thank You to Beyond the Beaton Path Corp. for the great job done on the Series awards.
Race cancellation
Wainwright Runners reserves the right to cancel the race based on: (1) Extreme weather during the event, (2) Unforeseen circumstances that make directing the race impossible. In the case of cancellation, race entries will not be refunded.
Pictures
Here is the link HERE
Event schedule
April 26 9:50 a.m. MDT - Welcome
April 26 10:00 a.m. MDT - 2km Kids Race
April 26 10:30 a.m. MDT - 10km Race and 5K Walk
April 26 10:40 a.m. MDT - 5km Race
April 26 12:00 p.m. MDT - Awards
Contact information
Name

Shane Mascarin

Email

Phone

+1 780-261-0139