Registration fees
Family 1K Run/Walk (Per Child)
Closed
---
Junior 5K (Under 18 years of age)
Closed
---
Junior 10K (Under 18 years of age)
Closed
---
Junior Half Marathon (16-18 years of age)
Closed
---
Half Marathon
Closed
Online registration closed
---
5K Walk
Closed
Online registration closed
---
5K Run
Closed
Online registration closed
---
10K Run
Closed
Online registration closed
---
COVID-19 Health Assessment
REFUND POLICY
Please note, refunds are not offered. Event registration may be transferred to another individual if you are not able to attend. Thank you for your understanding.
MANUAL REGISTRATIONS
Complete the Run4Health manual form and return to registration on race day.
Download your manual registration form here!
TEAM CHALLENGE
Gather your friends, family or co-workers and create a team of any size. Don't forget to name your team! Team members can register to walk or run in any sub-event and do not have to cross the finish line together. Challenge your business neighbors/competitors to compete and raise more money and/or look better than your team. Schools are encouraged to put a team in and challenge another school in their town or in their "family" of schools. Trophy awarded to the school team with the most members.
To register for the team challenge, follow the registration prompts when registering individually.
SET UP YOUR PLEDGE PAGE & START FUNDRAISING!
Run4Health is excited to offer all our participants & volunteers the opportunity to help drive fundraising and awareness for Walkerton & District Hospital Foundation, by creating a personalized fundraising page.
It's Easy! Once you register, just follow the prompts.
A big thank you in advance for your support!
Download the individual pledge form here!
BECOME A SPONSOR FOR THIS GREAT EVENT!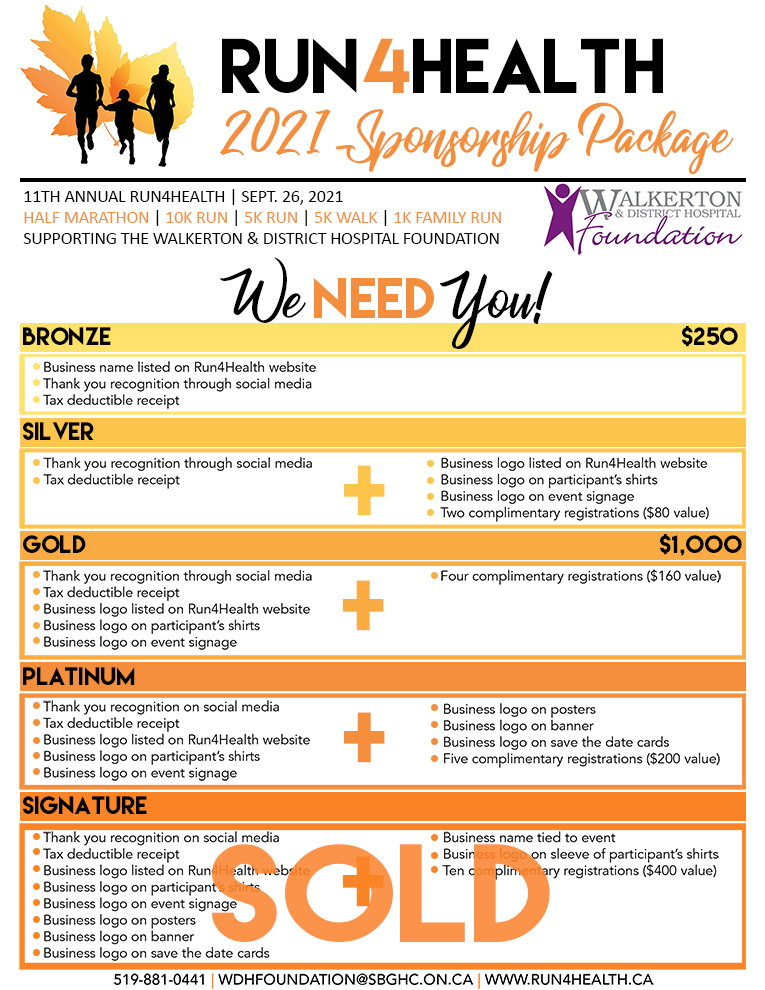 WE LOVE OUR SPONSORS!
SIGNATURE SPONSOR
PLATINUM SPONSOR
SILVER SPONSORS
BRONZE SPONSORS
We are currently looking for sponsors for our 2021 event!
To learn about sponsorship opportunities please contact
Walkerton & District Hospital Foundation, 519-881-0441 or wdhfoundation@sbghc.on.ca
PROUDLY SUPPORTING...
Proceeds from the 11th Annual Run4Health will go to the
Walkerton & District Hospital Foundation
---
The 10th annual Run4Health raised over $27,500 net for the Walkerton & District Hospital Foundation!
OUR RACE CATEGORIES / AWARDS
We are currently planning for our event to be held live and in person, however, please note that there is the risk that the event may be held virtually once again. We will continue to update registrants if there are any changes made to our event.
Participants will still be able to track their times and upload them into the database using the Asics Runkeeper app.
CHIP TIMING
Please follow the link below to see the chip time results from the 11th Annual Run4Health event:
ATHLETICS ONTARIO
We are an accredited race under Athletics Ontario!
Contact information
Event contact

Walkerton & District Hospital Foundation

Phone

519-881-0441
Event schedule
September 26 8:00 a.m. EDT - Kit Pick-Up Begins
September 26 9:00 a.m. EDT - 1K Family Walk/Run Start Time
September 26 9:20 a.m. EDT - 10K Run Start Time
September 26 9:25 a.m. EDT - 5K Run & 5K Walk Start Time