This user is not currently accepting donations
My Story…
As many of you know, I have a deep love for seniors (like really, really deep). I have been fortunate to be able to live out this passion through my involvement with Yee Hong, a non-profit seniors care organization committed to providing culturally and linguistically appropriate care to seniors of various Asian backgrounds.
Yee Hong has changed the lives of countless seniors and their families, but it faces challenges. Current waitlists for a Yee Hong bed can be as long as 10 years...and this waitlist is only getting longer as our population ages.  
So what are we going to do about it? Yee Hong is launching a new Capital Campaign, setting the largest fundraising goal in the history of the Chinese Canadian Community: $80 million. This will allow Yee Hong to build 800 new long-term care beds in 3 new centres. While this seems like a daunting goal, the Yee Hong team reminds me daily that no matter how big a challenge may seem, you just have to jump right in and start. 
Earlier this summer, I told a friend about my newfound desire to start cycling. He looked me in the eye and said "so what are you going to do about it?" 
Well, here I am. Committing to ride 50 km every weekend in October to raise funds for Yee Hong. 
150 KM down, 130 more to go!
My 4th and next ride will be in Greenville, South Carolina. An 80 km journey through the Blue Ridge mountains. To say this is a little out of my beginner cyclist comfort zone would be an understatement. 
Fittingly, it would also be fair to say that leading Yee Hong's capital campaign as one of the co-chairs, is also out of my comfort zone. 
But if there's something I hope to celebrate this month, it's pushing myself outside my comfort zones to reach for big things. 
I appreciate all the support and encouragement as I embark on my  month of cycling in honour of Yee Hong embarking on its capital campaign. I will need all the support I can get as I try to get myself up the mountain!
Thank you friends!!!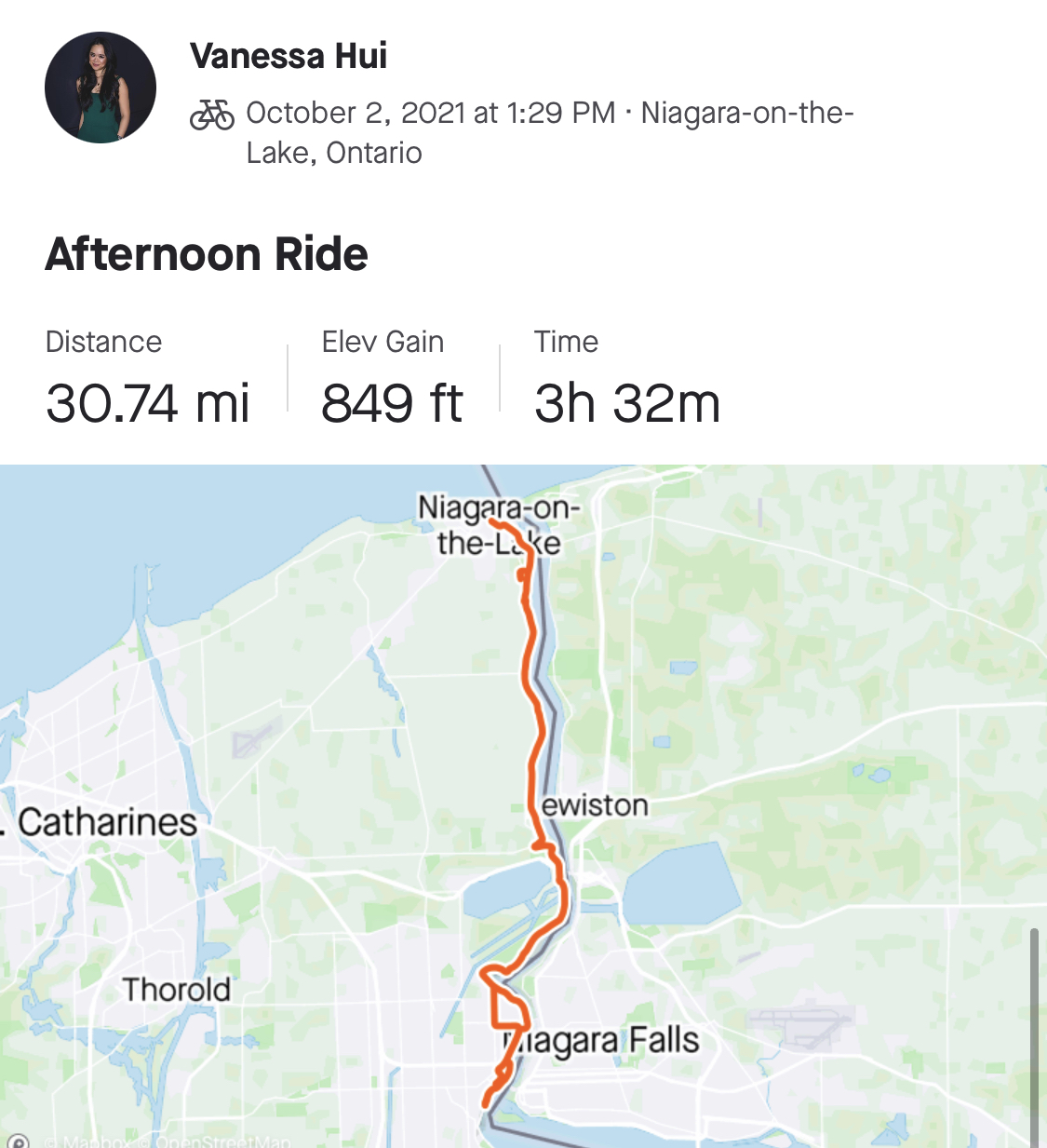 Donate to help Vanessa raise money for 2021 Scotiabank Toronto Waterfront Marathon's fundraising campaign.
---
Recent donors
Donation date
Donor name
Donation amount

Nov

12

Julia & Graeme

$50.00

Nov

11

Everett Findlay

$50.00

Nov

11

The Macs

$95.00

Nov

11

Alex Chibs and Jason and Winnie

$25.00

Nov

02

Dan

$100.00

Oct

25

Alli Quinn

$100.00

Oct

23

Lauren & Alex

$50.00

Oct

22

Dasha Peregoudova

Undisclosed amount

Oct

22

Will Chow

Undisclosed amount

Oct

21

Melody

$200.00