Dogs of all breeds, shapes, and sizes (and their humans) will meet-up in Costa Mesa, California for a morning of fun, socialization, and exercise for our 6th annual Pack Walk. Join us for our group walk and stay for our vendors, food, raffles, contests and of course games for the kids. We'll also have plenty of photo opportunities for you and your dogs. There will be something for everyone.
Register for the event by clicking on the "Register" button anywhere on this page. If you are joining or creating a team, you will be asked for that information during the registration process. Please note that the "Donate Now" button is for general donations to the organization. If you are looking to make a pledge to one of the participants or their team, including yourself or your own team, please do so through the "Donate to participant" button. 
We would like to encourage you to join our friendly donation competition by asking your friends, family...anyone for pledges on your behalf. 
If you have any questions or are having trouble registering, please don't hesitate to email us at info@pricelesspetrescue.org prior to completing registration.
Registration fees
The group (pack) walk consists of 2 laps around the TeWinkle Park "loop" that is roughly 1 mile around.
---
Go team!
Don't forget to select the team you want to join during registration.Have a group of friends or co-workers that want to walk? Get them rallied together in a bit of friendly competition and create your own team during registration. The individual that raises the most wins a pretty awesome prize!
Wolf pack of one?
Not to worry! – Ask your family and friends to pledge donations to your walk. Out-beat the team participants and show them how powerful just one person can be! Remember, all donations are tax deductible!
Wolf pack of none?
Don't have a dog of your own? Know someone who would like to register with you but doesn't have a dog to walk? Not to worry. We will have a limited number of our own orphans from Priceless Pet Rescue available to "rent" the day of the event for $5.
Resources
Remember to start fundraising early. Be enthusiastic about what you are doing, and your supporters will be enthusiastic about it, too! Every penny you raise will go directly to the hundreds of stray, homeless, and abused animals we care for every day. We hope these tips will help you achieve your goals! Good luck!
Be creative and don't forget to ask! People will donate, but you have to ask first!
CLICK HERE FOR TEAM BUILDING TIPS
CLICK HERE FOR FUNDRAISING TIPS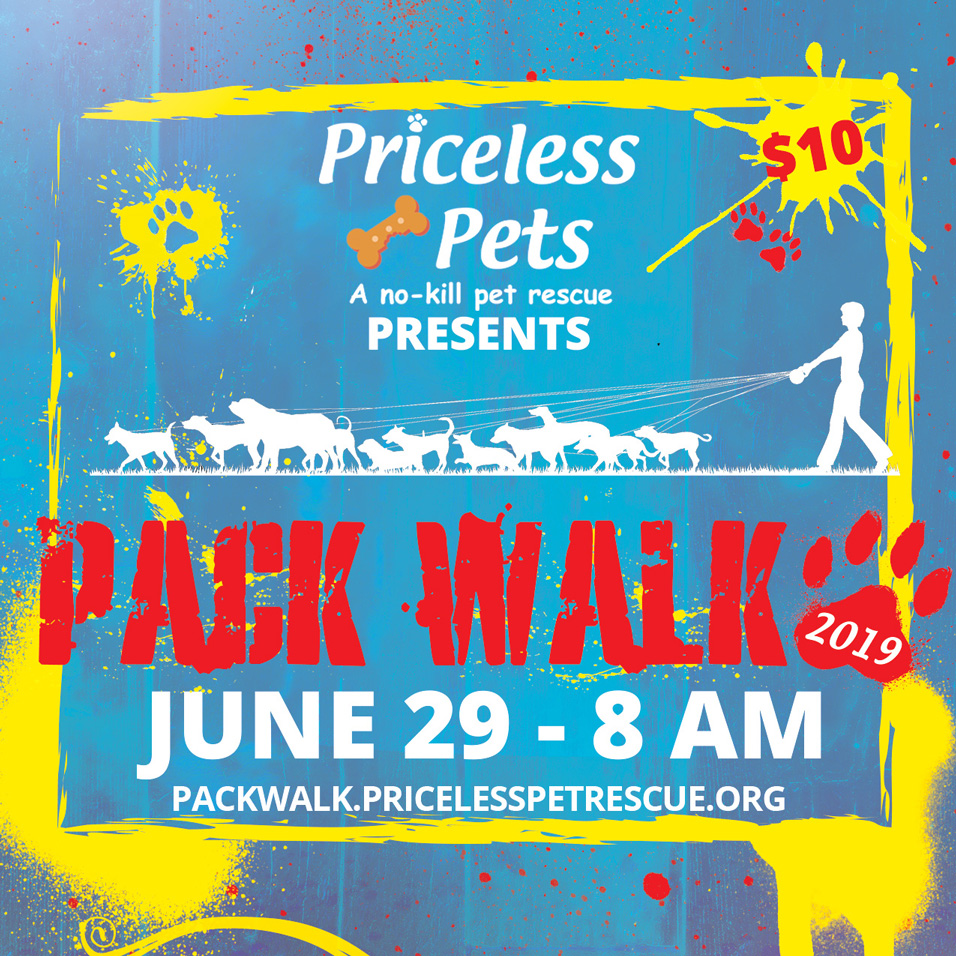 RIGHT CLICK ON THE ABOVE IMAGE AND SAVE IT TO YOUR COMPUTER TO USE THE PACK WALK THUMBNAIL AS YOUR PROFILE PICTURE FOR SOCIAL MEDIA!!
Pack Walk Rules
While on the pack walk all participants must stay on the sidewalk when available and not be in the streets impeding traffic at any time. Participants will use all crosswalks when crossing streets and obey all traffic laws as pedestrians at all times.

One dog per person. This is to ensure all dogs are adequately handled and no mishaps occur. All dog handlers must be at least 16 years old.

No doggie face to face greetings or physical contact. Face to face greetings in the dog world are considered inappropriate. Many face-to-face greetings have the ability to escalate, which we are attempting to avoid. Our pack walk is for socialization and awareness and not for dog play.

Give each dog space. Many dogs can handle dogs that are in close proximity but many cannot. Whenever the group is stopped please be aware of your dog and keep them four to five feet from other dogs and at your side.

No flexi or retractable leashes. All dogs need to be on a leash that is no longer than 6 feet and at no time will the handler allow the dog to roam freely off-leash. Please keep your dog next to you and under control.

Bring water for you and your dog. There will be water available on the pack walk, however, be sure to bring the amount of water you and your dog will need for the distance you are walking.

Bring high-value treats for your dog. If your dog is easily distracted or reactive, high-value treats can help get your dog to refocus on you and the walk.

Bring poop bags and clean up dog waste. We are guests on the trails and need to make sure we leave the route as it was before we arrived.

All dogs welcome to join the pack walk. If your dog is reactive or overly excited, it is best to walk toward the back of the pack. Give your dog space and time to acclimate to the situation. Rejoin the pack as your dog becomes calm and submissive.

Please put a yellow ribbon on your dog's leash if your dog doesn't always enjoy the company of other dogs. This will allow everyone to know to give your dog space.
Sponsors
Are you interested in becoming a sponsor for the Pack Walk? You can download the sponsorship packet here. For additional information please email info@pricelesspetrescue.org
Thank You To Our Sponsors
Top donors
| No. | Name | Amount |
| --- | --- | --- |
| 1 | Sarah Blataric | $533.35 |
| 2 | Anonymous | $215.00 |
| 3 | Julie and Monet Hart | $213.85 |
Top teams
1

Sunday, fun day, dog hikers

Raised:

$2,287.64

View page
2

Orphanage CM - Volunteers & Friends

Raised:

$1,793.07

View page
3

Happy Tails

View page
Contact information
Event contact

Mandy Stover