THIS YEAR THE COURSE WILL BE RUN IN A CLOCKWISE DIRECTION. We switch directions every year.
Come and join us at the Dundas Valley Conservation Area for Tally in the Valley, a race unlike any other in the area.
This race is in support of 'The Hospital for Sick Children' (SickKids). Do you want to race for free? Raise $200 or more for 'SickKids' and we will refund your entry fee for the 7k, 6hr, or 12hr events. Raise $250 or more and we will refund your entry fee into any event, including the 24hr and the Gong Show. The participant who raises the most money will also receive free entry into any Happy Trails Racing event.
Race Information:
Participants will run a 7km loop through the unique Carolinian forest in the Dundas Valley Conservation Area. The loop is primarily made up of groomed double track trails with rolling hills and approximately 130m of elevation gain per loop. Although there aren't any major climbs on this course, the constant rolling hills will wear you down in the later stages of the race.
Choose between running a single loop (7k) or for 6/12/24 hours and see how many loops you can complete in the time provided. Runners who complete 23 loops (100 miles/161km) will earn themselves a custom belt buckle while all other participants will also be recognized for their hard work with a custom finishers medal.
Looking for something a little different? Try "The Gong Show"! This is an elimination style event, inspired by the Big's Backyard Ultra, that we are super stoked about. Participants will be given 1 hr to complete the 7km loop. Runners who successfully complete the loop within 1 hr (which may seem easy at first but will eventually become very challenging), will wait at the start line until the gong is hit, marking the time cut-off for the loop AND the start of the next loop. Please note: regardless of how fast participants complete their loop, they can't start their next loop until the gong is struck, which will be every hour on the hour. Participants remain in the event until they can no longer finish a loop within 1 hour OR until the race reaches 24 hours. If there is more than 1 runner to start the final loop after 23 hours, the first runner to complete the final loop will be the winner. However, ALL runners that make it to the 23 hour mark will receive a custom belt buckle since they will have run 100 miles. Last year's event saw 9 runners (out of 35 starters) reach 100 miles, but only 2 went on to complete the 24th loop- 1 male and 1 female! This race is awesome to watch as there is quite a bit of strategy involved. Ideally, runners will want to run a comfortable pace and conserve energy but will also want to leave themselves some time to fuel-up at the aid station and have a short break before heading out for another loop.
In the 6/12/24 hour races there are no DNF's (Did Not Finish). Each runner that starts the race will be recognized for the distance that they complete, regardless of when they stop. In the last 30 minutes before the completion of each timed event, we will have race volunteers stationed at different points on the course to mark how many kms into the loop the participants are when the time is up.
Course Description:
To view a course map, click here, but I wouldn't trust the elevation gain listed. Our watches consistently show 130-140m of gain per loop, not 59m as indicated on the map. Either way, it's runnable!
The first 2km are completely runnable and very scenic. This section has plenty of gentle rolling hills followed by a steeper climb at the 2km mark. The next 2km are basically flat (an ever so slight incline) and take place on an old railway line- don't worry, the tracks have all been removed and this is the easiest section of the course (although it is the easiest section physically, most runners claim that this is the most challenging section mentally). Even though this section is technically the easiest, it is also the section that has the least amount of tree cover, which can be a factor on a hot July afternoon. This leads runners to the trail centre where they can fill up their bottles with cold water without even stepping off the course at the conveniently located "drinking water tap" around the 4km mark. The remainder of the course is considered the most challenging part of the loop as the final 3km are the hilliest section. Again, no major climbs, but for the remainder of the loop, runners will find themselves climbing or descending with hardly any flat sections at all.
Aid Stations:
There will be one aid station on the course, which will be located at the start/finish area. Stock up in between loops. There will be water, an electrolyte drink (Skratch Labs), and all of your typical ultra running fare including sweet and salty snacks, pb and j sandwiches, potatoes, and chips. The menu will change as the day goes on. Last year there was grilled cheese, quesadillas, McDonalds fries, and Mr. Noodles. There will also be portable toilets located at the aid station.
We will be using our re-usable EcoCups at the Tally in the Valley. They can be washed, sterilized, and re-used over 100 times and then recycled. We send gratitude to our sponsor, DKOS (www.DKOS.ca), for helping us make this green initiative possible. They are made of rigid plastic and you throw them in the receptacle after using them, just like you would with a disposable cup. We will collect them, wash and sterilize them, (actually, another of our awesome sponsors, "Dream Zero" dreamzero.ca, will wash and sanitize them) and re-use them at our next event.
For those of you interested in running in the "Gong Show" elimination event, you can hang out at the aid station (start/finish area) after finishing the loop until the gong is hit, at which point you need to get moving if you want to make the next cut-off! The faster you finish your loop, the more time you have to rest and fuel-up.
Pacers:
Gong Show: No pacers in the Gong Show elimination event.
6 Hour: No pacers in the 6 hour.
12 Hour: Pacers are strongly discouraged in the 12 hour day race, but allowed in the 12hr night race. Since the course is 7km, there will be a lot of participants out on the course. However, we don't ever want our participants to be in any danger so if you feel like you need one for safety reasons, by all means, go for it but only in the last 4 hours of the 12hr day event. If you feel like you will need a pacer for safety reasons before this, please message the race director before registering. Participants over the age 65 are welcome to have a pacer at any time. Pacers must sign a waiver.
24 Hour: Pacers will be permitted, if necessary, at 9pm. Pacers must sign a waiver and can only join their runner at the start/finish area. Pacers cannot mule (carry anything for their runner).
Race Swag:
All participants will receive a really cool and buttery-soft t-shirt that you can wear around town to show everybody that you're a bad-ass. (Please note: t-shirt design is subject to change depending on supplier availability).
For 2020, one of the improvements that we are working towards at Happy Trails Racing is offering gender specific shirt sizing (when possible). For events that offer shirts, such as this race, we are trying to offer our participants the best fit possible.
Runners will now have the option to choose either a Unisex Shirt or a Women's Cut Shirt during the registration process. The title "Women's Cut" is the actual name of the cut. Any person is welcome to choose whichever option they wish.
The race shirt cut-off date is July 1. If you register after July 1, you will NOT receive a t-shirt.
Participants in the 7k, 6hr, 12hr, and 24hr events will all receive a rad race medal, unless you run 100 miles, in which case, you will earn yourself a SWEET belt buckle! Participant in the Gong Show get NUTHIN' unless they run 100 miles or win the event. That's part of the fun!
In addition, our friends at the Canadian Trail Running Co are creating really awesome special edition race gear for all of our events this year. You can check them out and order them online by clicking on their logo below:
Post Race Food:
We understand that people have different dietary restrictions, needs, and preferences. Because of this, rather than include the cost of a post-race meal that you may or may not enjoy/ be able to eat, we do not include meals in our race registration fees. However, we do our best to provide a food vendor at our races that will offer various selections so that you can choose to purchase food if you wish. If you choose to do so, you will purchase the food directly from them and Happy Trails Racing will not benefit monetarily in any way. We do this to give you the biggest bang for your buck and to try to enhance your experience the best that we can.
Refund Policy:
Happy Trails Racing has a new policy regarding race refunds/transfers: register with confidence knowing that you can take advantage of our early bird pricing and, if you need to back out, you can do so up to 30 days before the race with a 100% race credit that can go towards any future Happy Trails event. It doesn't expire. From 30 days out to 15 days out, you can back out with a 50% race credit. Participants are also welcome to transfer their bib without any penalty up to 15 days before the race. Please keep in mind that everything we need to order to have you at our race is done so at least 30 days out.
Limits:
In order to make sure that all racers have space to enjoy the experience, we are limiting the event to 300 participants. The breakdown is as follows:
-Maximum 50 participants in the Gong Show
-Maximum 250 participants total between all of the remaining events.
*Please keep in mind that this race sold quite quickly in 2019.
Race Day Photos (Sue Sitki Photography)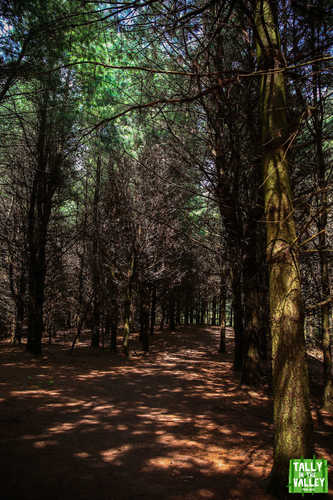 Top donors
| No. | Name | Amount |
| --- | --- | --- |
| 1 | Anonymous | CA$269.32 |
| 2 | Zuzanna Gorski | CA$108.31 |
| 3 | Maria Larin | CA$108.31 |
| 4 | Teresa4505 Burns | CA$108.31 |
| 5 | Carol Stewart | CA$108.31 |
Event schedule
July 25 8:30 AM EDT - Cool Beans 1km Run
July 25 9:00 AM EDT - 6 Hour Trail Race
July 25 9:00 AM EDT - 12 Hour Trail Race - Day Time
July 25 9:00 AM EDT - 24 Hour Trail Race
July 25 9:00 AM EDT - The Gong Show- Elimination Event
July 25 9:00 AM EDT - 7k (1 loop)
July 25 9:00 PM EDT - 12 Hour Trail Race- Night Time
Contact information
Name

Jeff Rowthorn, Race Director | Heather Borsellino, Race Coordinator