Register today for this annual Halloween themed 10k/5k and Chase through Historic Downtown Powder Springs! All proceeds of this 12th annual event support the life-changing services provided by Vision Rehabilitation Services of Georgia (VRS) to individuals of all ages who are blind or visually impaired across 31 counties of North Georgia. Get those broom sticks and costumes ready!
Both the 10k and 5k courses are certified and sanctioned by USA Track and Field again this year!! You can use your time when registering for the AJC Peachtree Road Race for placement in the corrals!!

REGISTER BEFORE OCTOBER 7 TO BE GUARANTEED THE SHIRT SIZE YOU CHOOSE. Because we can never predict the number of registered runners each year, we have to estimate the additional number of shirts that will be needed after September 30 for registrants. Anyone registered after September 30 might need to choose an alternate shirt size when they pick up their bib and shirt.
As the money is going directly to charity, we are unable to issue any refunds. Our race will take place rain or shine. See you race day!
Please come dressed in costumes and ready to enjoy the scenic routes of the surrounding area and Silver Comet Trail. It is a beautiful area with a flat course so you'll make great time.


| COURSE MAPS |

| RACE DAY SCHEDULE |

7:30 am - 8:30 - Registration and Race Day Packet Pick-Upbetween Powder Springs City Hall
8:45 am - 10K start in front of Powder Springs City Hall on Marietta Street
9:00 am - 5K start in front of Powder Springs City Hall on Marietta Street
9:15 am - Until Food Runs Out. Hahaha. Free Brunch starts for all registered runners with race bib. Additional tickets available for purchase.
Brunch located at The Event Station across from the Hardy Family Automotive Amphitheater
10:30 am - Trunk or Treat Fun Run start at Hardy Family Automotive Amphitheater





| PARKING |

Parking available in multiple areas around the venue


| PACKET PICK UP |

THURSDAY - Oct 22, 2020 Noon - 6PM
Registration available at Packet Pick Up
Location: West Stride
3517 Northside Parkway #11
Atlanta, GA 30327
Phone: 404-467-1010
FRIDAY - Oct 23, 2020 12PM - 6 PM
Registration available at Packet Pick Up
Location: Powder Springs United Methodist Church
4329 Marietta Street - In the Fellowship Hall
Powder Springs, GA 30127
** Park behind the Church Building **
SATURDAY - Race day 7:30 - 8:30 am
Registration available at Packet Pick Up on Race Day
Location: Parking lot of
5K Course Map
10K Course Map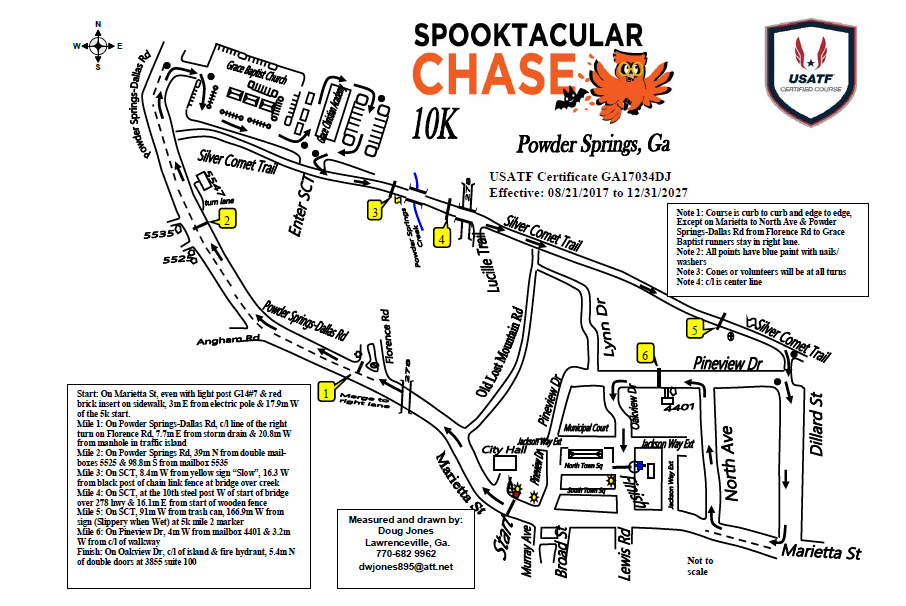 Volunteer Opportunity
The Spooktacular Chase will be having its Annual 10K/5K race!!! If you are looking to give back to the community and make connections, we have a great opportunity for you because the Spooktacular Chase 10K/5K Race is back. If you missed it last year, come join the fun this October! This year promises to be even better than last year's Chase!
With a variety of exciting and Spooktacular positions available, there is a job for everyone. The Spooktacular Chase 10K/5K is not possible without the help of our amazing volunteers. So come out and get in the spirit to cheer our racers on as they conquer the Haunted Trails of Powder Springs and support Vision Rehabilitation Services of Georgia!
As a thank you, all volunteers will receive a cool Spooktacular t-shirt and can enjoy our FREE post-race brunch immediately after the race. We look forward to seeing you at the Chase!
Contact information
Name

Dana