Welcome to The Big Canada Run
A once-in-a-lifetime chance to be part of a journey you could have only dreamed of is now a reality.
The coveted adventure to run across Canada is no longer reserved for a few lucky ones. The Big Canada Run is a virtual team challenge across Canada with two different routes:
Leg #1: The original team run across Canada. From St. John's, NL to Victoria, BC, covering 8,000km.
Leg #2: Looking for a new or bigger challenge? This new leg starts in Victoria, BC, goes up to Whitehorse, Yukon, and finishes on the coast of NL covering 10,000km.
Assemble a team (as big or small as you want) and be part of this amazing journey.
Your team has from Canada Day (July 1st 2021) until June 30th 2022 to complete the adventure. Run, walk, hike – it can all count towards your team's distance.
And you can make your achievement mean something even more by donating and helping raise funds for one of our two amazing supported charities.
Our experienced race organizers will be with you every step of the way! We'll set up ways for you to stay connected with your team, highlight noteworthy portions of the virtual routes you are completing, and keep track of all the results at the end of each day. Who knew that a virtual challenge could be so much fun!
Details
You can log all your km from July 1st, 2021 to June 30th, 2022.
You can register and be part of a team to run either one, or both legs (no limit on team members).
Race Perks
Limited Edition Finisher's medal
Multi-Functional Neck Gaiter
Special Edition TBCR Charm
Official Virtual Race BIB
An invitation to a participant-only Facebook group
Virtual badges to celebrate and share your accomplishments
Pre-mapped courses across the country
Mobile App to register your km and follow the journey. Sync Fitbit, Garmin, Strava, Apple Health, or RunKeeper to upload your km automatically.
Virtual travel experience through fun facts and photos of things you would see along the route
The Amazing Bling for This Race
The Big Canada Run is on for a whole year. Registration will close once the last spots are filled out, or on October 15, 2021, whatever happens first.
!! NOTE: All pricing is in CDN $. However, there are no geographic restrictions - you can register and participate from anywhere in the world! Tag us! #thebigacandarun
Registration fees
Leg #1 - 8,000km Team Relay - Medal for each Runner
Price changes in 7 days 23 hours
---
Leg #2 - 10,000km Team Relay - Medal for each Runner
Price changes in 7 days 23 hours
---
Maple Team Challenge - Leg#1 + Leg#2
Price changes in 7 days 23 hours
---
Virtual Race Details
Track Your Workouts
You can track all your kilometres (miles) directly into our website and or our mobile iOS and Android apps. You can enter an activity into the app either by manually entering its distance or by syncing your activities from your favourite fitness tracker or smartwatch.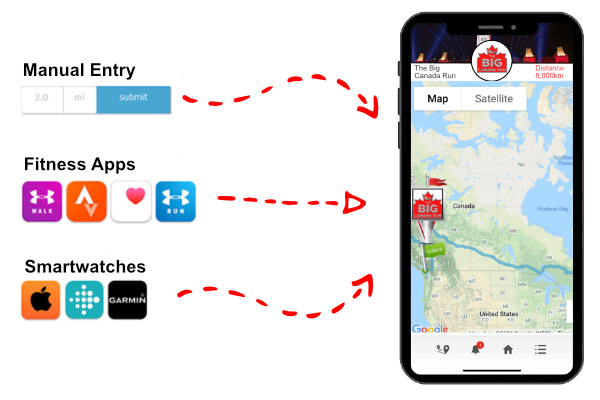 Travel Canada Virtually
Our mobile app will map your progress on a virtual route across Canada. Every time you add a workout, you also advance on the map. Not only can you see your avatar and others on the map, but you can also explore your virtual surroundings on Street View as you travel across Canada.
Teams
A team can be as little as 1 runner or as big as your imagination. You will register as an individual. During the registration process, you can select which team you want to be added to or create your own.
There are 2 types of teams:
Private Teams: These teams can be set up by any participant and they set a password. You need the password for that specific team to be able to join.
Province Teams: If you don't have a team you can join and share the journey with runners/walkers/hikers in your own province.
Courses
Fee Notes
1. All prices are in CDN Dollars.
2. The race starts on July 1st, 2021.
3. 13% HST will be applied at checkout on your registration and merchandise purchases.
4. An online processing fee will be applied to your online registration and merchandise purchases.
5. VISA, MC, Amex, and Discover Card accepted.
6. Your credit card statement will show a charge from The Big Canada Run or Race Roster for your registration into this event.
Registration Policy
Registration is open to anyone either eighteen (18) years of age or the age of majority in the jurisdiction where you reside as of the date of entry, with no geographic restrictions - you can register and participate from anywhere in the world!
Registration for The Big Canada Run is non-refundable, non-deferrable and non-transferrable.
Participation is almost entirely based on the Honour System, so we encourage everyone to be as authentic as possible in completing challenges and earning badges
Contact information
Event contact

The Big Canada Run

Email

Phone

6133664204

Website