Congratulations to the 2022 'Great Canadian'
Award winners RUSH!
Join in the Largest and most Patriotic Race in Canada!
Live Run it in Amherstburg or Virtual for Canadians Anywhere else in the World.
This Race Sells Out Every Year, hurry and register before the cut off!
Celebrate Canada D'Eh with History and Beauty! Run where it all Began!
As a part of the Historic Amherstburg official Canada Day Celebrations, the Canada D'Eh 5K Run/Walk starts off a day filled with patriotic events.
The Start/Finish line is outside the main gates of Historic Fort Malden a Parks Canada site. The course proceeds up Laird around Tody Jones Park and down Dalhousie and back. Mostly waterfront, Flat, Fast, and definitely all Historic.
NO STROLLERS ALLOWED IN RUNNINGFLAT EVENTS - No Strollers or Dogs are allowed in the start/finish chute areas and on the course. RunningFlat wants to produce the highest quality events with a focus on all participants' safety.
All finishers get an amazing Canada D'Eh Run Maple Leaf-inspired special edition Finishers Medal, along with a Canada D'Eh Run tech shirt. A great shirt you will be proud to wear to any international event.
YOU VOTED ON WHO YOU WANT ON THE 2022 MEDAL!
See Our Famous Medals section below for full details.
Start your Canada Day with us at the 9am run and stay for the day and enjoy the Town's Festival, Fort Malden and then the amazing Fireworks at the Fort to end off the day.
Fun along the course Eh!
(Bob and Doug at the closed Beer Store, it is a Holiday after all)
Awards for Fastest and Best Dressed!
Largest Kid's Race in the Region!
RACE KIT PICK UP will be done the day before at Fort Malden Historic Site in Amherstburg, 100 Laird Ave., 3pm-8pm. Pick Up the day of is available from 7am-8am that morning at the start line infront of Parks Canada Historic Fort Malden on Laird Ave. Please be early so the race can begin on time. No Refunds or transfers allowed.
Run through our historic 1812 course and collect your historic finishers medal to wear proudly all Canada D'Eh! At the end of the race enjoy a Canadian butter tart, banana, water and more in the finish line food area.
Family/Group $5.00 discount on each registration for groups of 4 or more when registering in a single transaction, not applicable to Kid's Races.
COVID -19 Precautions
On the day of the race, RunningFlat will meet the local requirements for Covid-19 precautions at large public events according to local Health Unit Ontario Ministry of Health and Local Municipal regulations. These will be changing drastically throughout the winter and spring and we will keep participants informed of the requirements.
HST is extra, NO REFUNDS
Registration fees
5K Run/Walk
Closed
Online registration closed
Canadatastic 5K Run

$40.00

Early Bird Pricing
---
1K Run designed for the bigger kids
---
500M Run designed for the little ones
---
Virtual Run / Walk
Welcome to our Virtual Race. So if you can't make it you can always participate. Purchase the Virtual Race kit and we will mail you the Shirt, Bib and Medal a week before the race (mail delivery options willing). You just have to promise us that you will run or walk at least 5,000 metres or 3.1 miles on or around the July 1st date. There are Canadians around the globe and now you can get a little piece of Canada where you live. :) Registration for the Virtual Race closes June 10th. There will be an additional charge to mail packages to Europe. Contact the race and we will quote the shipping to you.
Canada D'Eh in Germany!
Our Famous Medals
Congratulations to our 2022 'Great Canadian' Award Winners - RUSH!
Every year the participants get to choose a 'Great Canadian' and have their likeness put on the medal. This year the Canada D'Eh runners and walkers must choose a 'Great Canadian' from Dr David Suzuki, Viola Desmond and the Band RUSH as they were the top vote-getters from last year's event voting. Not only do they vote on one of the three but they make a suggestion of who they want to see on next year's medal. Those votes are tabulated, and the top three are chosen, and they are voted on to next years 'Great Canadian'.
The 2022 'Great Canadian' award will honour the band RUSH. Toronto-based Prog-Rock trio Geddy Lee, Alex Lifeson and the Late Neil Peart are RUSH They will be immortalized on the 2022 Canada D'Eh Run 5K finisher's medal. The medal is limited to only 2500 participants.
After 40 years of playing and touring the world RUSH always promoted its Canadian roots. Known for their brand of Progressive Rock with 19 Albums estimated sales of 40 Million albums worldwide and the induction into the Rock and Roll Hall of Fame in 2013.
Prior 'Great Canadians' are Sir John A MacDonald, Terry Fox, Cmdr. Chris Hadfield, Wayne Gretzky, The Canada 150 Mirror, Gordon Downie, Don Cherry, and Nurses during COVID.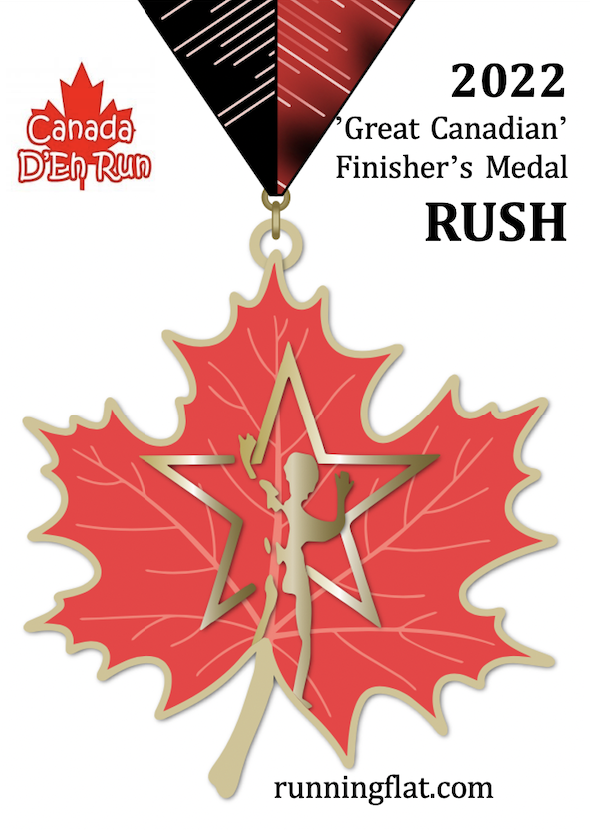 Our Famous Shirt
Every year we choose an iconic Canadian Shirt design.
These are the 2022 shirt design
Here is the Sizing for the Unisex Shirts.
Race Kit Pick Up
RACE KIT PICK UP
Race Kit Pickup will take place at Fort Malden Historic Site in Amherstburg, 100 Laird Ave.:
Thursday, June 30, 2022, from 3:00 - 8:00 p.m.
Friday, July 1, 2022, from 7:00 - 8:00 a.m. (please arrive early so races can begin on time)

Other people can pick up for you. They will need your confirmation number or email stating they can pick up for you.
Bring your confirmation with the QR code to go faster.

Transfer Your Registration
You can transfer your registration within the Race Roster System.

RACE DAY JULY 1
Parking is available on town streets. Please arrive early for closer spots.
The day begins with the Kid's races at 9:00am sharp with the 5K starting immediately after the kids have completed their events. Walkers will start 5:00 Minutes after the Runners start. Please make sure your bib is pinned to the front of you. It is required to allow you to finish with a time.
NO STROLLERS ARE ALLOWED – due to public safety.


Top donors
| No. | Name | Amount |
| --- | --- | --- |
| 1 | Anonymous | $250.00 |
| 2 | George Rahie Flooring Inc. | $161.98 |
| 3 | Rayzer Automotive | $161.98 |
Event schedule
June 30 3:00 p.m. EDT - Race Kit Pick Up - Fort Malden
July 1 9:00 a.m. EDT - Start Time Kid's Races
July 1 9:30 a.m. EDT - Start Time 5K Run
July 1 9:35 a.m. EDT - Start Time 5K Walk
Contact information
Event contact

Chris Uszynski

Email