A Santa run along Toronto's Lakeshore!
Feel like you've missed out on the Santa running experience? There's one more Santa Run this December!
Option to purchase a Toronto Marlies ticket for a game after the run! Details below.
Registration closes WEDNESDAY, DECEMBER 11, at 6:00 PM.
Registration fees
5 KM + Marlies Ticket
Closed
Includes a full Santa Suit and a ticket to the Marlies game
---
Marlies Ticket Only
Closed
Sit with your Santa-clad friends at the Marlies game. No suit included.
---
5 KM Only (With Suit)
Closed
Includes a full Santa Suit
---
5 KM Only (No Suit)
Closed
You've already got a suit from another race, so wear it and enjoy the discount!
---
Registration Options
Registration takes place online at www.RaceRoster.com until Wednesday, December 11, 6:00 p.m.
The event is capped at 1000 entrants. Registrations will be accepted at the kit pickup on event day (cash or cheque only).
Race Specifications
AGE CATEGORIES:
Up to 12 | 13 - 15 | 16 - 19 | 20 - 24 | 25 - 29 | 30 - 34 | 35 - 39 | 40 - 44 | 45 - 49 | 50 - 54 | 55 - 59 | 60 - 64 | 65 - 69 | 70 plus
AWARDS will be presented to the top 3 overall Male & Female, Open & Masters (age 40 ), and to the top 3 Male & Female finishers in each age & weight category, and to 1st place in each Team Category.
The top Male and Female finisher will drop the ceremonial puck at the Marlies game!

Swag Bag and Race Kit Pick Up
Race Kits include:
Race number and timing chip
Santa suit (Optional - if you already have one)
Marlies ticket (Optional)
Kits can be picked up on:
Sunday, December 15 at Ontario Place Lot 1 (

955 Lake Shore Boulevard West,

Toronto, Ontario M6K 3B9) 11:30 a.m. - 12:30 p.m.
If you are picking up a kit for someone who is not you, have them forward you the email confirmation! Or print it out if you need to.
Course Details & Information
5 KM Course Description
From Ontario Place lot 1, northwest along Martin Goodman trail, to turnaround point near the Boulevard Club, returning along same trail to the finish at Ontario Place.
The 5 KM course is a certified and timed distance. There will be one water station on the course. Each KM will be marked. Courses are subject to change pending approvals and course certifications.
Ricoh Coliseum
Ricoh Coliseum is located on the Exhibition Place Grounds at:
100 Princes' Boulevard
Toronto, ON
M6K 3C3
Click here for parking and directions
The Santa Suit
The suits fit on the larger side. They come in Mens, Womens, and Childrens. Suits are assigned on a first-come, first-served basis, with no exchanges.

All participants will receive a full Santa Suit which consists of a jacket, pants, hat, beard and belt, and the entire Santa Suit must be worn during the event. In the spirit of the event, any participant not wearing the full Santa Suit will be removed from further participation without refund.

Please remember to keep your Santa Suit for the following years, to receive an entry fee discount.
Post-Race/ Pre-Game
After your run, there will be music, awards, draw prizes, and some food available at the finish line.
If you've selected the Marlies ticket, head over to Marlies Alley at RICOH Coliseum to enjoy the pre-game festivities! It's a 400m walk from the finish area. Cross over the Lakeshore on one of the pedestrian bridges.
The Game
Fill the stands!
Thousands of Santas in the stands watching the Toronto Marlies take on the St. John's Ice Caps. It's going to be epic!
Every registrant to the event receives a free ticket to the game, December 15, 2013, 3:00pm faceoff. This will set some kind of record for Santas at one professional hockey game.
The male and female winners from the event will drop the puck for the ceremonial faceoff!
Charity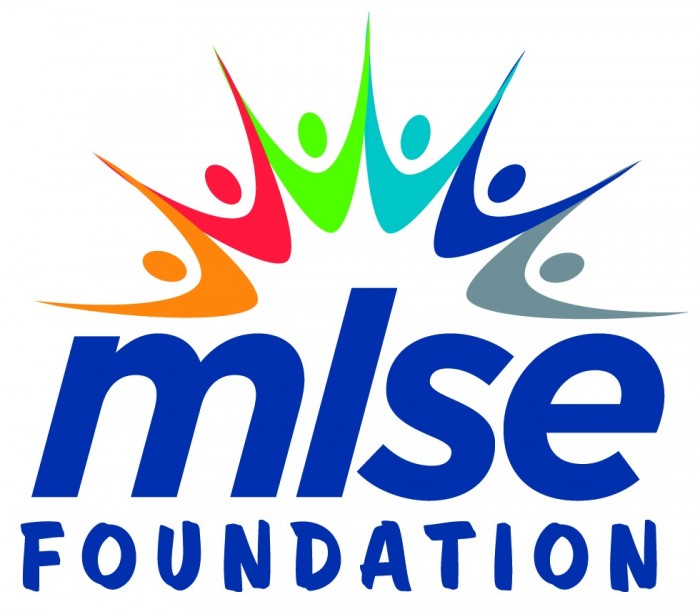 Pledges and proceeds of this race go to support the MLSE Foundation.

The MLSE Foundation believes all kids should have access to sport and the opportunity to develop lasting dreams on the playing field.

With the support of all four MLSE teams – the Toronto Maple Leafs, Toronto Raptors, Toronto FC and Toronto Marlies – the Foundation funds the refurbishment of local athletic facilities, and funds charities that support kids through sports and recreational programs.

Since launching in December 2009, the MLSE Foundation has invested more than $9.5 million into our community. Last season, we impacted the lives of more than 110,000 kids.

Top 4 pledge raisers win:
1. Team Signed Maple Leafs Hockey Stick
2. Johnny Bower signed bobblehead
3. Team Signed TFC Soccer Ball
4. Kyle Lowry signed jersey
Event schedule
December 15 11:30 a.m. EST - Kit Pickup
December 15 1:00 p.m. EST - Race Start
December 15 3:00 p.m. EST - Game Start
Contact information
Name

Jordan Schmidt

Email