NEWS!  10K National Age-Group/Masters Championships 2015
Canada's Largest Chocolate inspired Running Event!
Le Chocolat 
A Mother's Day Primer
The only Run in the World that gives every Registrant an amazing Pelee Purse with 3L of White Chardonnay or Red Merlot Wine, Chocolate and a Chocolate inspired Finisher's Medal. 
Two years ago we sold out in 4 days our 5K Run/Walk (we gave away Coach Purses).  Last year we were the largest Spring run in Ontario this side of the Mississauga Marathon.  Register early to guarantee your place in this Historic event.  Windsor's only Half Marathon on Riverside Drive.
Can You Say Happy Mother's Day Primer?
Join us the weekend before Mother's Day for an amazing Half Marathon 21K (13.1miles), 10K and 5k Run/Walk out of the trendy Walkerville BIA.  The event starts in Walkerville and utilizes the gorgeous Windsor waterfront and Riverside drive for all races.  Participants will enjoy firemen at the water/aid stations (lets plan for some twisted ankles that day) a great finisher's Le Chocolat inspired medal (all races) and of course lots of Chocolate inspired treats.   Stay after the race to enjoy all the shopping and great dining in Walkerville.   This year all participants get a 3L box of wine (red or white) that is shaped like a purse (must be 19 years of age or older to pick up wine)! 
The Course 
Join us for Windsor's only Half Marathon that has the beautiful Detroit Skyline as your course backdrop.    The Half Marathon goes from the Bridge to Lauzon Road, utilizing the most shoreline course in North America.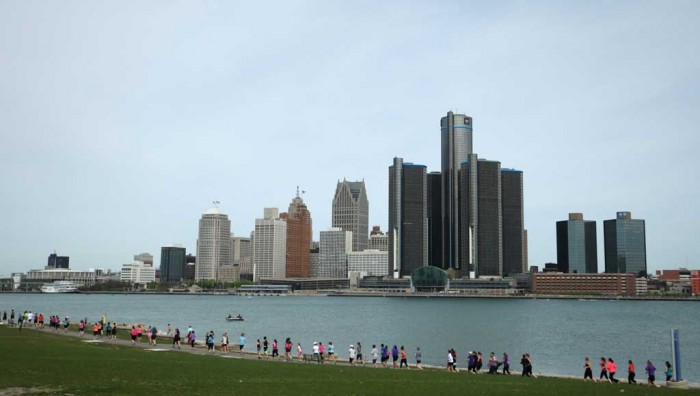 Absolutely NO RACE DAY RACE KIT PICK UP. You must pick up the day before, at our RaceKit Pick up site River Front Plaza, 370 Riverside Drive East. 
Start Finish
The Start/Finish line is at Walkerville Brewery at 525 Argyle Rd.  The event will start at 9:00am rain or shine.  No refunds.  Due to the high cost of putting on the event, we ask that you please click the charity link and donate today or at the run.  Make a Fireman Happy donate to Sparky's Toy Drive.
The Chocolate Zone 
Soon announcing a special sponsor for the Chocolate Zone located at the end of the Finish Line.  We have developed a new process with gift boxes made for every finisher.  Each box contains a variety of Chocolate and goodys for the Chocolate lover in you.  New security protocols will be in place to make sure you get yours.