3rd Annual WAMBO River Run: Race kit pickup will begin at 7:00am on race day, Saturday, August 8th, 2015 at Steinhoff Park. The race begins at 8:00am. Free coffee is available for runners/walkers and spectators at the park starting at 7:30am. There are 6 good reasons to do this run: 1. Cheapest entry fee in Southwestern Ontario. 2. We've added a 5k walk-only division. 3. All participants receive a technical T-shirt as well as a great swag bag. 4. We award really nice plaques for the winners of each age category. 5. Water, cold cloths, fruit and cheesecake await runners at the finish line. 6. A scenic out-and-back course that follows the Sydenham River, with staggered starts to avoid crowding. There are water stations at the 2.5K, 5K and 7.5K markers.
All paid participants who register by July 31st at 12:00 midnight are guaranteed a technical race shirt and a swag bag. After the deadline, runners/walkers will receive no shirt or swag bag, but you will be helping our youth program, so please remember to register early.
Good luck and have fun out there!!!!!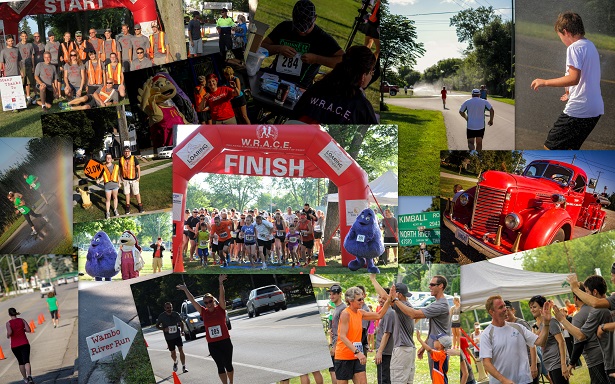 There will be an antique fire truck along the route, providing a refreshing mist for our runners. Plaques will be presented to the overall winners, and we will present plaques to the fastest male and female participants in each age category (11 and under, 12-19, 20-29, 30-39,40-49, 50-59 and 60 and over. Fruit and cold beverages will await runners at the finish line.
Once the race is completed, we encourage all participants to enjoy the sights and sounds of WAMBO, located in the downtown core. Hundreds of antique cars, boats, and fire trucks are available for viewing. Plenty of delicious food and beverage options await you as well.
Here is a map of the area in Wallaceburg, where the race is. Parking is available around Steinhoff Park, and on the streets near the park.
*** July 31, 2015 ***
PLEASE NOTE: REVISED RACE START LOCATION!
Due to unforseen road construction on Mary Street, the start location will now be at the Baptist Church parking lot, at the north end of Napier Street, and Napier Street will be closed from 7:45am until after the race is complete. There is plenty of parking at the church, and race day registration and race kit pickups will be in the church. Volunteers will be at Steinhoff Park to re-direct people to the church.
Registration fees
---
---
---
Wheelchair, Stroller and Assisted Runners
---
DIRECTIONS
FROM CHATHAM: Follow Highway 40 into Wallaceburg. At the fork, stay to the right. You are now on Murray Street. Follow Murray Street to the bride. You will cross the bridge and go straight through the lights. Steinhoff Park will be on your right.
FROM DRESDEN: Follow Highway 78 to Wallaceburg. It will turn into Margaret Avenue at the hospital. Continue on until you reach the lights at the bridge. Turn right at the lights (Main Street). The park is on the right.
FROM SARNIA, SOMBRA, PORT LAMBTON: Follow Highway 40 into Wallaceburg. You will reach a set of lights at Dufferin. Turn left and follow Dufferin until you reach the lights at the CIBC. You will need to turn left here (Wellington) and follow Wellington as it curves around the downtown, which will be closed for WAMBO. Wellington ends at the Dundas Bridge. Cross the bridge and turn left at the lights (Main Street). The park will be on your right.
Event schedule
August 8 7:00 a.m. EDT - RACE DAY REGISTRATION
Contact information
Event contact

The Defiance Running Club

Phone

+1 519-784-3341