ONLINE REGISTRATION is closed.
RACE DAY REGISTRATION will be available: Adult $100, Youth (17 & Under) $40.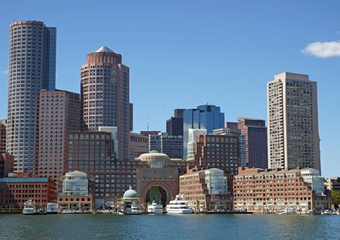 Sharks in Boston Harbor? Bostonians call them "Shaaahks"! Imagine swimming across Boston Harbor from Piers Park Sailing Center in east Boston to the swim finish at the John Joseph Moakley US Federal Courthouse at Fan Pier in South Boston. You can do this! We are thrilled to bring our popular open water swim series to Boston. The 1500 meter competitive swim will have downtown Boston for a backdrop as athletes navigate across the channel to a thrilling finish. The Coast Guard will stop all boat traffic in and out of the channel during this event. Water taxis will transport swimmers from the finish line to the start of the swim. The event is limited to 800 participants - so don't wait too long to register! This will be the talk of the New England swim circuit.

Check out a video from the 2nd Annual event!

PLEASE NOTE: This swim is not for novices. This event is for experienced open-water swimmers only. You should be able to swim one mile comfortably in a pool in under 40 minutes. Also the water quality in Boston's inner harbor is safe for swimming. The City of Boston and other agencies test the water on a regular basis. We take water quality issues very seriously and we will ensure the water is safe for swimming and the event.
Registration fees
---
Adult
Closed
Online registration closed
---
Course Map
DISTANCE: 1500 Meters
Event Details
WATER TEMP: ~64-68° F
COURSE CUT-OFF TIME: 50 minutes
INCENTIVES: T-Shirts for all participants. Sharkfest Swim Medals for top three finishers in each age group, in each division (wetsuit & non-wetsuit). Personalized award plaques will also be mailed to the first place finishers in each age group, in each division (wetsuit & non-wetsuit).
AGE GROUP BREAKDOWN: Male and Female: 5-6, 7-8, 9-10, 11-12, 13-14, 15-17, 18-24, 25-29, 30-34, 35-39, 40-44, 45-49, 50-54, 55-59, 60-64, 65-69, 70-74, 75-79, 80-84, 85-89, 90-94, 95-100!
ENTRANT LETTER: An entrant letter with all the race day details will be emailed to all registered participants and posted online here 1-2 weeks prior to event day. Please check back for any updates and the full race day itinerary. LINK TO RACE DAY DETAILS IN ENTRANT LETTER
PARKING: There is a new underground parking garage at 11 Fan Pier Blvd. (under Babbo Pizzeria) Parking is available there for $15 (for 10 hours). Swimmers are required to either take the water taxi or public transit (Piers Park is 4 blocks from the Maverick T-stop on the Blue Line) to the swim start. There is NO PARKING at the swim start.
CANCELLATIONS: Registrations are non-refundable. If you can no longer participate in this event, you may receive a rollover credit (minus a $20 processing fee) toward a future event as long as you let us know by August 19 2015. After that date, a doctor's note is required to receive a credit.
FAQs
GEAR TRANSPORT: You will put your gear in a plastic bag marked with your bib number and we will transport it from the swim start to the swim finish where you can retrieve when you finish the race.

SPECTATORS: Spectators who would like to watch the swim start must take public transit to Piers Park. We will have water taxis available for $10/person for spectators to go from the swim start to the swim finish, but there is no guarantee that you will reach the finish before your swimmer. If you want to be at the finish when your swimmer crosses the finish line, then we would advise you to NOT come to the swim start. Spectators can take public transit to the swim finish (Courthouse T-stop on the Silver Line) or park in one of the pay lots near the Courthouse.
Event Partners
Piers Park Sailing Center (Beneficiary - Youth Programs)
Event schedule
September 19 7:00 AM EDT - Athlete Check-In
September 19 9:00 AM EDT - Race Starts
Contact information
Event contact

Enviro-Sports

Email

Website