THIS IS THE WRONG LANDING PAGE!
Hot off the Press, here's a picture of the Toques!
EMAIL us if you are a Zombie.....Ghost, Ghoul or other (insert scary character here) wanting to volunteer and put your dress up skills to the test!   admin@goodtimesrunning.ca    It's FREE to volunteer and you get stuff like food, an event short sleeve branded shirt, and goodie bag.
 Exciting NEW Charity Announcement
WWF-Canada is our new charity partner, Miles says lets save the planet one Monster at a time!
The Monster Dash 2015 consists of a Spooky Mile for kids and families under 12, and a chip-timed 5km & 10km run / walk for young adults and those young at heart.  Bring your friends & family, walk your child down the Spooky Mile for some trick or treating and then finish with your own cheering squad at the end of your run!
Join in the Halloween theme and come "dressed for costume success" to win top Ghoul for a chance at additional prizing! Spooky Mile kids will receive finisher's ribbons, a swag bag and are welcome to join in on the post-run fun later in the evening!
NEW COURSE ROUTES for 2015
All three races will start / finish at Wilket Creek Park in Sunnybrook Park, the same area(s) that many of you passed through if you did the 10km in any of the last three years. 
The Spooky Mile will go in a big circular LOOP to allow moms and dads to either run / walk with their kids or keep them in relative view as they munch on pizza.  There will be a few crossings of the Main Road and there will be Marshalls' and Signage in all places for maximum safety.  The terrain is a combination of Road, Paths, Grass and some dirt so please use caution (no different from the Route the first three years).

The 5km and 10km Start / Finish under the same Archway, each going SOUTH along the main park road, underneath Eglinton Avenue, and into the main guts (!) of the Park.   There are some smooth, easy curves here and the path is well paved and FLAT.  BUT, there may be a straggler jogger, bike rider or heaven forbid someone books a picnic spot along the way and they have still not left!   You might get lucky and score a cold hot dog, be prepared.   Runners will pass by the back of the Haunted Science Centre, watch out for Mad Scientists who have lost their way from the labs.

BOTH routes do a loop after 2.5 and 5km respectively and return in the same direction, so you can double up on the fun and have less chance of getting lost.  KM markers will be on both sides, in small signs with reflective tape and LARGE orange signs that would be hard to miss.


Post-Event Festivities:
All registered runners receive post event food from our partners. This includes hot food, fruit, chips, snacks, pop, water, etc. 
(this is what our "sick" goodie bags look like)!
For only $15 spectators & parents can purchase the post event food plan and can join in on the festivities.
Welcome and THANKS to some great Prize Sponsors:
 Amsterdam Brewery, Skyzone for Kids, Malabar Costume House, Endurosport Toronto, Nike Canada (Athletics Canada)...stay tuned for more!
EVERYONE in the 5km and 10km gets a Monster Dash toque this year and we have a limited number of Long Sleeve Hoodies you can purchase when you sign up, while supplies last.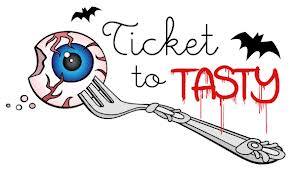 Costumes are not only welcome but encouraged for fun AND prizing!
Please note: We cannot accommodate runners who arrive late. Start times will not be delayed. 
Check back in for updates and be sure to LIKE us on Facebook and follow us on Twitter for new info on contests, prizing + more!    We also have an Instagram Account now too for GTR @goodtimesrunning.