The Growling Beaver Brevet is an amazing event to celebrate cycling and to help people with Parkinson's to live well today. All fundraising proceeds will go to support the joint work of the Davis Phinney Foundation and ParkinGo Wellness Society.
The Growling Beaver Brevet is a social (non-race) ride to celebrate cycling with 150 cyclists riding 40, 100 or 200 km routes through the scenic Beaver Valley at what should be the height of the fall colours. The day will feature Beaver Valley and Georgian Bay communities and merchants that have supported cyclists through the summer season. The routes have been conceived with a mix of tarmac and scenic country gravel roads. Every rider will carry a "passport" that will be authenticated at checkpoints.
Ride Highlights:
Epic 40/100/200 km courses that cover scenic rail trails, gravel roads, and paved roadways

Stunning vistas overlooking the beautiful Beaver Valley and the surrounding region at the peak of fall colour

An intimate event limited to 150 riders

"Passport" authentication at checkpoints which will spoil you with local cuisine and entertainment

Post ride meal upon your return to Side Launch Brewing Company

Evening social, entertainment, and awards ceremony

Receive a Growling Beaver swag bag (Growling Beaver water bottle and other fun surprises, excludes kit and swag items listed for sale below)
Through the amazing support of our sponsors, registration fees have been kept to a minimum and 100% of fundraising dollars will go to Davis Phinney Foundation and ParkinGo Wellness Society. Given this, the suggested fundraising minimum is $500 per participant.
Note: The event will occur on open roads ways, thus all participants must follow the Highway Traffic Act.

Registration fees
Click Register To Purchase Any Of Our Amazing Swag Items
---
40KM Ride
Closed
Online registration closed
---
100KM Ride
Closed
Online registration closed
---
200KM Ride
Closed
Online registration closed
---
DAVIS PHINNEY FOUNDATION & PARKINGO WELLNESS SOCIETY
Eleven years ago, Olympic medalist, Tour de France stage winner and sports broadcaster Davis Phinney set out to share what he'd discovered since learning he had Parkinson's: that although he could not change the diagnosis, there was much he could do to change how he lived with the disease. The same determination, optimism and conviction that brought him success as a professional athlete applied naturally to his approach to Parkinson's: set goals and strive for the best possible results. From these humble beginnings, the Davis Phinney Foundation was born, with a mission to help people with Parkinson's to live well today.
As the Foundation crosses the threshold into a second decade, its unique role in the Parkinson's community remains to inspire, inform, and equip people with the tools to live fully and to thrive. In 2014 alone, the Davis Phinney Foundation positively impacted nearly 150,000 people in the US, Canada and beyond. But with 6.3 million people living worldwide with Parkinson's, the Foundation is resolved to reach even more people with Parkinson's with tools and resources that will empower them to live well today.
A new partnership between the Davis Phinney Foundation and the ParkinGo Wellness Society, a registered Canadian charity, will bring great tools and resources to Canadians living with Parkinson's disease. Your support through this partnership will allow more people in Canada to have access to tools and resources that empower them to live well today and everyday.
Learn more about DPF and ParkinGo at:
www.davisphinneyfoundation.org
OUR AMAZING SWAG!
GROWLING BEAVER JERSEY - $149
The Growling Beaver Jersey is constructed from Woolpeak (TM) merino wool blend fabric. The jersey is comfort fit designed, with a low-reaching back panel and sleeves that stretch to form when riding for the drops of the handlebar. The material is highly breathable, and the seams are flatlock stitched for comfort and durability. The rear pockets are easy to reach, and a high quality hidden camlock zipper allows for one-handed use.
Key Features:

● Wrap-around side seams

● Robust construction
● Moisture wicking
● Hidden full length zipper
● Flexible fit in the collar
● Easy to reach pockets
GROWLING BEAVER GRAVEL BIB SHORTS - $159
The Growling Beaver Gravel bib shorts were created for Fall/Winter/Spring cold to mild conditions. These fleece-backed shorts are a staple of professional racers. Worn with leg or knee warmers, they are incredibly versatile giving enough range of movement and protection from the cold.
Key features:
● Made from a supportive Lycra with an insulating fleece inner for cold conditions
● Panel construction for optimum fit
● Refined race fit
● Leg grippers for comfort and stability
● Anatomic Series 2.1M 8/80 Tiger Lime™ pad
● Moisture wicking
● Flatlock stitching
GROWLING BEAVER CAP - $22
The Growling Beaver Cap is a classic piece, made from lightweight cotton. It is light and breathable. This cap can be worn under a helmet and can be folded into a jersey pocket when not needed.
OUR COURSE MAPS...
40 KM Route
---
100 KM Route
---
200 KM Route
OUR TOP FUNDRAISING PRIZES!
Reach these fundraising goals by Oct 1st, 2016 and receive:
$500 - Growling Beaver Buff & Davis Phinney Foundation Victory Crew tee.
$1,000 - Davis Phinney Foundation Every Victory Counts jersey.
$3,000 - an invitation to 2016 Davis Phinney Foundation Victory Crew Banquet in Copper Mountain, CO in early August of 2016.
If you hit multiple tiers, you receive all associated prizes plus there are additional fundraising incentives to be announced! Prizes will be distributed at the event or after via mail.
AMAZING RIDE DAY RAFFLE!
Purchase raffle tickets for the chance to win a custom hand built Mariposa steel frame and fork, designed & built to the winners specifications! Tickets are $50 each or 3 for $125. Draw will take place on ride day at the evening celebration.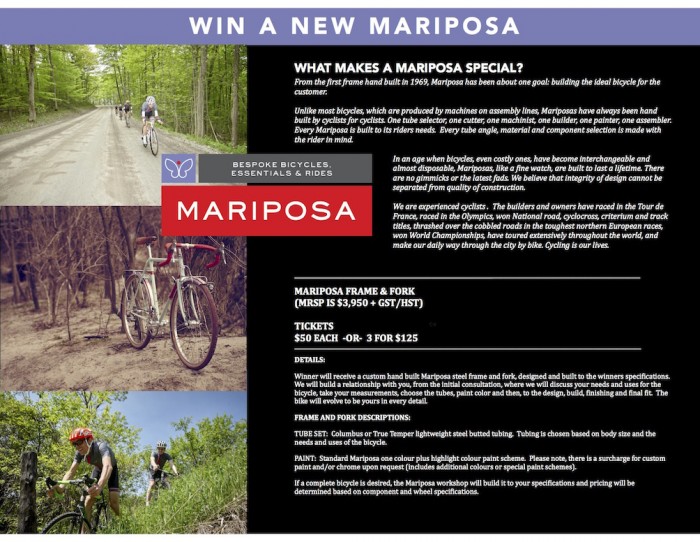 Top donors
| No. | Name | Amount |
| --- | --- | --- |
| 1 | Anonymous | $5,000.00 |
| 2 | Lalit Aggarwal | $5,000.00 |
| 3 | Anonymous | $5,000.00 |
| 4 | Ryan Pedlow | $5,000.00 |
| 5 | Growling Beaver Brevet | $5,000.00 |
Top teams
1

MARIPOSA Bombers

Raised:

$7,715.00

View page
2

The Grinding Beavers

Raised:

$5,622.00

View page
3

3TO6BEAVERS

Raised:

$4,500.00

View page
4

ParkinGo

Raised:

$3,980.00

View page
5

Squire John's

View page
Event schedule
October 1 6:00 a.m. EDT - Ride day registration @ Side Launch Brewing Company
October 1 7:00 a.m. EDT - Start of 200 km ride
October 1 9:00 a.m. EDT - Start of 100 km ride
October 1 10:00 a.m. EDT - Start of 40 km ride
October 1 5:00 p.m. EDT - Registration opens @ Side Launch Brewing Company
October 1 6:30 p.m. EDT - Social @ Side Launch Brewing Company starts
October 1 7:00 p.m. EDT - Registration closes @ Side Launch Brewing Company
October 1 7:00 p.m. EDT - Post ride meal & free time ends (arrival of last rider)
October 1 8:00 p.m. EDT - Evening entertainment and awards @ Side Launch Brewing Company
October 3 12:30 p.m. EDT - Post ride meal & free time starts (upon your return)
Contact information
Name

The Growling Beaver Organizing Committee