General Info
The start and finish are located at the entrance of San Bruno Mountain Park (555 Guadalupe Canyon Parkway, Brisbane, CA 94005). This new race will offer great views of San Francisco, Daly City, and Brisbane. Open men's race starts at 9:30am, Women at 10:15am, and Masters Men at 11:00am. Registration opens a little after 8:00am. Race day fees will be $25.
Parking
Note that parking will be very limited at the lot near the start and requires an entrance fee of $6. We recommend that you park on streets near the entrance on Southern Hill Blvd and Crocker Avenue in Daly City (1100 Crocker Avenue). there should be plenty of spaces along Crocker Avenue. The race site is about 0.85-0.90 miles from the Crocker entrance following the asphalt path.
Public Transportation from San Francisco
Public transportation to the Crocker entrance could be an option but it generally requires an additional mile or 2 of hilly climb on foot (e.g. Daly City BART Station is a little less than 2 miles from the Crocker entrance and the 14 MUNI line's stop at Mission and Goeth Streets would be about 1.2 miles from the entrance). Getting to the entrance on 99 Alta Vista in Daly City (about .7 miles from 43 MUNI line's Chicago Way & Cordova Avenue stop) is an alternative but it requires entering through 100-150 meters of steep narrow trail before heading straight on Saddle Loop Trail down to the race site (another 0.7 miles). As another alternative, the 8 MUNI line has a stop at Geneva Avenue and Carter Street which is a little less than 2 miles from the race site at 555 Guadalupe Canyon Road (requires going up along Guadalupe Canyon on a bike lane).
Course Map
The course map can be found here: http://www.pausatf.org/data/2015/map.pdf.
Results
Results will be posted on http://www.pausatf.org/data/2015/xcresults2015.html after the event.
View of Sutro Tower and downtown Sam Francisco from the side of Saddle Loop trail.
Crocker Entrance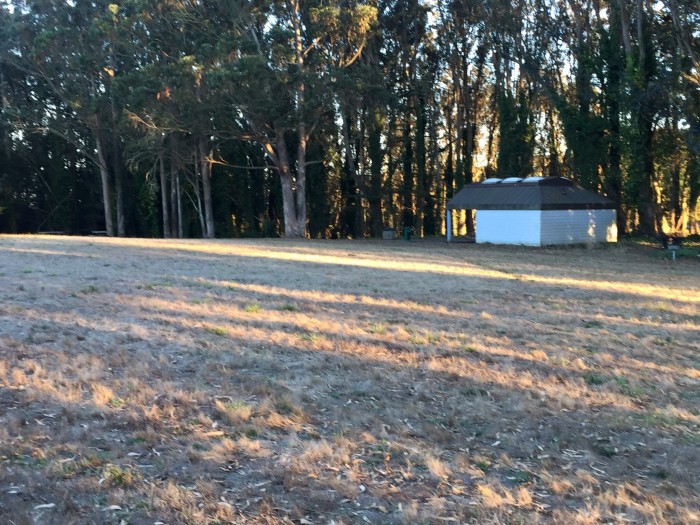 Starting Field
Service Road
Out-and-Back section of Saddle Loop Trail.
Edward Bacciocco, Jr Picnic Area
Old Guadalupe Trail
Start of Saddle Loop Trail.
Saddle Loop Trail
View of Cow Palace
Path back to finish area.
Registration fees
Open Men's Race (5K)
Closed
Online registration closed
---
Masters Men's Race (5K)
Closed
Online registration closed
---
Women's Race (5K)
Closed
Online registration closed
---
Event schedule
October 3 9:30 AM PDT - Open Men's Race 5K
October 3 10:15 AM PDT - Women's Race 5K
October 3 11:00 AM PDT - Masters Men's Race 5K
Contact information
Event contact

Chikara Omine

Email

Phone

+1 415-269-1022