Benefiting My Generation Foundation and Autism Association of Northeast Arkansas
Jonesboro, AR
Saturday, October 31st, 8:00 AM

St. Bernards Health & Wellness
Put on your Halloween costume and run for your life!!

Tricks and treats after the race... Fun for the whole family!!

WELCOME MAYOR HAROLD PERRIN AS OUR OFFICIAL RACE STARTER!!

*THIS IS A USATF CERTIFIED RACE COURSE
Event
The FIRST ANNUAL "Say BOO! To Bullying" 5K, 10K and 1 Mile Costume Crawl is more than a race, it's a party!!
October is National Bullying Prevention Month, so we've created a fun event to educate our community and raise awareness about bullying prevention. One out of every four students reports being bullied during the school year, and 63% of children with autism are bullied. The effects can last a lifetime. When we all stand together, no one stands alone!
Costumes are encouraged for this family-friendly event! There will be lots of tricks and treats, so come out and show your commitment to keeping our kids safe at school, in the community, and online.
*This is a certified race course

**Parents MUST accompany children for the 1 Mile Costume Crawl. There will be NO childcare available for parents participating in the 5K/10K.

To learn more about the organizations we are raising money for, click the images below.


Race Packet Pick-up
Schedule:
FRIDAY, OCTOBER 30TH
ST. BERNARDS HEALTH AND WELLNESS, BOARD ROOM
4:00pm – 7:00pm Packet Pick-Up and LAST CHANCE TO REGISTER
(*Out of town registrants may pickup at 7:00am race day)
SATURDAY, OCTOBER 31TH
ST. BERNARDS HEALTH AND WELLNESS West Entrance
7:00am – Late Registration and out of town Packet Pick-Up
8:00am – Official Start 5K/10K
9:00am - Official Start 1 Mile Costume Crawl
10:00am – Awards Ceremony
Course Maps
5K ROUTE:
Start in SBHW parking lot entrance. Right on Houghton, left on Washington, left on McDaniel, right on Matthews, left on Kitchen, left on Nettleton, left on Robin, right on Lark, left on Cardinal, right on Starling, into JCC golf course, on cart path back to Marshall Estates, left on Fairway, left on Lakeshore, cross Matthews and finish in front of SBHW.
5K MAP: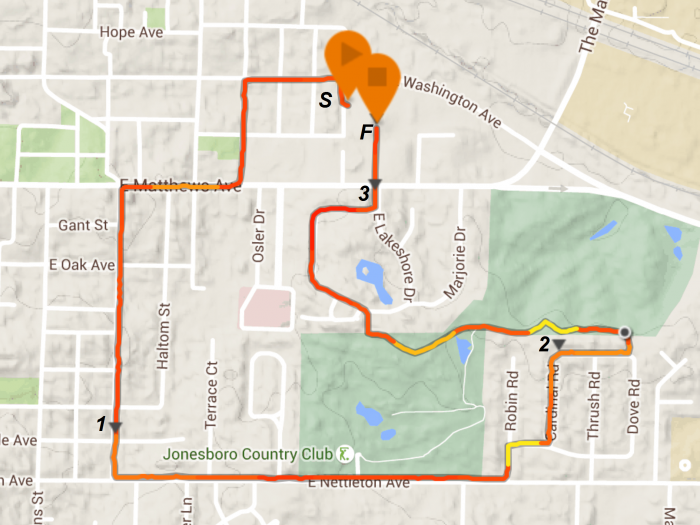 10K ROUTE:
Start in SBHW parking lot entrance. Right on Houghton, left on Washington, left on McDaniel, right on Matthews, left on Kitchen, left on Nettleton, left on Robin, right on Lark, left on Cardinal, right on Starling, into JCC golf course, on cart path back to Marshall Estates, left on Fairway, left on Lakeshore, left at Matthews out of Marshall estates, left on Professional Acres through a parking lot, back on to Matthews, left on Rains, right on Richmond, right on Cobb, left on Matthews, right on Church, right on Cate, right on East, left on Creath, right on Bridge, left on Matthews and back to SBHW.
10K MAP:

Event schedule
October 31 8:00 AM CDT - 5K and 10K START
October 31 9:00 AM CDT - 1 MILE COSTUME CRAWL START
Contact information
Name

Amy Pickens

Phone

+1 870-882-2941

Website