Calm waters, a great site and history of success make Brudenell Provincial Park the ideal location for Triathlon PEI's Provincial Sprint Distance Championships. The Race will also be a signature triathlon event in the Triathlon PEI Race Series.
Swim: Brudenell River offers a sheltered bay and shallow waters for novice and experiences swimmers.
Bike: The bike course has rolling hills and a few challenges.
Run: Run course is out and back on grass beside a paved entry road with a short clay portion into the golfcourse and maintance road
Course maps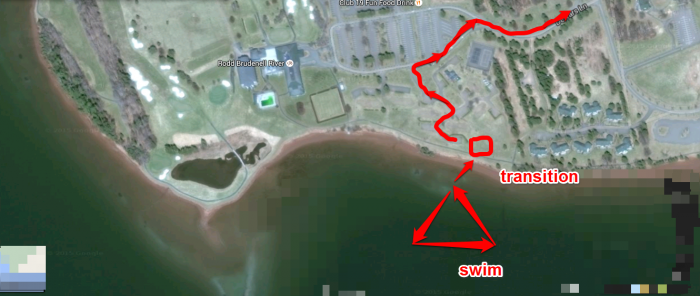 Registration fees
375m swim, 10km bike, 2.5km run
---
750m swim, 22km bike, 5km run
---
1.5km swim, Bike 40km, 10km Run
---
5km run, 22km bike, 2.5km run
---
Kids of Steel: 5-6 years
Closed
25 meter swim, 150 m run, 500 m bike
---
Kids of Steel: 7-9years
Closed
50 m swim, 500 m run, 1.5 k bike
---
Kids of Steel: 10-12 years
Closed
100 m swim, 5 K bike, 1k run
---
10km run, 40 km bike 5 km run
---
Olympic Team Triathlon
Closed
1.50km swim, 40 km bike 10 km run
---
Sprint Team Triathlon
Closed
750 m swim, 22km bike, 5km run
---
Additional IKids of Steel Races nfo
The swim will be in shallow water with the option to walk/run through the water. Lifejackets are permitted. Bike helmets are mandatory for all ages, training wheels and parental assistance are permitted on the bike. The focus of the race is fun and participation and all KOS participants receive a finisher medal and T-shirt
Accomodations and Ameneties
Brudenell River is the largest provincial park in eastern Prince Edward Island. In addition to two 18-hole championship golf courses, Brudenell and Dundarave, and tennis, horseshoes and lawn bowling are offered at the 100-unit Brudenell River Resort. The park has a multitude of activities to amuse campers and day visitors: a marina, river beach, and daily activities are scheduled as part of Brudenell's recreation and interpretive programs for children and adults. Private sector operators also provide canoeing, sea kayaking and horseback riding.
Nearby attractions include Georgetown, Cardigan, the Garden of The Gulf Museum, Brudenell Riding Stables and the Confederation Trail.
Event schedule
August 21 6:30 AM ADT - Race kit pick up and body marking opens
August 21 7:45 AM ADT - standard events race briefing
August 21 8:00 AM ADT - standard race starts
August 21 8:39 AM ADT - sprint and supersprint race briefing
August 21 8:40 AM ADT - Racekit pick up and body marking closes
August 21 8:50 AM ADT - sprint and supersprint race starts
August 21 11:00 AM ADT - KOS registration
August 21 11:30 AM ADT - barbecue
August 21 11:45 AM ADT - KOS race briefing
August 21 11:58 AM ADT - KOS race start
Contact information
Event contact

Triathlon PEI

Email

Phone

+1 902-626-8360