Spread The Purple is a 501 (c) (3) nonprofit organization who is devoted to making a difference in the community. It is our mission to provide guidance to both individuals and families for the right resources and assistance they can use during unexpected circumstance.  One of the ways we assist is through our fundraisers, such our 5K Run.
We want to give a special thanks to all our sponsors, vendors and race participants for supporting this race! Looking for Event Photos just click here, https://www.facebook.com/media/set/?set=a.1828650097425802.1073741831.1459501587673990&type=1&l=d02c7751ab .
The photos are FREE to download and share with your family and friends on our Facebook  5K Run For Warmth Page. In order to stay updated on next year's race just click the LIKE button on our Facebook Pages, www.facebook.com/5krunforwarmth and www.facebook.com/spreadthepurple 
We are so proud of all of you for an incredible job on Saturday, September 02, 2017.  
NOTE: 4th Annual Race Registration is OPENED. Visit www.5krunforwarmth.com to join this year's fun on September 1, 2018.



Overall Results:

 

 

 

 

Run for Warmth - September 2, 2017

 

 

 

 

 

Timing Company: Second Wind Timing
EVENT HIGHLIGHTS:
Awards
1st Place Overall Male & Female
Our Oldest Female Runner
Special Award
1st Place 19 & Under


1st Place: 20-29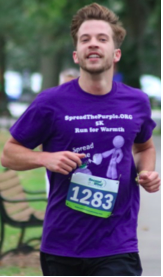 1st Place: 30-39


1st Place: 40-49

1st Place: 50-59



1st Place 60 & Over

Zumba Warm-up: Kia Potts
Gourmet Food: Organic Grill Master (DK Byrd)
Amazing Vendors
Special Thank You to All Our Volunteers
COURSE DETAILS:
TRACK SUMMARY: Double loop, shaded, mostly flat, traffic free
ALL DIRECTIONS ARE GIVEN RELATIVE TO THE RUNNING DIRECTION
COURSE NOTES: Runners run around the park twice. On the second loop runners cut to the inside paths at the eastern parking let using the northernmost crosswalk and run on the inner path to the finish.
START: On Brookdale Park's West of Ballfield #3 even with an unnumbered light pole which is 137 feet SouthWest of the crosswalk.
MILE 1 (Loop 1): On Brookdale Park's bike path on the East side of park, even with the front door to house #142 Overlook Terrace on the right.
MILE 2 (Loop 2): On Brookdale Park bike path on West side of park. 80 feet after the storm drain in path at the intersection with Chester Road on the right.
MILE 3 (Loop 2): On Brookdale Park's bike path, 49 feet before lamp post 5598 on the road on the right.
FINISH: On Brookdale Park's bike path on North side of the parking lot, which is just West of track, 133 feet NorthEast of the driveway to parking lot.
Click on the image to see live action map options.
TIMING COMPANY:
Second Wind Race Timing is a professional, full-service race timing/race management company. We are based in the Chester County, PA area. The company's staff is always courteous, energetic, knowledgeable, and professional. Second Wind Race Timing strive to use leading-edge technology, so you can expect fast, accurate results from our Race Result timing software.
The company use the latest RFID technology to ensure the most accurate and instant finish time possible, which will allow you to prepare for your awards ceremony much more quickly. Second Wind Race Timing provide results throughout the race using a 40″ digital display, and result kiosks. These precise times are published at the race for all participants to view his/her time.
Event schedule
September 2 8:30 AM EDT - Pre-Registration
September 2 9:35 AM EDT - Zumba Warm Up
September 2 10:00 AM EDT - Runners and Walkers
September 2 10:10 AM EDT - Kids
September 2 11:00 AM EDT - Serving Food
September 2 11:30 AM EDT - Swag Bags
September 2 12:00 PM EDT - Vendor Affair
September 2 12:30 PM EDT - Awards
Contact information
Event contact

Maryange Ariste

Phone

+1 973-996-8447

Website