SEPTEMBER 16, 2017
Be a part of one of the LARGEST Ovarian Cancer Awareness Events in the Southeast!
Join us at the TEAL TROT 5K walk/run at Chastain Park you for a morning full of celebrating, honoring, and remembering gynecologic cancer survivors and patients, their families, caregivers and friends. Strollers and pets (on leash) are welcomed!
As always ovarian cancer survivors and patients walk for free.
Proceeds from the event series will support and expand the statewide Georgia Ovarian Cancer Alliance (GOCA) Education & Awareness, and Patient Outreach Programs!
Registration fees
5K Run/Walk
Closed
Online registration closed
Teal Trot for Ovarian Cancer Education & Awarness
---
Ovarian Cancer Survivors & Paitients FREE
As always. ovarian cancer survivors and patients participate FREE OF CHARGE.
Simply enter SURVIVOR in the PROMO CODE box when registering.
Child Registration Fees
Child Registration Fees are calculated by their age on the date of the event.
Child 0 - 5 is FREE
Child 6 - 12 is $20 regardless of the pricing period
13 and Above are subject to the different pricing periods.
Team Building and Fundraising
Thank you for your support. To increase the impact your participation has on the event please consider forming a Team and start Fundraising. It's easy to do, fun, and makes a huge difference in the success of the event.
Don't forget to see if your employer has a Donation Matching Program. Here is most of the information they will need:
Georgia Ovarian Cancer AllianceTax ID Number 58-24241066065 Roswell Rd, Suite 512Sandy Springs, GA 30328404.255.1337GaOvarianCancer.org
T-Shirt Design Contest
The winning t-shirt design was submitted by Kara Kelly and will be on the front of the 2017 Teal Trot T-Shirt.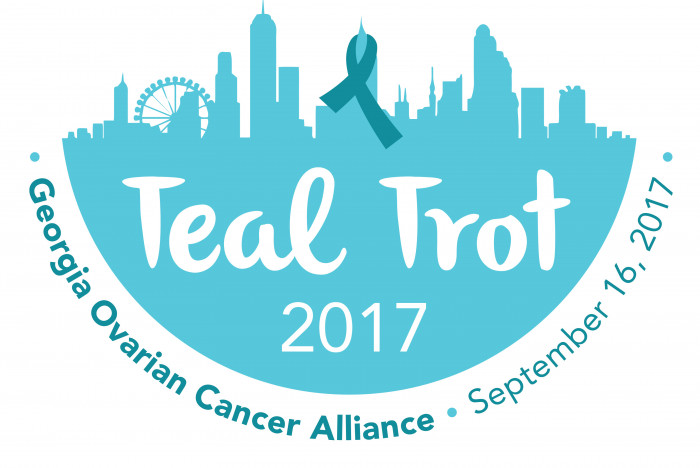 Top teams
| | | | |
| --- | --- | --- | --- |
| 1 | | D.A.B for team F.O.C. | View page |
| 2 | | RachelsHOPE | View page |
| 3 | | #TeamFredaV | View page |
| 4 | | Team Donna - Stage Won | View page |
| 5 | | Trotting for Regina | View page |
Event schedule
September 16 8:00 AM EDT - Race Day Registration
September 16 10:00 AM EDT - Race Start
Contact information
Name

Doug Barron

Phone

+1 404-255-1337

Website
Event location
Chastain Park Amphitheatre, Stella Drive Northwest, Atlanta, GA, United States
View map