Join us for the 2nd Annual
Miles For Migraine - Chicago, IL
THE EVENT HAS ENDED, BUT WE ARE STILL OPEN FOR

DONATIONS!
PRIZES AWARDED FOR TOP FUNDRAISERS:
1ST PRIZE: $200 CASH PRIZE
2ND PRIZE: $125 CASH PRIZE
3RD PRIZE: $75 CASH PRIZE
Matching Gift Opportunity Announced 4/28/17:
Diamond Headache Clinic is pleased to support Miles for Migraine with an additional gift to the Chicago Walk/Run. We will DOUBLE all participant fundraising efforts, up to $5,000, which is in addition to the $5,000 we have already donated. Diamond Headache is aware of the significant challenge people with migraine and headache disease face as they battle this silent and stigmatized disease. It is our hope that people with migraine will realize the answer to finding a cure will need to come from patient advocates and their loved ones, who show up to patient participatory events such as Miles for Migraine Walk/Runs." Konrad Kothman, CFO, Diamond Headache Clinic
PRIZES AWARDED FOR TOP FINISHERS:
1ST PRIZE 5/10K FEMALE/MALE FINSISHER: $40 GIFT CARD TO FLEET FEET SPORTS
2ND PRIZE 5/10K FEMALE/MALE FINSISHER: $30 GIFT CARD TO FLEET FEET SPORTS
3RD PRIZE 5/10K FEMALE/MALE FINSISHER: $20 GIFT CARD TO FLEET FEET SPORTS
Miles for Migraine will host its next Chicago 2-mile Walk/ 5K/ 10K Run at the beautiful Diversey Harbor. This Fundraiser for Migraine & Headache Awareness, Treatment & Research will take place Sunday, May 21st, 2017 at 8:30am .Post race awards will immediately follow top runners and walkers finishing in each race category, near the start/finish line.
Registration includes:
hi-tech t-shirt
race finishing medal
post event food and drinks
Course:
The walk and run will take place on a combination of gravel and paved paths through through the Diversey Harbor park area. All runners and walkers will start and finish in the same location. Porto potties will be provided at the start/finish and there will be 2 water stops along the course. Strollers are permitted, but will need to start at the back of the pack.
Packet Pickup:
Packet pick up is at Fleet Feet Sports Chicago's Lincoln Square location at on Saturday May 20th from 10AM - 6PM. Their address is 4762 North Lincoln Avenue, Chicago, IL
If you are unable to attend Packet Pickup, you will be able to get your packet between 7:00AM-8:00AM at Diversey Harbor on race morning.
Parking:
A few suggestions for parking include:
The parking garage at 2900 N. Lakeshore Drive, right off the main entrance to the Presence hospital. This is open to the public and rates are as follows.
0-1 Hours: $12.00
1-2 Hours: $15.00
2-5 Hours: $18.00
5-8 Hours: $21.00
8-12 Hours: $25.00
12-24 Hours: $30.00
Lost Ticket: $80.00
Registration fees
Running-10K
Closed
Online registration closed
---
Running-5K
Closed
Online registration closed
---
Walking-2 Mile Walk
Closed
Online registration closed
---
Course Maps
2 Mile Walk:
The 2 mile walk will start and finish from just off 2601 N. Cannon Drive, on the path. This will be an untimed event.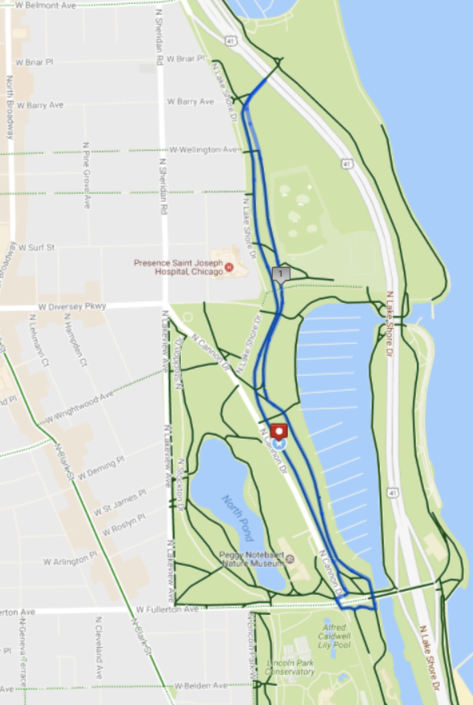 5k/10k Run
The loops will start and end just off 2601 N. Cannon Drive, on the path. 5k will complete 1 loop, 10K will complete 2 loops.
Participant Fundraising Letter
We have two different template letters that you can ulitize to reach out to your friends & family. Please download these *.doc files and consider customizing them to add your own story about why you are participating in this event.
Top teams
1

Diamond Headache Clinic

View page
2

Achy Breaky Brain

Raised:

$785.00

View page
3

Brainstormers

View page
Event schedule
May 21 8:30 AM CDT - Run and Walk Start
Contact information
Event contact

Miles for Migraine Races

Phone

+1 484-534-8786

Website