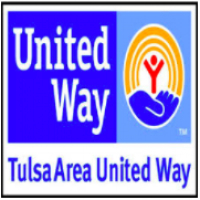 Raise money for Tulsa Area United Way
The Tulsa Area United Way works to advance the common good by focusing on the three building blocks of a better quality of life - education, health/safety and financial stability. We recruit people and organizations from across the community who bring the passion, expertise and resources needed to get things done, and we invite you to join us.
Click on one of our teams below to make a donation.
Date
Name
Amount

Nov

17

Anonymous

$93.50

Nov

14

Glenda Wallen

Undisclosed amount

Nov

14

Aki Ishiwatari

$26.25

Nov

13

Holton Westbrook

$25.00

Nov

08

Sandra DeLaughter

$21.00

Nov

06

Kyle Terry

$5.00

Nov

05

Anonymous

$5.25

Nov

04

Anonymous

$10.50

Nov

02

Sharon DeLaughter

$52.50

Nov

02

Sharon DeLaughter

$52.50