On June 3, 2018, come join us
The Never Stop Foundation, with Robert Wein and
Pathways to Independence, Ottawa and the Pathways Foundation
at the Andrew Haydon Park, Ottawa
for the 7th Annual Brain Injury Awareness Walk
Registration is now closed, but don't worry!
If you missed out on registering online, you will be able to register at the event.
See you there!
Andrew Haydon Park, 3127 Carling Ave, Nepean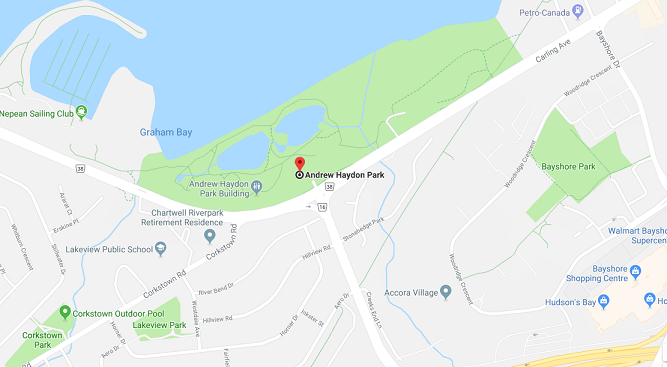 Do you know that an Acquired Brain Injury (ABI) is present in 1 person of 24?  If not, are you aware that a concussion is an Acquired Brain Injury?  June has been officially named "Brain Injury Awareness" month in Ottawa. To raise awareness and funds, I am hosting the 7th Annual Brain Injury Awareness Walk on June 3, 2018 at Andrew Haydon Park.
An Acquired Brain Injury has a clear beginning, as will the walk, but as an ABI doesn't have an end, neither will the walk.  We'll walk around the park, where you'll learn about some of the challenges faced by individuals who've suffered one.  And, as the walk won't "finish", there won't be a finish line. There will be a "Celebration Line", where people will be asked to cross the 500m leading to it in a way that's more challenging. 
The 7th Annual Brain Injury Awareness Walk will be collecting donations for the Pathways Foundation
Many who have suffered such a challenging set back have limited income, and cannot afford to participate in all community activities that can assist with their rehabilitation. The funds raised at the walk are for the Pathways Community Access Fund. The fund provides the "little bit extra" to those who would like to participate in community activities and events, but are unable to due to finances. The Pathways Community Access Fund is accessible to anyone with disabilities, and not required to be a Pathway's supported client. 
More information is on the Foundation website:
 https://www.pathwaysind.com/how-you-can-help/#1461341056804-c23637a4-7fc5 
Early registrants (before May 11th) will be offered a free Event Hat.
Event Hats will be made available at $10 ea - first come first serve, as quantities are limited.
Registration fees
Awareness Walk - Registration
Closed
Inspirational and Celebration Walk
---
Top donors
| No. | Name | Amount |
| --- | --- | --- |
| 1 | Bradley Bezan | CA$500.00 |
| 2 | Raymond Randall | CA$500.00 |
| 3 | Tod, Debbie, Nathan and Christine | CA$250.00 |
Event schedule
June 3 9:30 AM EDT - Arrival
June 3 9:45 AM EDT - Inspirational Speeches
June 3 10:00 AM EDT - Walk
June 3 12:00 PM EDT - Celebration of success
Contact information
Event contact

Krista Bolger

Email

Phone

+1 613-233-3322 ext. 204