Mactaquac Trail Race 2018
Are you ready to cross the stream?!

Fall is awesome! Join us for this trail race in beautiful Mactaquac Provincial Park, October 14, 2018.
The trails are well maintained and not very technical. We have a 10K and a 20K, so you just pick the distance you like.
Although the course is not very hilly, it is hardly ever flat. You will cross a stream and a number of bridges. It can be slippery and roots might be sticking out here and there, so always keep one eye on the trail ;-)
Here's a map of the course.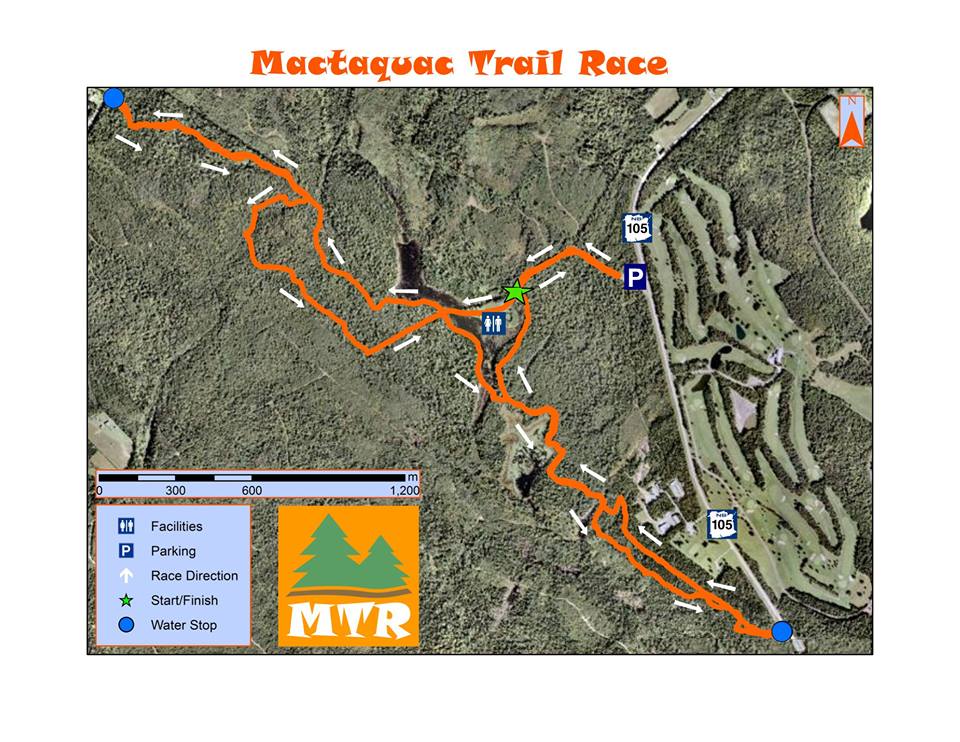 There will be NO refunds, transfers or deferrals, so signing up is final!
We try to keep this event low-key, so a low entry fee and no shirts or medals. Does that mean you will get nothing? Oh no! Far from it. You will get your swag (see below) and there will be lots of draw prizes!

There is NO registration on the day of the race! Online registration will go through Race Roster and will end on Friday, October 12th by midnight! There will NOT be a waiting list once the race is sold out!

NEW for 2018: In an effort to be more environment friendly, we are going (nearly) cupless! That means that there will be NO cups at the water stations, but have we got some good news for you, because the swag this year will be a reusable, foldable cup! This is perfect for cupless races, camping, hiking etc. And more good news: we will wash all the cups before we hand them out, so you can use them straightaway!
After the races there will be food, drink, draw prizes and awards.
Sponsors
Without sponsors this event could not be successful, so please take note of this year's sponsors and support your local companies!
How to get to the race
The race takes place in Mactaquac Provincial Park on the west hand side of Route 105.
Coming from the Mactaquac Dam you continue on Route 105, crossing the causeway across the Mactaquac Head Pond; drive past the Ultramar on your right hand side, follow the road when it turns left and after a couple of hundred meters there is a big parking lot on your right hand side (watch for signs on your right). This is where you park; you have to walk a couple of hundred meters to the start.
The start of the race will be at the small parking lot at the Beaver Pond.
Small print
Some things you need to know before you sign up:
- This year there will really be NO refunds, transfers or deferrals, so once you're registered, you're committed!
- There will NOT be a waiting list if the race is being sold out!
- No dogs or strollers please.
- We are using a Provincial Park; please let's keep it clean and don't litter!
- You will have to sign a waiver at the race kit pick up.
- As this is a race there will not be a category for walkers.
- There is a bag drop, so you can bring warm/dry clothes for after the race, while you are eating, drinking and waiting to see if you got a prize!
If you have any questions, do not hesitate to send an email to joszti@hotmail.com.

Event schedule
October 14 8:15 a.m. ADT - Kit pick up (till 9:30AM for the 20K; till 10:00AM for the 10K)
October 14 9:30 a.m. ADT - Start of 20K
October 14 10:00 a.m. ADT - Start of 10K
October 14 11:45 a.m. ADT - Awards & Draw prizes
Contact information
Event contact

Jos Eijkelestam

Email

Phone

+1 506-897-0051