SWIM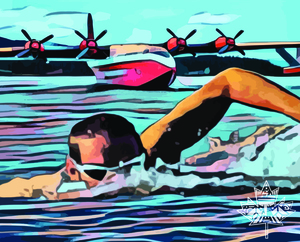 3 Events - 6 Weeks. (It's a Port Alberni version of a Triathlon; we make it hard and....easy at the same time!)
Here is what to expect:
Our Swim takes place on Sunday, July 8, 2018 at Beautiful Sproat Lake located just west of Port Alberni BC. The swim event all takes place at the Provincial Park beside the public Boat Launch area. It's a lovely beach setting that wraps around the lake for quite the distance - in fact almost all the way to the very historic and impressive Petroglyphs which were carved into the rocks hundreds of years ago by the local First Nations peoples of the time. 
There are four swim distances to consider in the beautiful clear warm waters of Sproat Lake including a 100m, 500m, 2000m and 4000m with the latter two coming close to the Petroglyphs. 
Sign up for all three by clicking REGISTER FOR SERIES!

The Tri-Conic Challenge was an initiative of the Alberni Valley Chamber of Commerce that was supported by Canada 150 as a Feature Event aimed at celebrating Canada's Heritage. The Alberni Valley Chamber of Commerce extends its thanks to Canada 150 for believing in our vision so that we could bring this incredible event to the Alberni Valley. 
Additional Event Details
Day of Registration
Sproat Lake Provincial Park - Sunday, July 8, 2018 7:00am - 8:30am.
Schedule of Events
Sunday, July 8, 2018
On line registration in advance of the event is encouraged. Day of event registrations are not guaranteed to be available and/or have the same level of SWAG included.

Registration opens at 7:00am at Sproat Lake Provincial Park

There will be a drop tent with a volunteer to watch over your stuff while you are swimming.

The race starts are all back to backChallenge and Iconic swimmers you will swim outbound with the buoys on your left and in with them on your right (out left, in right)

The Smolt race starts at 9:00am

The Sprint Race starts at around 9:15 or when all the kids are in.

The Challenge/Iconic races will start around 9:30am based on the number of other Sprint Swimmers in the water.




You must wear the swim cap provided by the race, if you wish to wear 2 caps the race one must be on the out side.

Iconic racers you will do one lap, exit the water run over the timing mat then render the water for a second lap.

The paddle boards and kayaks are there for your safety if you need help please wave to them.

If you exit the race via the shore line you must return to the start/finish and report to the race director.

Awards and Medal Ceremony will be held on the beach after the race.

Prize ceremony will be held at approximately 11:00am once all swimmers have exited the water.
Make sure to check the Facebook page for the latest updates.
Event schedule
May 27 8:00 a.m. PDT - Bike Events
June 17 8:00 a.m. PDT - Run Events
July 8 9:00 a.m. PDT - Swim Events
Contact information
Name

Bill Collette

Email

Phone

+1 250-724-6535

Website