The Washington, DC Metro HBCU Alumni Alliance, Inc.'s (DCHBCUAA) community outreach mission is to improve the health and well-being of our communities. Our efforts are aimed at reducing health disparities that are pervasive in predominantly African American communities. Depending on where you live in the Washington, DC area, there is a 15 year difference in life expectancy. Our programming is focused on addressing the social determinants of health and our priority areas are Health & Wellness, Hunger Awareness, and Higher Education. By leveraging the full value of the Alumni Alliance, we educate the community, provide financial resources, offer volunteers, and work strategically with our community partners to make a measurable impact to address the following issues: health, hunger, and education.
If you are creating a team, you must register a minimum of 10 individuals

Registration fees
5K Run
Closed
Online registration closed
---
2K Walk
Closed
Online registration closed
---
HBCU Alumni Alliance Ambassador
We are proud to announce that WPGC's Joe Clair is the HBCU Alumni Alliance Ambassador for the 6th Annual 5K Run/2K Walk HBCU Alumni Community Day, Saturday, June 30, 8AM.
Come out and support the HBCU's. I'll see you in the house.

Host, comedian, radio personality and on-air veteran is no stranger when it comes to Washington, D.C. This native of Seat Pleasant, MD is the current host of WPGC's Joe Clair Morning Show, taking the morning airwaves by storm and making the drive to work much more enjoyable for listeners across the DMV. He is proud graduate of Morgan State University where he pledged Kappa Alpha Psi Fraternity and graduated as a psychology major but found is passion for comedy, music and communications.

Joe Clair got his start on HBO's famed Def Comedy Jam before gaining national notoriety as host of BET's famed show "Rap City," where he introduced the world to hip-hop and rap superstars and was most notably known as the last person to interview hip-hop icon Notorious B.I.G.

While finding notoriety on Rap City, he was offered an opportunity to launch a career in radio on the #1 radio station in the DMV, WPGC's Sunday Night Hip-Hop Show with Big Tigger before making his way to Hot 97 in New York City, Sirius XM-Foxxhole in Los Angeles and V-103 in Atlanta.

After being gone for more than a decade and the love of the DMV in his heart, Joe Clair made his way back home.
Location
Howard University Campus and DC Neighborhood
Fairmount St NW
Washington, DC
Host Hotel
We are pleased to announce the host hotel for the
6th Annual HBCU 5K Run/2K Walk - HBCU Alumni Community Day
is the
Renaissance Downtown Washington, DC
999 9th St NW, Washington, DC 20001
Use Code: "HBCURoomBlock" for Booking
Help Us Fight Hunger
In conjunction with the Capital Area Food Bank; we are asking all participants to bring non-perishable food items to help combat Hunger in our community and toiletries to help a homeless person in need of every day personal hygiene necessities. It is the HBCU Alumni Alliance's commitment to improve the lives of others in our community.


Some of the items needed are:
Canned Tuna, Salmon or Chicken

Canned Vegetables (low sodium/no salt added)

Canned Fruits (in light syrup or its own juices)

Grains (brown & white rice, pasta, macaroni & cheese)

Hot and Cold Cereal (oatmeal, cheerios, cornflakes, raisin bran)

Canned or Dry Beans

Healthy Snacks (apple sauce cups, raisins, granola bars)

Peanut Butter

100% Juice (all sizes, including juice boxes)

Toothbrushes

Deodorant

Shampoo

Razors (disposable)

Feminine hygiene items
HBCU Alumni Alliance Ambassador
Ronald McDonald House Charities® of Greater Washington, DC eases the hardship of children's illness on families through programs that directly improve the health and well being of children. In conjunction with Ronald McDonald House of Greater Washington, DC we are asking all participants to bring household items, supplies, and toiletries to support families staying at the Ronald McDonald House. It is the HBCU Alumni Alliance's commitment to improve the lives of others in our community. Ronald McDonald House of Greater Washington, DC is built on the simple idea that nothing else should matter when a family is focused on healing their child – not where they can afford to stay, where they will get their next meal, or where they will lay.
See the WISH LIST of most needed items here http://rmhcdc.org/wp-content/uploads/2018-Wish-List.pdf
Urgent Daily Needs:
Paper Towels

Laundry Detergent

Disinfecting Wipes

Copy Paper
2018 Scholarship
The Washington,DC Metro HBCU Alumni Alliance, Inc. (DCHBCUAA) awards scholarships annually to students who attend member universities of the DCHBCUAA. Scholarships are awarded based on a completed application and supporting documents.
The 2018 scholarship application deadline closed Thursday, May 31.
Fees for 5K Run/2K Walk
$40 February through May 1
$45 May 2 until June 28
$50 June 29 (packet pick up) and June 30 (onsite)

*REGISTRATIONS ARE NOT TRANSFERABLE*
*NO REFUNDS WILL BE ISSUED*
Packet Pickup and Walk-up Registration
Due to the possibility of high-volume on-site registration the morning of the race, we highly recommend that all participants' pick-up race packets on Friday, June 29 from 9:00 AM - 7:00 PM at the BARNES & NOBLE @ Howard University Official Bookstore located at 2225 Georgia Avenue NW, Washington, DC 20059. Parking is available in the parking lot across from the bookstore.
On-site registration will begin at 6:30 AM on Saturday, June 30 and will end at 7:45 AM to ensure a prompt 8:00 AM race start time.
HBCU Alumni & Greek Mixer
Amenties
All race participants who register by Friday, June 15 will receive an event t-shirt. T-shirts cannot be guaranteed after this date. Water will be available along the course and refreshments will be available at the finish line.
Directions and Parking
Free parking is available at Howard Center parking lot directly across from Howard University bookstore on Georgia Ave. You must enter this parking lot from Barry Place Northwest. This street entrance is located behind McDonald's. There will be no entrance to this parking lot from Georgia Avenue.
Street parking is also available. Shaw Metro stop is the nearest metro to the campus.
NOTE: Cars parked on the race route will be towed.
If you need parking accommodations (handicapped/special needs), email president@dchbcu.org for assistance.
Prizes
Prizes will be awarded to the top winners overall for men and women:
1st prize overall winner $300

2nd prize winner $200

3rd prize winner $100
Awards will be given out to the top two finishers for male and female in the following age groups:
18-29

30-40

41-50

51-60

61-70

71 & Over
Post Race Activities
The award ceremony begins at 9:00 am in front of "School of Business". Please stay after the race for great refreshments. Enjoy the Alumni Village, vendors and sponsor giveaways! Also, check out the Health Fair with a full line up of Free tests and health information!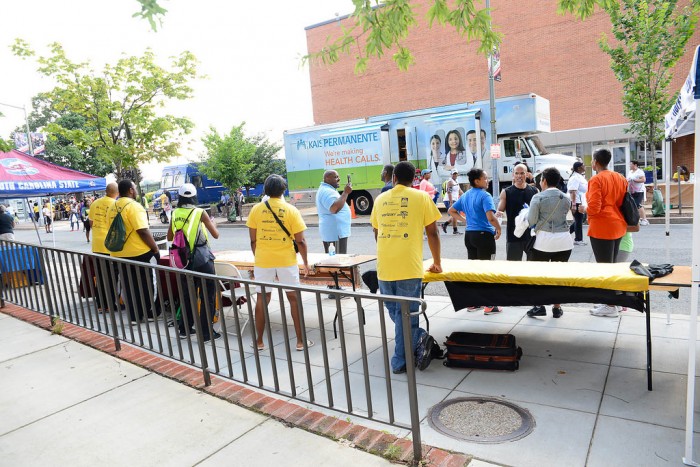 Race Route/ Race Weather
We have listened to you and we have made improvements to our race route. Gresham Place, Georgia Avenue, 4th Street NW and 5th Street NW will be closed to make a better race route. The course will be a challenging fun filled event with a variety of live music and entertainment throughout the course. The course will start on 6th NW and finish on Fairmount St NW. Runners will travel through paved, residential streets (Route is USA Track & Field Approved).
Download the Map HERE

This year, the race route does not include sidewalks, the route will be on the streets...therefore strollers, baby joggers, pets on leash, and headphones are permitted in the 5KRun/2KWalk.
NOTE: Cars parked on the race route will be towed.

The race will take place in all weather conditions. Sorry, no refunds will be issued.
Weather Policy for the 5K Run/2K Walk
No one, including the Race Director, wants to make changes to an event on race day. However, the safety of our participants is of paramount concern. In the event of adverse weather conditions, the Race Director, in communication with the local law enforcement and the city, may delay the event or cancel the 5K Run/2K Walk. The Day Party is an indoor event and will continue as planned.
Definition of 'Adverse Weather Conditions': The event may be delayed or canceled due to Tornado Warning, Tornado Watch, Thunderstorm, Heavy Rain, or any extreme weather condition. Light to moderate rain is not considered an Adverse Weather Condition.

Communication: If the event is canceled more than 12 hours before the event, we will notify participants via the race website, email and social media. If the event is canceled less than 12 hours before the event we will notify participants via the race website and social media. Participants will be notified via email where they can pick up their race packets if they have not already done so.
Refunds: As stated in the Registration Policies, refunds cannot be provided as the funds for the event have already been spent in preparation for race day.
Free Healthcare Screening by our Presenting Sponsor Kaiser Permanente
Starting at 7:00 am in front of the Cramton Auditorium, serving the community is what we are all about by promoting living a Healthier lifestyle. A health fair will be conducted by local health professionals.
Kids Zone
CHILDREN ARE WELCOME SO BRING OUT THE STROLLERS!
Kids Events will be provided! Children can participate in games and activities during and after the race. Face painters will be on site.
Vendors
Vendors will be on hand selling food and merchandise. Bring extra cash.
Confirmed Participants
Artistic Executive Director
Black Student Fund
Capital Area Food Bank
CNS Threads LLC
Faces by Miss Busy Bee Facepainters
First Baptist Church of Highland Park
Get Strong Fitness
Hair Free Girl
Indigo Mid Atlantic
Kaiser Permanente
Lotus Fitness
Montgomery County Board of Elections
Ms. Jo's Petite Sweets
National Pan-Hellenic Council of Washington, DC (DCNPHC)
National Park Service
New York Life Insurance
Positively Caviar, Inc.
Prime Imagez
Ronald McDonald House Charities
Run/Hope/Work Network
SID leathers
Sweet Sage Catering
Tamo Smoothies
Virginia Department of Elections
Wearable Art Boutique
Xfinity
Volunteers
Would you like to volunteer at the 6th Annual 5K Run/2K Walk HBCU Alumni Community Day? Click here to sign up!

Race Preparation/Race Results
Race Preparation/Race Results will be posted on-line.
To ensure timing accuracy, make sure bib number is:
Clearly visible on the front of the torso

Unaltered and unmodified (Do not fold or wrinkle)

Pinned in all four corners

Not covered (jackets, runner belts, water bottles, etc.)
REGISTER ONLINE We strongly recommend using our fast & efficient online system to register with a Credit Card or eCheck. (Online Registration ends Thursday, June 28 at 12:00 PM). Those wishing to register after the close of Online Registration, will need to register on site on the day of the race.

If a mail-in registration is needed, download the Registration Form below and mail to the address shown. All mail-in registrations must be postmarked by Monday, June 25. Checks postmarked after this date will not be processed and must be paid on Friday at packet pick up on on the day of the race. Check payments are required for mail in registrations. Only Cash/Credit Card payments will be accepted on-site the day of the event.
Send mail in registrations (checks only) to:
DC Metro HBCU Alumni Alliance
Attn: 5K Race
P.O. Box 9833
Washington, DC 20016
Registration Disclosure
Please note that the information that you are providing as a race registrant will only be used by DCHBCUAA for the purpose of event registration, and will not be shared with any outside parties.
Event schedule
June 30 6:30 AM EDT - On Site Registration
June 30 8:00 AM EDT - Race Start Time
June 30 9:00 AM EDT - Awards Ceremony
Contact information
Event contact

Sam Washington

Email

Website