2018 marks the 10th Annual Backcountry Wilderness Half Marathon in Highlands Ranch!  This 13.1 mile scenic trail run utilizes the Douglas County East/West trail and the beautiful Highlands Ranch Community Association's Backcountry Wilderness Area trails.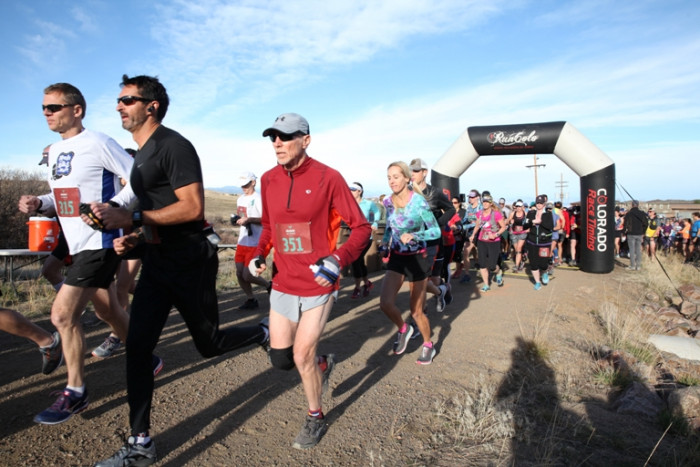 2018 race will be limited to 1,000 participants.
Registration fees
13.1 Mile Run
Closed
Online registration closed
---
Updates for 2018!
The 2018 Course will be on the same course as 2017... just reversed! Going forward odd years will take the clockwise route, while even years will utilize the counter clockwise route!
ROUTE MAP
In an effort to reduce the amount of garbage we are bringing into the Backcountry, starting this year the Backcountry Half Marathon will be completely cupless on course. After seeing the thousands of little cups we went through in previous years, we feel strongly that this is the best decision for the environment. We will have THREE aid stations (one more than 2017), with tons of water and nuun hydration... we just won't have paper cups. If you have any questions or concerns about this change, please email Patrick Gojan, race director, at racedirector@hrcaonline.org
Many trail races around the country are making this change, we are excited to be one of them!
Race Amenities
All participants will receive:
Long sleeve technical race shirt

Custom Gift

Custom race bib

Amazing finisher medal

FREE all-you-can-eat pancake breakfast from Flippin' Flap Jacks


FREE beers from Living the Dream Brewing!

Post-race party
Course Description
The Backcountry Wilderness Half Marathon course has spectacular views! The course is a single loop which is 100% on dirt/gravel/single track. Runners will have the potential to view wildlife along the way as well as a soak in the amazing mountain views.

Since the Backcountry Wilderness Half Marathon is a trail race in November, there is a potential on race day to encounter mud, snow or ice on the trail. We race rain, shine, sleet or snow!
Additional Course Details
There will be 3 aid stations available for you to refill your water bottles/cups. Because we are going completely cupless at this year's race, make sure you have your hydration system ready to fill at each aid station you're stopping at.
Our aim of going cupless is to reduce the amount of garbage being brought into the Backcountry Wildnerness Area and limit our impact on our enviornment. Please respect the trails and follow the principles of LEAVE NO TRACE. Trash cans will be available at each aid station.
For the safety of participants and potential Backcountry Wilderness Area wildlife, dogs and strollers are NOT allowed.
Watch this video to see why our race is the most scenic Half Marathon course along the front range! (Please note, this is a video of the previous course)
Directions & Parking
Parking
Address: 11033 Monarch Blvd, Lone Tree, CO 80124
Parking will be available at Rocky Heights Middle School, as well as Rocky Canyon High School. It is a short walk to the start/finish line area from there!
Packet Pickup
Early Packet Pickup
Date: Thursday 11-1-18
Time: 4:00-8:00 p.m.
Location: Living The Dream Brewing Company (12305 N Dumont Way, Littleton, CO 80125)
**YOU MUST BRING YOUR PHOTO ID. NO ONE WILL BE ALLOWED TO PICK UP PACKETS FOR OTHER PARTICIPANTS.
Race Day Packet Pickup / Registration
You will be able to pick up your timing bib and race shirt beginning at 7:30 a.m. on race morning. **YOU MUST BRING YOUR PHOTO ID.
Awards & Results
All Backcountry Wilderness Half Marathon finishers will receive a finishers medal!
(2017 awards and medals pictured)
Overall Top 3 male / female winners will receive award and cash purse!
Purse will be awarded in the following amounts: $400 - 1st | $200 - 2nd | $100 - 3rd
Top 3 male / female winners will receive awards in the following age groups:
Masters, 19 & Under, 20-29, 30-39, 40-49, 50-59, 60+
Race results provided by Colorado Race Timing and will be posted at the event as well as on the Highlands Ranch Race Series website within 24 hours of the event.
Additional Race Details
Restrooms will be available at the start/finish area (portable toilets), as well as on course

Race fees do not include additional online processing fees and are non-refundable and non-transferable

In order to guarantee choice of shirt size please register by October 18th. Shirt quantities are limited and choice of sizes are not guaranteed to those who do not register early.

We race in all weather conditions!
Beneficiary
Our Title Beneficiatry for the 2018 Backcountry Wilderness Half Marathon is the Backcountry Conservation and Education Fund. This fund furthers the mission of the Backcountry Wilderness Area of Highlands Ranch to protect and conserve wildlife habitat and to provide outdoor education and recreation opportunities in the Backcountry in order to promote and improve environmental literacy and ensure the conservation of the Backcountry for generations to come. All donations made to this 501(c)(3) are fully tax deductable, and you'll know that your dollars are going towards an outdoor legacy right in your backyard! For more information on The Backcountry Wilderness Area, please visit them here: Backcountry Wilderness Area
Douglas County Search and Rescue Team, Inc. (DCSAR) is a non-profit, all volunteer team dedicated to providing search, rescue, emergency response, and outdoor safety education to the citizens of Douglas County, Colorado. The team also responds to requests for assistance from other search and rescue (SAR) teams in Colorado and around the United States.
The team will be stationed throughout the Backcountry Wilderness Half Marathon course as well as at the finish line to ensure the safety of our participants. We appreciate their time volunteering for our race and keeping everyone safe on race day! A portion of our race proceeds will go towards purchasing new rescue equipment for DSCAR. To learn more about this organaiztion, please visit: http://www.dcsarco.org/
Brought to you by the Highlands Ranch Community Association

Check out our other great events throughout the year at www.HRraceseries.com.
Be sure to "like" us on Facebook to stay up-to-date on HR Race Series info, specials, and more!
Top donors
| No. | Name | Amount |
| --- | --- | --- |
| 1 | Robert Barrett | $250.00 |
| 2 | Margaret Emmerich | $50.00 |
| 3 | Highlands Ranch Running Club | $45.00 |
| 4 | Janice Webb | $25.00 |
| 5 | Matthew Miller | $25.00 |
| 6 | David Hughes | $25.00 |
| 7 | John Stanfield | $25.00 |
| 8 | Lisa Chaffee | $25.00 |
| 9 | Andrew Rossi | $25.00 |
| 10 | Eric Threlkeld | $25.00 |
Event schedule
November 1 4:00 PM MDT - Early Packet Pickup
November 3 7:00 AM MDT - Race Day Packet Pickup
November 3 9:00 AM MDT - Race Start
November 3 10:30 AM MDT - Post Race Party
Contact information
Event contact

Patrick Gojan

Phone

+1 303-471-7048
Event location
Rocky Heights Middle School, Monarch Boulevard, Lone Tree, CO, United States
View map