Triathlon on the Mira
A triathlon more fit for princes and kings the Mira Boat Club offers the ideal location for a triathlon in CBRM. For it's inaugural event the Triathlon on the Mira will offer try-a-tri, sprint and olympic distance triathlons as well as an option for teams. Enjoy a swim right off the Mira Boat Club dock, a short run to transition and a ride/run on Hillside Road, along the iconic Mira River. 
**NOTE** There will be no on-site registration. Registration closes at midnight on Friday July 27th to allow time to assign timing chips and prepare race kits/racks.  
Our event is conducted using ITU competition guidelines . Please don't hesitate to contact if you have any questions regarding the ITU competition rules. Highlights include:
No drafting on the bike portion of th event. Keep as far right as possible and follow the rules of the road

Wetsuit temperature cut-off will be enforced. An announcement regarding wetsuit status will be made the morning of the race and posted near the transition zone

Athletes may not use communication devices of any type, including but not limited to cell phones, smart watches, and twoway radios, in any distractive manner during the competition.

The use of headphones, for any use, is prohibited and will be enforced with a disqualification

No outside assistance is permitted

Bib numbers must be worn during the run portion of the event. They are not required for the swim portion. Bikes will be numbered using seat tube stickers.
When - Sunday July 29th 2018
Where -  Mira Boat Club. 545 Hillside Rd, Albert Bridge, NS
Registration Fee -
Super Sprint / Try-a-tri - $40.00 / $45 after July 1
Sprint - $60.00 / $65 after July 1
Olympic - $60.00 / $65 after July 1
Team Sprint Relay - $100/team / $115 after July 1
Register by July 6th, 2018 to ensure your event t-shirt and swag kit. Registrants after this date are not guaranteed a shirt or swag kit. 
Saturday July 28th, 2018
There will be Race Kit Pick up on Saturday July 28th at Breton Brewing 364 Keltic Drive, Sydney 5:30pm - 6:30pm
Sunday July 29th. 2018
Event Schedule 
6:00 am - Transition opens
6:30 am - Registration / Race Kit Pick Up / Body Marking / Chip pick up
7:25 - Pre-race meeting at transition area. All athletes required.
7:45 am – Registration / Race Kit Pick Up Closes

8:00 am - Races start at 8:00 am in this order;
8:00 am - Super-Sprint  

400m Swim, 9.5km Bike,   3km Run

8:15 am - Olympic

1.5km Swim, 42 km Bike, 10km Run

8:45am  - Sprint

750m Swim, 21km Bike, 5km Run

11:30 am or Immediately after the final finisher - Awards ceremony
2:00 pm - Post race after party presented by Breton Brewing
Swim
The swim will take place directly off of the boat club wharf. Sprint/Olympic athletes will swim in a triangle keeping bouys on their right shoulder with Olympic athletes completing two loops. Super-sprint athletes will swim an out-and-back course totalling 400m.

Please note that swim caps will not be provided. Please bring your own swim cap and ensure that it is brightly coloured. All athletes must wear a swim cap and caps will be reviewed prior to start to ensure compliance. A small number of caps will be available. If you are having difficulty locating a swim cap or have any questions please email trionthemira@gmail.com 

**Please note that the below map is a preliminary swim course and the course may be changed to ensure safety of competitors and maintain competitive integrity. Any announcements with regard to the change in swim course will be broadcasted at the pre race meeting.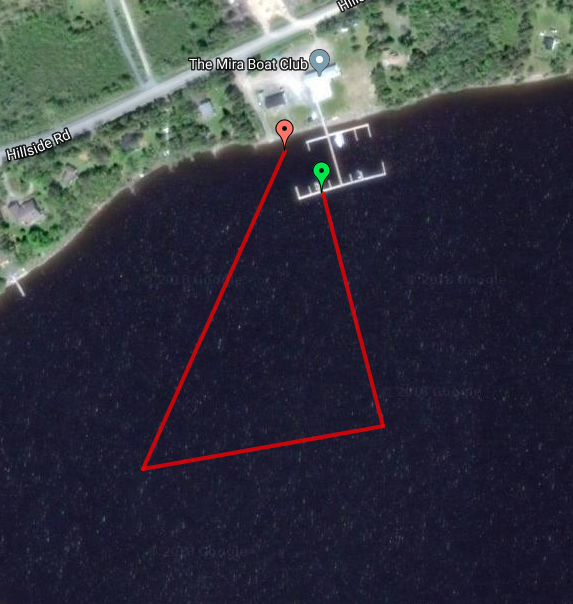 Bike
All athletes will exit transition and immediately cross the road, mounting the bikes and proceeding westerly along Hillside Road towards Marion Bridge.

Super Sprint athletes will turn at 4.75km for a 9.5km bike course. Sprint/Olympic athletes will continue near the end of Hillside Road. Olympic athletes will do two loops

The roads / asphalt are in excellent condition

Super Sprint bike http://www.mappedometer.com/?maproute=693188
Sprint/Olymic bike http://www.mappedometer.com/?maproute=667227
 Run
The run course will take place on the same road heading easterly. Super Sprint athletes will turn at 1.5km for a 3km run course. Sprint/Olympic athletes will turn at 2.5km and return to transition area. Olympic athletes will do this course twice.

Water stops are positioned at the exit of transition 2, 1.5km, 2.5km 3.5km, 5km, 7.5km and 8.5km.

Super Sprint run http://www.mappedometer.com/?maproute=667229
Sprint/Olympic run http://www.mappedometer.com/?maproute=667231
 Parking
There will be no parking in the Mira Boat Club parking lot. This is transition area. 

Event parking will take place across the street from the transition area. Please note that there will be limited access to this parking lot while the event is taking place between 8:00 am - 11:30 am. 

Parking is also available along Lanceleve Cresent 

 
Refunds 60 days prior to event - Full refund less processing fees. 30 days prior to event - 75% refund less processing fees. Deferrals only starting 22-Jul-2018
Registration fees
Super Sprint / Try-a-tri
Closed
Online registration closed
---
Olympic
Closed
Online registration closed
---
Team Sprint
Closed
Online registration closed
---
Sprint
Closed
Online registration closed
---
Event schedule
July 29 7:00 a.m. ADT - Start
Contact information
Name

Event Organizer

Email