Event Info
Sunday, July 29, 2018
TIME
7:00am - 7:45am On-site Check In & Registration
8:00am 1-Mile Kids Fun Run
8:00am 10K Run 
8:00am 5K Run/Walk
RACE LOCATION
Algonquin Middle School 520 Longwood Drive, Algonquin, IL. All races begin & end behind the school.  Watch for signs posted.  See course maps listed below.  
ABOUT THIS EVENT
The Algonquin Founders' Days Run/Walk is entirely on paved streets and a paved bike/running path. Enjoy the beautiful view along the McHenry County Prairie Path. Events include a certified course 10K (6.2 miles) Run, certified course 5K (3.1 miles) Run & Walk and a 1-mile Kids Fun Run. Proceeds benefit Algonquin Founders' Days. For the safety of others, no strollers, baby joggers, pets, roller blades/skates, skateboards, or bicycles are allowed on the course during the race.
AWARDS, Goodie Bag 
10K and 5K Race Awards are three-deep in age groups beginning with ages 9 & under, 10-14, etc through 60+. All 1-Mile Kids Fun Run participants will receive finisher ribbons. Awards will be presented at the race site once all participants have completed the course. Results will be posted at www.racetime.info within 2 hours of race. The first 150 registrants will receive a *Run T-Shirt & Goodie Bag (Adults and/or Children).  All participants will receive post race refreshments.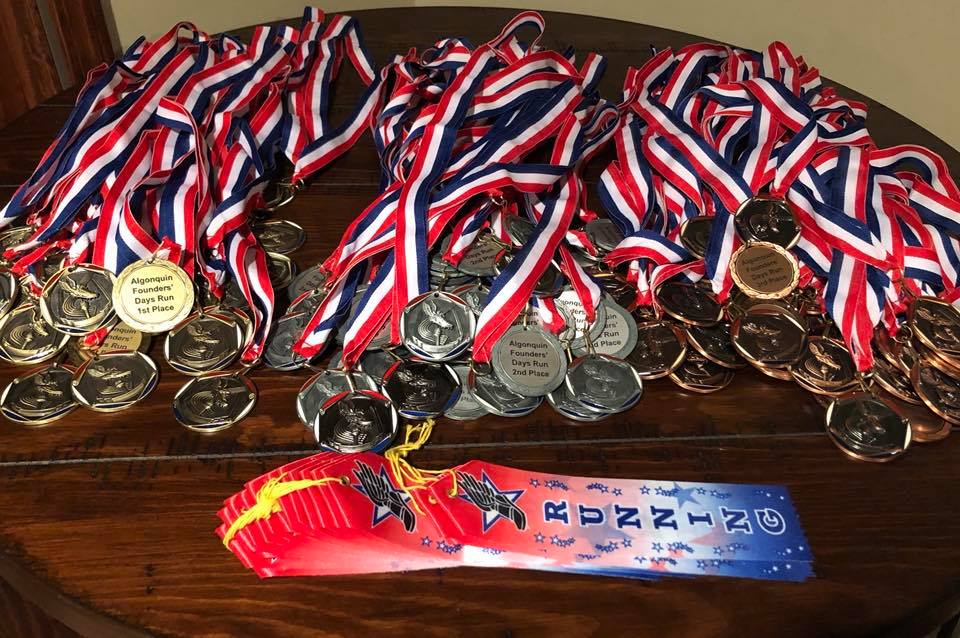 PACKET PICKUP
All participants should pick up their packets (race bib, etc.) on race day at the Algonquin Middle School from 7:00am to 7:45am.  Go to the event location behind the school.  
SAME DAY RACE REGISTRATION 
Same day of race registration is available at the event.  Save $2 to register online for 5K & 10K.  Save $3 to register online for kids fun run.  Go to the event location behind the Algonquin Middle School from 7:00am to 7:45am to register.    
ADDED INCENTIVE
All paid participants of this event may enjoy a FREE PANCAKE BREAKFAST compliments of Boy Scout Troop 151. The breakfast takes place at Spella Park, our festival event location.  Runners/Walkers show your race bib for your FREE meal! Special THANKS to Boy Scout Troop 151 for their generosity!
FREE RAFFLE
All 10K and 5K partcipants are eligible to WIN a women's or men's watch that was generously donated from Algonquin's own, Keehn's Jewelry,
keehnsjewelry.com
.  
Women's WATCH:  Bulova 98P143, valued at $350
Men's WATCH:  Citizen AW1490-50A, valued at $375
PARKING
FREE Parking is available at the Algonquin Middle School, 520 Longwood Drive. Note: Event is located behind the school.     
RESULTS
Your finish time results will be posted here: www.racetime.info 
T-SHIRT DESIGN CONTEST
WOW!  Check out our three top finalists in our annual T-shirt design contest!  Amazing talent from our local children within our community!  Special thanks to everyone whom submitted entries and to everyone whom voted.  WINNER:  Algonquin's own, 8-year old student from Saint Margaret Mary Catholic School, AUBREY!  Congratulations!  Aubrey's design is the first one listed below titled "Algonquin Goes Medieval Shield"
"Algonquin Goes Medieval Shield"
COURSE MAPS (1 MILE, 5K & 10K) listed below:  
*Please review the maps and follow the markings on race day*
5K course = 2 water stations.  
10K course = 4 water stations. 
1 MILE COURSE MAP
Click link to print 1-mile map:  1-mile course map
5K COURSE MAP 
(Certified Course)
Click link to print 5K map:  5k course map
10K COURSE MAP 
(Certified Course)
Click link to print 10K map:  10k course map
REFUNDS
There are no refunds issued for the run/walk event.