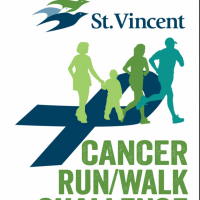 Raise money for St. Vincent Anderson Regional Hospital Foundation, Inc.
Together we can make a difference! The St. Vincent Cancer Challenge participants and donors have raised dollars to support patients and families facing cancer at St. Vincent Anderson. 100% of all funds rasied stay local and help inspire hope. Your support ensures that the St. Vincent Cancer Center team can begin and end each day with the same focus - to deliver high-quality, patient-centered care so that cancer patients are their loved ones have options and opportunities to thrive.
Click on one of our teams below to make a donation.
Date
Name
Amount

Oct

12

Debbie Harper

$230.00

Oct

12

Jeff Shaw

$40.00

Oct

12

Chet Foster

$15.00

Oct

12

Clifford VanDyne

$25.00

Oct

12

J.B. Dulworth

$20.00

Oct

12

Judi Byers

$50.00

Oct

11

Lisa Ruehr

$302.00

Oct

11

Megan Lehr

$215.00

Oct

11

Pam H. Jones

$50.00

Sep

28

Rebekah Snyder Logan

$107.86