HARRIS COUNTY EMPLOYEE 5K
Join us for a 5K hosted by Harris County for its employees and their guests
Registration fees
A 5K bike ride through the park with Commissioner Ellis! NOTE: Participants must bring their own bicycle and helmet. Riders will not be allowed on the course without a helmet.
---
5K Run/ Walk * IMPORTANT * Harris County full-time employees and retirees are FREE until December 31, 2018 with the Promo Code. In order for employees and retirees to receive free registration, you will be required to enter your Unique Identifier 'UID' twice - in the Unique Identifier field and the PROMO CODE field. Your Unique Identifier is: First 4 of last name + First 3 of first name + last 4 of SSN
---
5K (kids 12 and under)
Closed
---
EVENT DETAILS
PACKET PICK-UP
February 28, 2019
1310 Prairie St., 9th Floor Activity Room
Houston, TX 77002
8am - 5pm
Yes, you can pick up for a friend/family member (or they can pick up for you).
If you are picking up for multiple people, a written list of names helps speed up the process!
*IMPORTANT*
In our ongoing effort to streamline packet pick-up, we kindly ask that if you plan to pick-up packets for your ENTIRE team, that you submit a request by 6:00pm Monday, February, 25th, 2019 to randi@irunproductions.com.
Team Packets will be pulled prior to Packet Pick-up and will be available at Packet Pick-up, on Thursday, February 28, 2019.
Failure to submit a request will result in teams waiting with general pick-up and longer than normal wait times.
------
RACE DATE
Saturday, March 2, 2019
LOCATION
Tom Bass Park
2345 Fellows Road
Pearland, TX 77047
COURSE MAP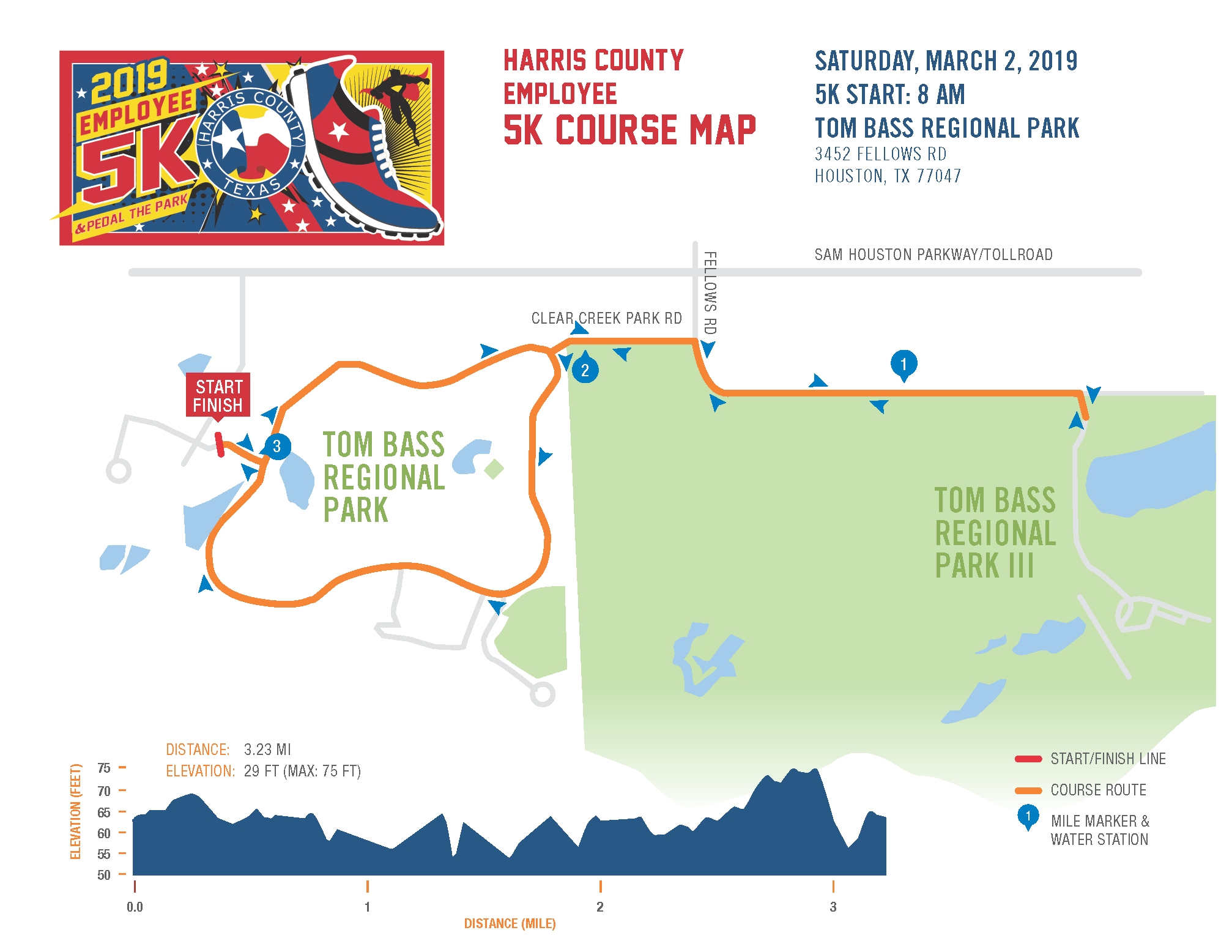 BIKE COURSE MAP
POST RACE MAP
-------
AWARDS
Awards will be given to the Top 3 Overall Male/Female Winners on race day.
------
See you there!
Event schedule
March 2 7:00 AM CST - Race Day Registration and Packet Pick-up
March 2 8:00 AM CST - 5K Run Start
March 2 8:05 AM CST - 5K Walk Start
March 2 9:15 AM CST - Awards Ceremony
March 2 9:45 AM CST - *MANDATORY* Course 5K Cut-Off
March 2 10:00 AM CST - Pedal in the Park
Contact information
Name

Randi Schooley

Website