CNB Oak Forest Fleadh 5K
Saturday, March 2, 2019 at 8:30am
It's our 10th Anniversary and we've decided to make some changes to make the Annual CNB Oak Forest Fleadh 5k even better!    Fleadh (pronounced flah) is gaelic for festival, and this day is centered around FITNESS, FAMILY AND FUN.   We have certified a new 5k course to bring our runners into the heart of the day's celebration.  The course starts and finishes at 155th Street between Cicero Avenue and Kilpatrick (15501 S. Kilpatrick the Community Center). We will be running in the local neighborhood as well as the challenging Cicero Avenue.  Your friends and family can cheer you on at one of several viewing stations along Cicero Avenue. We also hope you will stay for the family parade on Cicero Avenue at 11 a.m. All Fleadh 5K participants will receive a race t-shirt and goody bag. The Fleadh 5K is certified by the USATF.  
Registration fees
5K
Closed
Online registration closed
---
5k Youth (15 years old or younger)
Closed
Online registration closed
---
NEW 5K ROUTE USATF CERTIFIED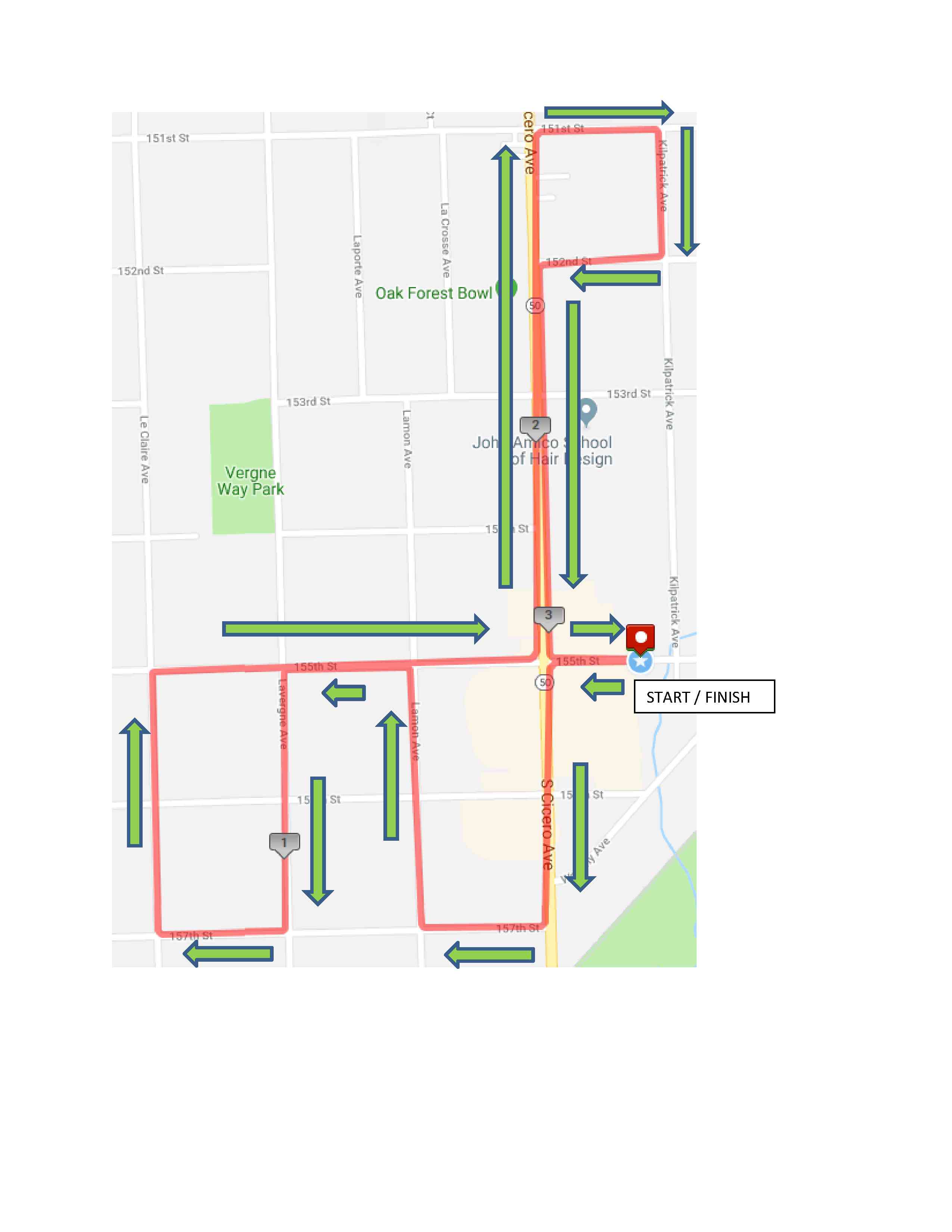 EVENT DAY PARKING
NEW PARKING LOCATION AT 156TH & WAVERLY, JUST EAST OF CICERO!!!!
General Information
Strollers and walkers permitted at the back of the pack. No dogs, roller blades, bicycles, or skateboards allowed.
Race Timing
The Fleadh 5K uses a disposable chip timing tag that runners receive at packet pick up on their race bibs. It is lightweight and remains attached to the race bib. Runners must wear their race bibs on the front of their clothing (preferably chest) in order to be timed accurately. There is no post race chip turn-in or fee for lost or unreturned chips.
Runners MUST wear their race bibs on the front of their clothing in order to be timed accurately. The bib cannot be covered, holding it in your hand or putting it in your pocket will NOT read the chip. Do not bend the chip. Smart watches such as Garmin and smart phones can interfere with the timing chip frequency. Please do not adjust your watch or phone as you cross the finish line and come through the chute. Disputes for times on Smart watches and smart phones will not be taken into consideration.

Packet Pick-Up
CNB Bank & Trust, 5459 W. 159th Street, Thursday, February 28th from 9 a.m. to 5 p.m. and Friday, March 1st from 9 a.m. to 6 p.m. You can register for the race at the bank until 5 p.m. on Friday.
Race Day Registration and Packet Pick-Up
All event day activities will be held at the Oak Forest Community Center at 15501 Kilpatrick from 7 a.m. to 8 a.m.
Parking will be available in several areas, walking distance to the Community Center. The Waverly Metra parking lot at 157th & Waverly, the commercial building at 156th & Cicero (the former Ace Hardware) will offer parking, along with the neighboring streets. The registration fee on race day is $35.
Race shirts and goody bags
Participants will receive a cotton t-shirt. All participants will receive goody bags.
Age Groups
14 and under, 15-19, 20-24, 25-29, 30-34, 35-39, 40-44, 45-49, 50-54, 55-59, 60-64, 65-69, 70-74, 75-79, and 80 and over
Awards
Medals will be given to the top three winners, male and female, in each category, and each age group category. The award ceremony will begin at approximately 9:30 a.m.
St Damian Food Pantry
At this year's event, please consider bringing can food donations to help restock the pantry at St. Damian Food Pantry.
Post-Race Events
Following the race, please enjoy refreshments and awards at the Community Center. Also, please stay for the Fleadh Family parade at 11 a.m., which runs North on Cicero from 157th to 151st Street. Enjoy all our pubs and restaurants throughout the day.
Parking
Free parking will be available in the Waverly Metra Parking lot at 157th & Waverly.
Run to the Pub Training Program
Join the Run to the Pub Training Program to help you get in shape while enjoying some great company! The group's goal is to train for the St. Patrick's Day races, including the Oak Forest Fleadh 5K on March 2. The running group will meet once a week for 6 weeks at 6:30 p.m. starting February 21st. All participants receive a free beer post run and entry into our weekly raffle. All fitness abilities are welcome and encouraged to participate. Learn more at runtopub.net or register at https://campscui.active.com/orgs/DevineNutrition.
About Our Presenting Sponsor
CNB Bank & Trust, N.A. is proud to be a locally-owned community bank. We have a vested interest in the success of local individuals and businesses in the communities we serve. Our commitment to the communities we reside in is far reaching. From local schools, churches, non-profit organizations to community fundraisers, CNB Bank & Trust, N.A. makes it a top priority to give back. In fact, our employees participate in community service programs in their own communities every day. We take pride in this place we call home.
Event schedule
December 30 11:59 PM CST - Early Bird Discount ends
February 28 9:00 AM CST - Packet pickup: CNB Bank & Trust, 5459 W. 159th St 9-5pm
March 1 9:00 AM CST - Packet pickup: CNB Bank & Trust, 5459 W. 159th St 9-6pm
March 1 5:00 PM CST - Online Registraton Closes
March 2 7:00 AM CST - Race Day Registration 7-8am
March 2 8:30 AM CST - Race Starts
March 2 9:30 AM CST - Awards
March 2 11:00 AM CST - Fleadh Family Parade / Cicero Avenue
Contact information
Name

Kim Malecky-Iles

Email

Phone

+1 708-687-4600

Website