Athletics Ontario in collaboration with Race Roster will be hosting a race director's summit on January 26, 2019 to further the conversation on building a healthy, safe and vibrant road (and trail) running race community in Ontario. We intend on keeping the format collaborative with a facilitated conversation format, with the option for breakout sessions if particular topics are more relevant to some groups than others.  
LOCATION: Acme Works 226 Niagara Street, Toronto Ontario
Thank you to Scimitar Sports you will all be provided with a technical running T-Shirt also to take home!
Schedule**
8:30 am:    Registration (name tags, goody bags, snacks and coffee/tea)
9:00 am:    Summit Begins
10:30 am:  Break
12:30 pm:  Lunch (full lunch provided)
3:00 pm:    Break
5:00-7:00   Post-event cocktail hour(s) and discussion
**Breakout sessions on particular topics to be announced throughout the day
Thank you in advance to our talented panel of conversation facilitators, and our sponsors for this coming year! We are honored to have a room full of talent and resources.
Facilitated Conversation Topics and Bios
Emcee
Steve Fleck, Race and Event Announcer
Steve Fleck is one of the leading Endurance Sports Race/Event Announcers in North America. Each year he is on the Microphone at over 35 running, cycling and triathlon races. He's also an in-demand Commentator in the fast-growing Live Streaming Sports webcasting business, for running, and cycling races - working closely with both Athletics Canada and Cycling Canada in this area. He's been involved in running, triathlon and cycling in one way or another since his mid-teens, as a participant/competitor and in business. He lives in Aurora, Ontario with his wife, and their dog Gravy!
1) Emergency Planning and Awareness
Facilitated by Trevor Hyland, Charlotte Brookes and Kevin Jones
Trevor Hyland, Coordinator, City of Toronto - Operations of Emergency Management 
Trevor has worked with the City of Toronto for the past five years, and has recently joined the Office of Emergency Management.  In his new role within the Special Event unit, he oversees the Emergency Action Plan (EAP) process, Event Safety & Security Workgroup, and City Service and Emergency Service coordination for assigned events.  He is also deployed to the field to assist with operational execution and would be imbedded within the command and control team.
Previously he was working within the City Cultural Events, Production unit leading various projects including: PANAMANIA, Canada 150 Celebrations, Canada Day, Nuit Blanche, Cavalcade of Lights and New Year's Eve.  He is passionate about the advancement in event health & safety, emergency service planning, training and crowd management tactics at all produced events.     
Trevor is a graduate of Sheridan Collage and has worked in the events industry for over twenty years with a focus on concert production and large-scale special event coordination. 
Charlotte Brookes, Race Director - Canada Running Series
Since 2012, Charlotte Brookes has been the Event Director for the Canada Running Series. She is responsible for organizing and managing the entire event for the 5 CRS East races, which include the IAAF Gold Label Scotiabank Toronto Waterfront Marathon. To successfully manage the event, her main focus and role on race day is Emergency Management, Crisis Communication and Event Dispatchers through their Event Command Centres.  Most recently, she received the Industry Leader Under 40 Award from the National Center for Spectator Sports Safety and Security at the National Sports Safety Conference in July 2017.
Kevin Jones, Odyssey Medical
Kevin Jones is the President and CEO of Odyssey Medical.  Odyssey provides event medical and risk management services for the mass gathering industry in Canada.  Kevin has extensive experience in risk management, emergency communication and event operations.  Kevin's experience spans from remote wilderness expeditions to large scale urban events. He has lead event medical programs for many large obstacle course events, live music events and triathlons.  Building on a background in insurance and education, he is committed to evidence based decision making and systems development.
2.) Race Course Management
Facilitated by Albert Ngai and Michael Brennan. Race day course execution is most successful when there's a good plan in place and experienced people to manage that plan.  Michael and Albert have worked on over 60 races together in various capacities, always focusing on safety, the runner experience, efficiency and the needs of the race director or organizer. They will share the 'best practices' on course management that they've learned over the years. 
Albert Ngai 
Albert has been working in the race management industry for over 10 years and has been involved in course operations in numerous race series ranging from 5Ks to marathons. He has also been a runner in a good number of marathons, half marathons and 30K races over the years. In each event he operates in, Albert focuses on executing a course that is safe and easy to navigate. He is passionate about improving the runner experience. Albert currently runs his own company – Course Dynamics – which offers services in event consulting and course management.
Michael Brennan 
Michael has contributed to the successful planning and execution of over 200 races in the GTA over the past 14 years, and over 100 of them as Race or Course Director. He's also run in over 300 races so he's seen most of your events with a runner's eye AND a director's eye. He is often hired to be Course Director when races want professional results and don't want to worry about course management.
3.) Volunteer Recruitment and Retention
Erin Roza, Volunteer and Charity Program Manager – Canada Running Series
Erin has been managing volunteers in the arts, sports, and recreation industries for over 10 years, the last five and a half with Canada Running Series. Her focus has been on the volunteer experience, not only meeting but exceeding their expectations, providing more than just "hours," and creating a volunteer community. Erin will lead a discussion on strategies for successful recruitment and retention.
4.) Sponsorship and Marketing
Chantelle Wilder, Chief Operating Officer Race Roster
Chantelle is the Co-Founder & Chief Operating Officer at Race Roster. Chantelle and her team work with over 7000 event organizers across North America with their largest markets being Ontario, California, Texas and Colorado. Chantelle recently returned to Ontario in 2014 after spending 7 years in Hawaii and more recently 4 years in Silicon Valley. Chantelle believes that interdepartmental communication is key to the success of executing any project and the overall efficiency of a business. All her free time is spent playing pirates with her two little gentlemen. Arrr!
Peter Donato, Founder, Good Times Running Inc. 
Race Director (sometimes), sponsorship sales manager,part time social media poster, really good at squeezing every nickel out of a Race Budget, master at Public Relations, P.R. and outside the box Marketing and Promotions& enjoys driving trucks during race week!)
Team Canada Brunch at the Boston Marathon (14 years), Midnite Run and Party New Year's Eve (8 years), Monster Dash Toronto (7 years), Toronto Corporate Run (5 years)
5.) Race Branding
Chris Uszynski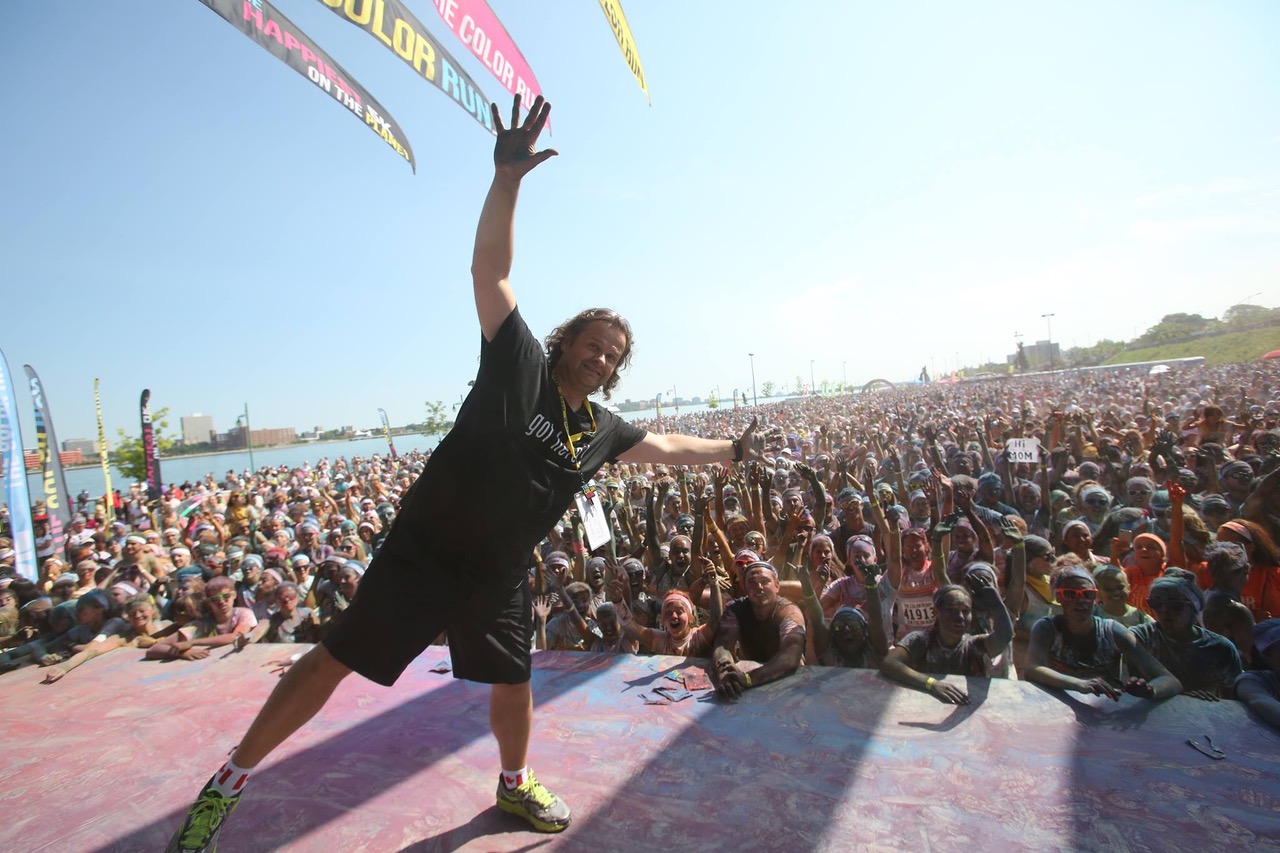 Chris, a Windsor native has been race directing for almost 15 years.  Starting as an Ultra Marathoner who contracted late onset Asthma he turned his passion for running into organizing and founded RunningFlat, named after the incredibly flat terrain in Essex County.  Working in a small market (350,000 population) gave Chris the opportunity to develop several unique brands that have attracted tens of thousands of runners from all over the world.  RunningFlat owns or produces events from Los Angeles to Sherbrooke QC, with brands like Canada D'Eh Run, Le Chocolat, Pelee Island Winery Half Marathon, The Color Run (under licence in Canada), Hockeytown 5K and I RAN THE D.
6.) Lessons From the Evolving World of Trail Racing
Jeff Rowthorn 
Jeff is a major advocate for running and feels at home on the trails. He has completed over 50 marathons and ultra-marathons, and over a hundred other shorter distances in only a few years. As a race and gear reporter for Get Out There Magazine, his reports and videos have made him recognizable as "that ultra runner with big red beard". He works tirelessly to support the sport he loves and is always giving back when he can by volunteering at races, giving race talks/lectures at running events, and coaching in the running community. 2017 proved to be a successful year as Jeff has won the first 3 races of the season - including obtaining the course record for the Croom Zoom 100 miler in Florida, USA. He loves the community as much as the sport and looks forward to offering amazing and unique venues for other racers to experience the joys of trail racing.  As the Race Director for Happy Trails Racing, Jeff is constantly scouring trail maps looking for the scenic routes to offer participants the opportunity to find adventure, conquer a new distance, and experience some of the gorgeous trails Southern Ontario has to offer. 
Heather Borsellino 
Heather has a passion for trail racing that has positivity affected all aspects of her life. After a successful year in 2016, as the OUTRace 50k Series Champion, she went on to race her 1st 100 miler in 2017 and finished as the 4th female. Her love of the sport has been paired with her writing. She has published 3 articles in UltraRunning Magazine online documenting her journey through trail running. Look for her latest article in their printed magazine for May/June 2017, on Re-defining the DNF. She was selected as 1 of 30 women who attended the Wilder Running & Writing Retreat in Caldera, Oregon with Lauren Fleshman and travelled to North Carolina to train in the mountains with Sally McRae. Although she continues to race nationally and internationally, Heather is now focusing on coordinating all the many facets of Happy Trails Racing.  Her education of design and marketing paired with her experience in programs and event management makes her role at Happy Trails Racing very fulfilling one with the community events and initiatives that have been launched this past year.
7.) Athletics Ontario's Growing Involement in Ontario's Running Community
Sheryl Preston
Sheryl, Athletics Ontario's Road and Trail Running Coordinator is the organizer of this event.  With Athletics Ontario, Sheryl helps to build bridges in the Road and Trail running community provincially, and nationally.  She connects race directors, clubs, athletes and members with credible resources to ensure safety and accuracy of events. Providing provincial sanctioning and race day insurance is also a large portion of her role. As a retired National Team rower, Sheryl is deeply passionate about the powerful connection of the running community. Having completed 10 road marathons, 8 ultramarathons, Ironman Canada & heeps of other races, and as a member of a few running clubs in Ontario and BC, Sheryl deeply appreciates the positive impact that races, and our connected running community can have.
Registration fees
Summit
Closed
Online registration closed
Price includes morning snack, lunch and 2 drinks after.
---
Event schedule
January 26 8:30 a.m. EST - Summit Registration Begins
January 26 9:00 a.m. EST - Summit Start
January 26 5:00 p.m. EST - Summit Finish
January 26 5:00 p.m. EST - Optional Cocktails Start
January 26 7:00 p.m. EST - Optional Cocktails Finish
Contact information
Name

Sheryl Preston

Phone

+1 289-214-8333

Website