*** IMPORTANT - CANCELLATION NOTICE ***
To all WQM Participants, Volunteers & Sponsors, 
Due to the impending forecast and current flood zones around the city, we have decided to cancel the 2019 Women's Quarter Marathon, 5K & Mini-Quarter. 
This is not a decision we have come to easily. Taking into consideration that there are portions of Houston that are currently flooded with much more rain to come – it would not be a safe or responsible decision to host the event on Saturday. The Women's Quarter Marathon is one of our favorite races of the year and are very disappointed not to see you all at the start line this year. However, we would still like to offer the opportunity for you to receive your participant shirt and/or medal. We are currently working with some local venues to host a shirt/medal pick-up – please stay tuned for more details coming very soon!
We thank you for your understanding and wish you all a SAFE and wonderful Mother's Day weekend, and hope you'll join us for 2020. Please do not hesitate to reach out to us with any questions.
- iRun Productions
---

The Women's Quarter Marathon is a "One-of-a-Kind" experience created for you, by women like you! We believe that all women should feel empowered by one another and wanted to bring you together to show you what we are capable of when we come together. 
The beautiful 6.55-mile & 5K course was designed to showcase thousands of women and their individual and group strength.  We have added a NEW Distance this year... a 5K!  Now there really is something for every woman and girl! Grab your closest friends and let's celebrate each other! 
Registration fees
Women's Quarter Marathon
Closed
Registration closed
---
Girls Mini-Marathon
Closed
Registration closed
---
WQM 5K
Closed
Registration closed
---
About the Women's Quarter Marathon
THE 4TH ANNUAL


WOMEN'S QUARTER MARATHON
We are so excited to announce that this women's-only road race is moving to Downtown, Houston ... and we want YOU to be there. We invite you to join the hundreds of women from our surrounding 19 counties, on Saturday, May 11th, in this fun, one-of-a-kind quarter marathon distance (6.55 miles) road race, 5K and Girl's Mini-Quarter.
Our mission is to empower women and young girls by promoting healthy lifestyles and that all women are created equal.
---
THE PERKS

6.55 & 3.1 fun, empowering miles

AMAZING! Women's Quarter Merchandise

Finisher's Medal

Delicious Post-Race Food

Two (2) tickets to the amazing Beer & Mimosa Bar

Experience of a lifetime!

Free Fundraising Page
PACKET PICK-UP
Thursday, May 9th, 2019
Details Coming Soon!
COURSE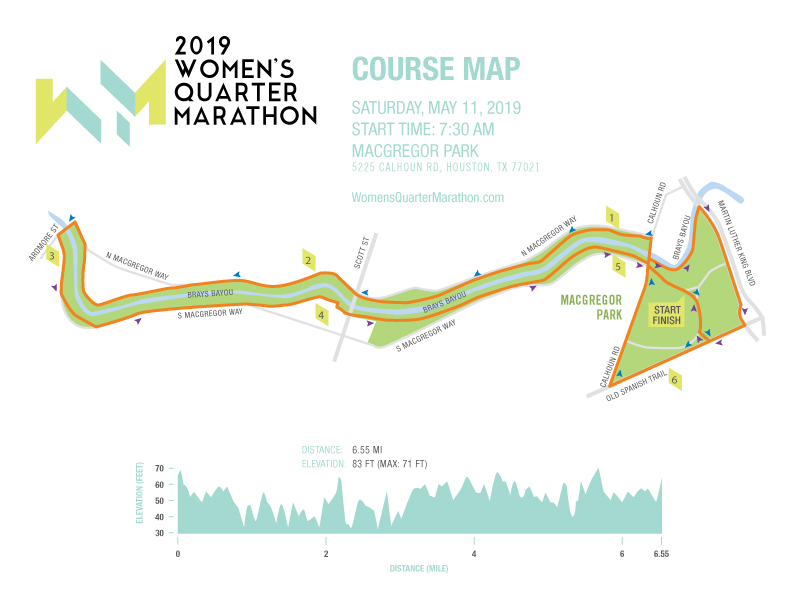 EVENT ENTRY REQUIREMENTS
The 2019 Women's Quarter Marathon has a STRICT race day finish time of two (2) hours and 30 minutes. The marathon course will reopen for public use at 9:30 A.M. sharp. Participants that fall behind this pace will be directed to the sidewalk and allowed to finish the race, but will not be guaranteed a finishing time.

The sale and/or transfer of race entries/bib numbers is strictly prohibited. All registration fees and ancillary purchases are nonrefundable.


AWARDS

Participants will compete in the following female age divisions:

14 and under, 15-19, 20-24, 25-29, 30-34, 35-39, 40-44, 45-49, 50-54, 55-59, 60-64, 65-69, 70-74, 75 and over

First place finisher in each age division will receive a commemorative award. All finishers will receive a commemorative medal and participant shirt.
About the Mini-Quarter Marathon
RUN WITH ME!
The Mini-Quarter Marathon is 1.25 miles and is designed for girls under the age of 12 who also want to join the movement! This fun run provides kids a positive, educational, and fun experience in the world of running!
Lets show our girls how to be bold and brave! #runmini


THE PERKS

A smooth and fun 1.25-mile race course

Unique Mini-Quarter Marathon Participant Tee

Finisher's Medal

Delicious Post-Race Food

An experience of a lifetime!

Event schedule
May 9 10:00 AM CDT - Packet Pick-Up (Location TBD)
May 11 5:45 AM CDT - Race Day Registration OPEN
May 11 6:45 AM CDT - Race Day Registration CLOSED
May 11 7:30 AM CDT - Women's Quarter Marathon START
May 11 9:00 AM CDT - WQM Awards Ceremony
May 11 9:15 AM CDT - Mini-Quarter Marathon START
Contact information
Name

iRun Productions

Website