Join us for the 9th Annual Run for God - Run at the Mill – 5K, 10K, and Half Marathon, which will take place at Historic Prater's Mill in Dalton, GA. This race is one for the entire family. Complete with food, music, children's inflatables and much more, your family will have a chance to enjoy the day while you achieve that next endurance goal.  Run through the country roads of beautiful north Whitfield County and breathe in the fresh air.  You'll find lots of cheering company at the finish line.  There is an atmosphere at Run for God races like none other.  If you haven't experienced the difference yet, come find out what all the buzz is about! 
Registration fees
5K Run/Walk
Closed
Online registration closed
$30.00

Early Registration
---
10K
Closed
Online registration closed
$35.00

Early Registration
---
Half Marathon
Closed
Online registration closed
$50.00

Early Registration
---
Medals
Hand crafted medals in 2019!
Our races have always had great medals, but this year we are changing things up a bit. A medal is great, but a medal with a story behind it is even better. Even better than that, you'll be running with the kid who made them.

Yes, we said kid. Landon Hollis is a young man, 12 to be exact, who loves to build stuff. When asked if he'd like to make the medals for this years race, well, there wasn't even much thinking. Each medal is hand crafted and oiled individually by Landon himself.
Schedule
Friday – April 12, 2019 – Praters Mill
Packet Pick-Up - 4:00PM till 8:00PM
Saturday – April 13, 2019 – Praters Mill
Gates Open/Packet Pick-Up/Late Registration - 5:30AM
½ Marathon Prayer/Anthem - 6:45AM
½ Marathon Begins - 7:00AM
5K/10K Prayer/Anthem - 8:30AM
10K Begins - 8:45AM
5K Begins - 9:00AM
Awards Ceremony - 11:00AM (Or when last runner finishes)
**Registration closes 15 Minutes prior to each race start**
T-Shirts
All 5K finishers will receive a short sleeve moisture-wicking technical t-shirt. Half Marathon and 10K finishers will receive a long sleeve moisture-wicking technical t-shirt. Half Marathon finishers will receive a high quality finishers medal. All 5K and 10K finishers will receive a military style dog tag with the chain.
Be sure to sign up early to be guaranteed a t-shirt at packet pickup. Everyone who registers and races WILL receive a t-shirt, however, those who register after Wednesday - April 10, 2019, will have to pick theirs up at a later date!
Hotel Accommodations
Hampton Inn of Dalton, GA has graciously agreed to offer a discount to participants in need of lodging. Enter the code: RUN (by 3/30/2019)
Team Competition
Be a part of the team competition this year, which is based on participation. You can register as a church, community organization, or even as a corporation or workplace. When you register, look to see if anyone has created a team for your organization. If not, you can start a team and get others to join you! You will see the Team section as you register. Gather up all you can and there just may be a team award in your future!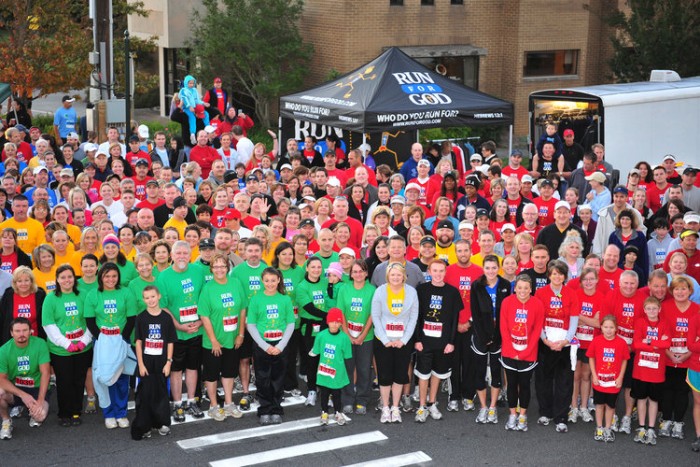 How are the Proceeds used?
Run for God is a Nonprofit Corporation. 100% of the proceeds from our races are used in one of two ways. When you register, you will be helping to take the name of Jesus to the running world through the "Who do you say that I AM?" ad campaign. We have seen hundreds of eternal decisions made in response to the campaign you are supporting! If you'd like to know more, please visit RunforGod.com. The second way you are helping is to keep the day-to-day operations of Run for God moving. Our revenue comes from books, t-shirts, donations, and races.
If you can't make it to race day, please consider being a Run for God financial supporter in lieu of your race entry!
Sticky and Pinky
Why do we wait for the last runner to finish before handing out awards?
We get this question often, and we understand that some of you fast runners may be waiting a while before getting your award. But here at Run for God, we have decided that EVERYONE should experience that magical finish line experience no matter what their time may be. For this reason, we hope that you will hang around and help us cheer every runner in, and be inspired by those who just a short time ago were saying "I can't" and are now saying "I did."
Top donors
| No. | Name | Amount |
| --- | --- | --- |
| 1 | Brian Malone | $100.00 |
| 2 | Tracey Carson | $100.00 |
| 3 | Stephen Bolding | $50.00 |
Top teams
1

I AM Kinda Fit

View page
2

Huntsville First Run For God

Raised:

$100.00

View page
3

CUMC Run for God

View page
Event schedule
April 12 4:00 PM EDT - Early Packet pick up/Late Registration
April 12 8:00 PM EDT - Early packet pick up/Late Registration ends
April 13 5:30 AM EDT - Gates Open/Packet pick up/Late Registration
April 13 6:45 AM EDT - Half Marathon Prayer/National Anthem
April 13 7:00 AM EDT - Half Marathon Begins
April 13 8:30 AM EDT - 5K/10K Prayer/National Anthem
April 13 8:45 AM EDT - 10K Begins
April 13 9:00 AM EDT - 5K Begins
April 13 11:00 AM EDT - Awards Ceremony
Contact information
Name

Dean Thompson

Email

Phone

+1 706-264-7101