Announcing the first ever February Freeze Out!  Cold weather?  We can handle it!  As a matter of fact, we are GUARANTEEING SNOW on race day! Come out to join us at the beautiful new Haig Mill Lake Park facility.  The race takes place mostly on the gently rolling hiking trail that circles Haig Mill Lake.  If you have never been here then you are in for a treat!  There are some beautiful vistas overlooking the lake along the way.  Let's beat the winter blues with a little jaunt around the lake!
Registration fees
February Freeze Out 6K Run/Walk
Closed
Online registration closed
Get a PR at a new distance!

$30.00

Early Registration
---
Race Schedule
Saturday, February 9
Late registration and packet pick up opens - 7:30 am
Late registration and packet pick up closes - 8:45 am
Gather for prayer, national anthem and last minute instructions 8:45 am
Race begins - 9:00 am
Awards ceremony - approximately 10:30 am
T-shirts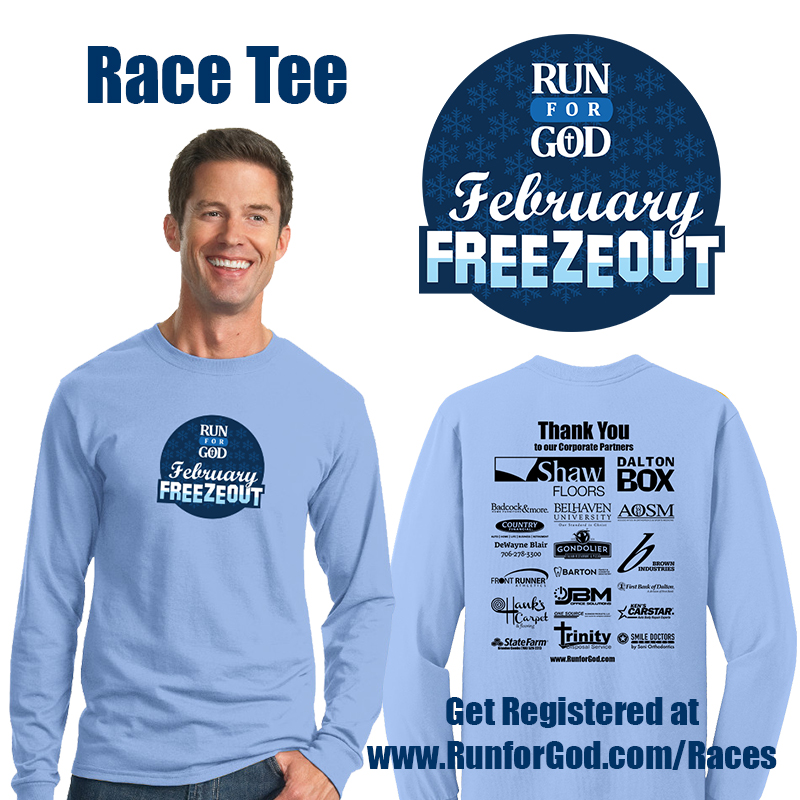 50/50 Blend Technical Shirts will be given to all registrants. Be sure to register before the online registration cutoff date to ensure that you get your shirt on race day.
Walk up registrants will have to pick their shirts up in the week following the race.
Hotel Accommodations
Hampton Inn has graciously agreed to give our guests a discount. Use the group code: FEB (until 2/4/2019)
How are the proceeds used?
Run for God is a Nonprofit Corporation. 100% of the proceeds from our races are used in one of two ways. When you register, you will be helping to take the name of Jesus to the running world through the "Who do you say that I AM?" ad campaign. We have seen hundreds of eternal decisions made in response to the campaign you are supporting! If you'd like to know more, please visit RunforGod.com. The second way you are helping is to keep the day-to-day operations of Run for God moving. Our revenue comes from books, t-shirts, donations, and races.
If you can't make it to race day, please consider being a Run for God financial supporter in lieu of your race entry!
Why do we wait for the last finisher before handing out awards?
We get this question often, and we understand that some of you fast runners may be waiting a while before getting your award. But here at Run for God, we have decided that EVERYONE should experience that magical finish line experience no matter what their time may be. For this reason, we hope that you will hang around and help us cheer every runner in, and be inspired by those who just a short time ago were saying "I can't" and are now saying "I did."
Event schedule
February 9 7:30 AM HAST - Late registration/packet pick up opens
February 9 8:45 AM HAST - Late registration/packet pick up closes
February 9 8:45 AM HAST - Prayer, National Anthem
February 9 9:00 AM HAST - Race begins!
February 9 10:30 AM HAST - Awards Ceremony (approximate)
Contact information
Name

Dean Thompson

Email

Phone

+1 706-264-7101

Website