The registered, not-for-profit Victoria Marathon Society administers the annual GoodLife Fitness Victoria Marathon and associated events.  
The AIMS/IAAF-certified 42.195K GoodLife Fitness Victoria Marathon takes place annually on the Sunday of the Canadian Thanksgiving holiday weekend and is accompanied by a Half Marathon, 8K Road Race and a 1.2K Thrifty Foods Kids Run.
The 40th annual GoodLife Fitness Victoria Marathon is a beautiful, seaside course with some mild undulations.  
The GoodLife Fitness Victoria Marathon weekend includes 4 events to choose from:
Marathon
Half Marathon
8K Road Race
The High Performance Athlete Program allows the GoodLife Fitness Victoria Marathon to offer top Canadian and International Marathon and Half Marathon runners an environment in which they can succeed. The goal of the program is to create a World Class Marathon event and to foster the development of Canadian runners and is designed to attract top distance runners.
Prizes are awarded for the top male and female, Open and Masters, Marathon and Half Marathon athletes, as well as an incentive for breaking the course record. Some elite athletes will be given the opportunity to share their unique stories with the local media.
Standards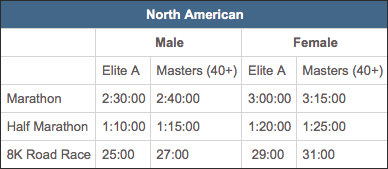 Registration fees
High Performance Athlete Application
Closed
---
Event schedule
October 13 8:00 a.m. PDT - Half Marathon Start
October 13 8:00 a.m. PDT - Marathon Start
October 13 8:50 a.m. PDT - 8K Start
Contact information
Name

Ulla Hansen

Phone

+1 250-419-3870