Algonquin Founders' Days
RUN / WALK Event
Sunday, July 28, 2019
Bring the whole family for a run in Algonquin, IL through the beautiful McHenry County Fox River Prairie Trail.  
Certified Courses.  Age Group Awards.  
T-shirts & Goodie Bags.  Postrace refreshments.  
2019 Theme: "Founders Honors Our American Heros"
Proceeds to benefit Algonquin Founders' Days Festival.  
Registration fees
$27.00

Same Day 5K Registration = $30

Jan 11 - Jul 27
---
$32.00

Same Day 10K Registration = $35

Jan 11 - Jul 27
---
1 Mile Kids Fun Run (12 & under)
Closed
$12.00

Same Day 1-mile Registration = $15

Jan 11 - Jul 27
---
Event Info
Sunday, July 28, 2019
TIME
7:15am - 7:45am On-site Check In & Registration
8:00am 1-Mile Kids Fun Run
8:15am 10K Run 
8:15am 5K Run/Walk
RACE LOCATION
Algonquin Middle School 520 Longwood Drive, Algonquin, IL. All races begin & end behind the school. Watch for signs posted.  See course maps listed below.  
ABOUT THIS EVENT
The Algonquin Founders' Days Run/Walk is entirely on paved streets and a paved bike/running path. Enjoy the beautiful view along the McHenry County Prairie Path. Events include a certified course 10K (6.2 miles) Run, certified course 5K (3.1 miles) Run & Walk and a 1-mile Kids Fun Run. Proceeds benefit Algonquin Founders' Days. For the safety of others, no strollers, baby joggers, pets, roller blades/skates, skateboards, or bicycles are allowed on the course during the race.
AWARDS, Goodie Bag 
10K and 5K Race Awards are mens and woman separate in three-deep in age groups beginning with ages 9 & under, 10-14, etc through 60+. All 1-Mile Kids Fun Run participants will receive participant ribbons as well as medals on ribbons for 1st, 2nd and 3rd place. Fastest 5k and 10k men and women will earn a plaque.  Awards will be presented at the race site once all participants have completed the course. Results will be posted at www.racetime.info within 2 hours of race. The first 100 registrants will receive a *Run T-Shirt & Goodie Bag (Adults and/or Children).  All participants will receive post race refreshments.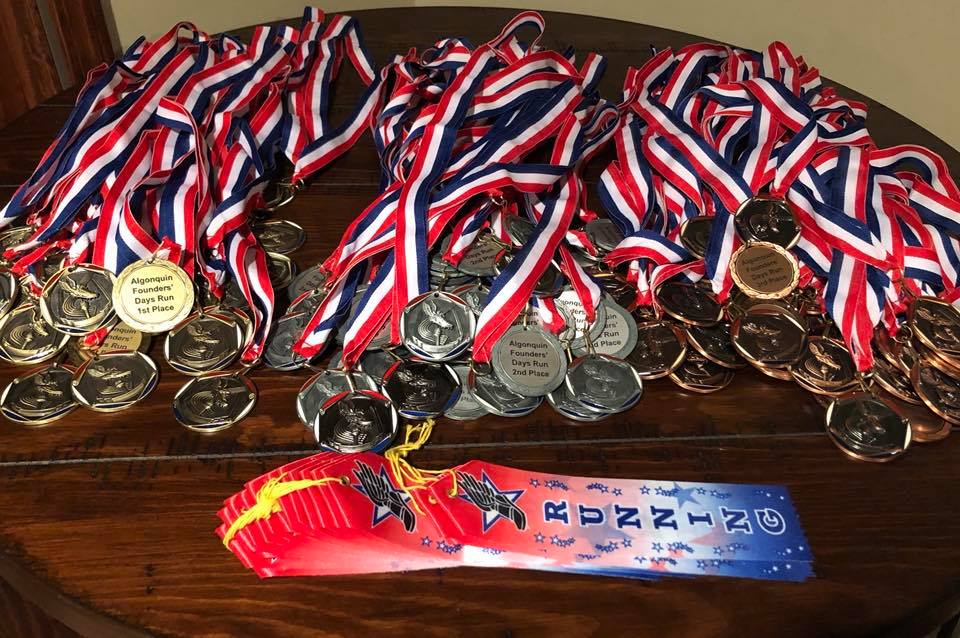 PACKET PICKUP
All participants should pick up their packets (race bib, etc.) on race day at the Algonquin Middle School from 7:15am to 7:45am.  Go to the event location behind the school.  
SAME DAY RACE REGISTRATION 
Same day of race registration is available at the event.  SAVE $ to register online.  Go to the event location behind the Algonquin Middle School from 7:15am to 7:45am to register.    
FREE RAFFLE
All 5K and 10K participants will automatically be in a FREE RAFFLE to WIN one of these amazing watches!  These watches are generously donated by Keehn's Jewlry, LTD in Algonquin.  Combined value of $725.00, WOW!  Be sure to visit their family owned business keehnsjewelry.com. Bulova Marine Star, Model 98C118, valued at $350 and Citizen Silhouette Crystal, Model FD2013-50A, valued at $375: 
PARKING
FREE Parking is available at the Algonquin Middle School, 520 Longwood Drive. Note: Event is located behind the school.  
POST RACE REFRESHMENTS
Special THANKS to Algonquin's Trader Joe's for their generous donation of BANANAS to our runners! Of course will also be provided during the race and post race. Check out Trader Joe's at 1800 S. Randall Road in Algonquin.  
SPECIAL ANNOUNCEMENT
We are pleased to announce that Algonquin's own, Maggie Schneider will be singing the National Anthem prior to the start of the race!  Thank you for sharing your talent with us!  
FOR YOUR ADDITIONAL SAFETY
We are pleased to announce that we will have a group of bicyclists to help guide you along the way! They will be at the head of the pack to lead you, middle of the pack and end to ensure everyone's safety. Speical THANKS to Rob & his team at Trek Algonquin for donating their time! Check out their shop in Algonquin at 2379 S. Randall Road in Algonquin. Additionally, Algonquin's Public Works, Police and EMT will be there to assist! We cannot THANK each of them enough for what they do for our community!
T-SHIRT DESIGN CONTEST
Our 2019 T-Shirt Design Contest WINNER is Algonquin's own, DYLAN FEKETE!  Congratulations & thank you for sharing your artistic talent with your community!  Dylan's shirt will be proudly worn by runners and walkers of this fun event!  
COURSE MAPS (1 MILE, 5K & 10K) listed below:  
*Please review the maps and follow the markings on race day*
5K course = 2 water stations  
10K course = 4 water stations
1 MILE COURSE MAP
Click link to print 1-mile map:  1-mile course map
5K COURSE MAP 
(Certified Course)
Click link to print 5K map:  5k course map
10K COURSE MAP 
(Certified Course)
Click link to print 10K map:  10k course map
REFUNDS
There are NO refunds issued for the run/walk event.  
Event schedule
July 28 7:15 AM CDT - On Site Check In & Registration
July 28 8:00 AM CDT - 1-Mile Kids Fun Run
July 28 8:15 AM CDT - 10K Run
July 28 8:15 AM CDT - 5K Run/Walk
Contact information
Name

Algonquin Founders' Days Committee

Email

Website