Online registration is closed. Race day registration will be available (Adult: Half $100, 10K $70, 5K $60, Youth: Half/10K $20, 5K $10). You can read the RACE DAY DETAILS online here.
This event had originally been scheduled for Sunday Nov 10. It will now take place on Sunday Oct 20.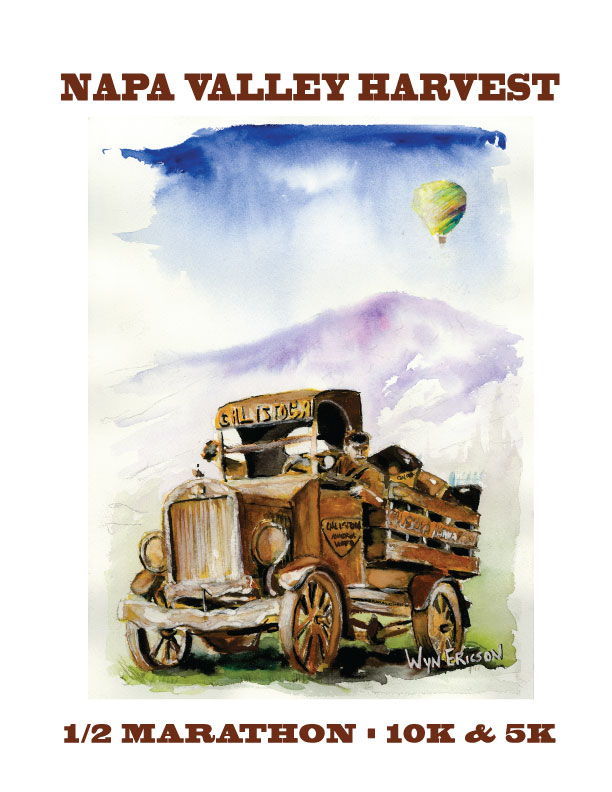 There's no better place to experience autumn than the Napa Valley.This exciting road race starts and finishes at the Calistoga Beverage Company (865 Silverado Trail N), in the heart of Calistoga in the north end of scenic Napa Valley. The whole course is on Silverado Trail (a paved roadway) starting at the Calistoga Beverage Company to the various turnarounds for the 5K, the 10K and the Half Marathon. Run route retraces itself back along Silverado Trail (which will be closed to car traffic) and back to Calistoga. The course is flat and fast with only two minor hills. Post event festivities will take place in Calistoga. The entire route is surrounded by vineyards and wineries with great vistas of the surrounding mountain ranges including Mt. Saint Helena and the picturesque Palisades. The mild fall weather, autumn colors and the musk of the fermenting, recently harvested wine are a sure treat this time of year. This event is limited to 1000 participants so don't wait too long to register!
Check out this video from the 2014 event!
NOTES:
Most of our events do not allow audio devices, but due to the nature of this course being on the road (not single track trails) AND because the course is closed to car traffic, headphones ARE allowed for this race.
This event is in no way associated with the 40th annual Napa Valley Marathon (the road race) on Sunday March 3 2019.
Course Maps & Elevation Profiles
Event Details
COURSE CUT-OFF TIME: 3.5 hours (this reflects a 16:00min/mile pace for the half marathoners).
AID STATIONS: There will be aid stations at miles 1.9, 3.8, 5.7, 7.3, 9.2 and 11.1. (All aid stations have port-a-potties except the first one).
INCENTIVES: T-Shirts for all participants. Medals for Half Marathon finishers. Personalized award ribbons to the top three finishers, male and female, in each age group for all distances. Personalized awards plaques to the top three overall finishers male & female in each distance and first place finishers in each age group for the Half Marathon. Ribbons and plaques are mailed out a few weeks after the race. Two pairs of Merrell shoes raffled off to two lucky runners at the race.
BIB NUMBERS: Bib numbers will be mailed out to participants who reside in CA beginning two weeks before the event. (If you fail to bring your bib with you to the event, there will be a $5 charge for a replacement bib.) For participants who live outside of CA, you will pick up your bib on race day morning. If you register within the last two weeks, most likely you will pick up your bib on race day morning. If you don't receive your bib number by race day, you will be issued one race day morning. If you did not supply a valid mailing address when you registered, or if your mailing address has changed, please e-mail us at info@envirosports.com.
PARKING: ALL parking will be in the field directly behind 1856 Lincoln Ave. which abuts the back side of Calistoga Beverage Company; providing direct access to the Start/Finish/Registration area.

TRAVEL & ACCOMMODATIONS: NapaValley.com is a great resource for finding hotels and special discounts in the local area.
CANCELLATIONS: Registrations are non-refundable and non-transferable. If you email us by September 20, you may receive a rollover credit (the amount you paid minus a $20 fee) to use toward any future Enviro-Sports race.
STROLLERS: Strollers are now allowed in this race. Please note that you still need to complete the course within the time limit so it might be best for the 10K and 5K, but if you run the Half, make sure you are able to finish in 3.5 hours.
Event Partners

Event Beneficiaries
Event schedule
October 20 8:30 AM PDT - Race Begins
Contact information
Event contact

Enviro-Sports

Email

Phone

+1 415-868-1829

Website