WINDSOR CORPORATE CHALLENGE 2019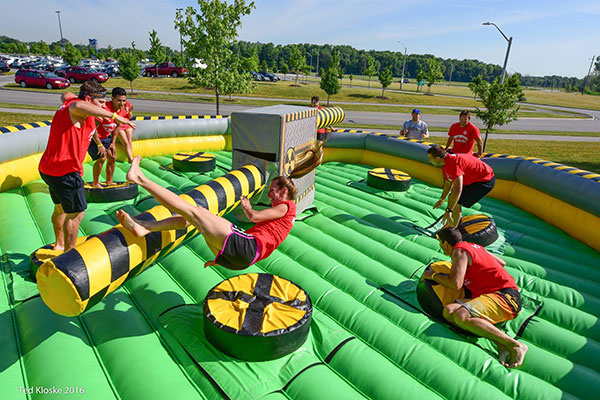 Windsor Corporate Challenge is a ONE day FUNraiser created to promote the importance of wellness, balance and team building among groups of people.
Windsor Corporate Challenge is open to corporate teams, so join with your co-workers. Since its inception, we are thrilled to announce that Windsor Corporate Challenge has raised over $905,000, and this year our fundraising efforts support the Fight Like Mason Foundation.
Registration fees
PARTICIPANT - Windsor Corporate Challenge
Closed
Once your team captain has registered your team, sign up as a participant for free (May require a password - ask your team captain).
---
Summer Fun Giveaway Raffle Tickets
Closed
---
Don't forget about the minimum amount that your team MUST fundraise!
Fundraising Reminder!

Each team is required to fundraise a minimum of $2,000.00 or more which will go directly to the Fight Like Mason Foundation. This minimum donation amount is set to ensure that the charity receives enough funds to meet their operational needs which include supporting Mason's Power Poles, Mason's Super Soldiers, Mason's Super Buddies and Defeating the Villian for Good!

Fundraise together, fundraise individually, fundraise as a company, fundraise for Fight Like Mason! The top individual fundraiser and top team fundraiser have the chance to win prizes and bragging rights for the year!

Please note that your entry/registration fee is used to offset the costs of running Corporate Challenge and is not part of the fundraising minimum.
*Please also note that if a team has to cancel for any reason, the Race Roster team processing fee is non-refundable.
Top teams
1

HDGH Stigma Smashers

View page
2

BMO Wealth Warriors

Raised:

$6,370.00

View page
3

Vita Villains

Raised:

$6,137.25

View page
Event schedule
June 15 8:00 a.m. EDT - Opening Ceremonies
June 15 8:15 a.m. EDT - Events Start
June 15 4:00 p.m. EDT - Closing Ceremonies
Contact information
Event contact

Ashley Sarros

Phone

+1 519-968-3636

Website