RISE Challenge Events is a series of themed obstacle races in a variety of locations.
RISE Tactical Challenge is designed to test the balance between tactical based functional fitness, shooting skills, and stress management in a real-life scenario. Be "Zombie-Apocalypse Ready!"
The Fitness portion is a 15 obstacle gauntlet! Expect a drag, carry, sandbag toss, crawling, going over walls, and much more more. Test your aim using a shotgun (bang bang)
Sign up as Individual OR 2-PERSON TEAM
For TEAMS: You are partners. You will go through the fitness + shooting challenge together. You can help each other throughout the course.

Note that both partners do NOT have to shoot *one partner can do the shooting portion twice.
*To keep the game fair-play, only the teams whose partners do both challenges are eligible for prizes)
REGISTRATION FEES

INDIVIDUAL: $55.00 until Oct 15th, then increases to $65.00
TEAM: $45.00 per person until Oct 15th, then increases to $55.00
*Military and active first responders: use code HERO20 for 20% off
If you are this person "I want to race competitively for top spots" Sign up in the competitive waves.
If you are this person "I want the experience and fun" Sign up for regular open waves.
OPTIONAL TRAINING SESSION:
Learn how to use a gun safely and effectively + fitness training session with our experts!
$20 Per Person OR bring a friend ans save. $35 for two persons.
Date TBD. Please contact tammy@risechallengeevents.com for info and to pre-register.
Registration is limited.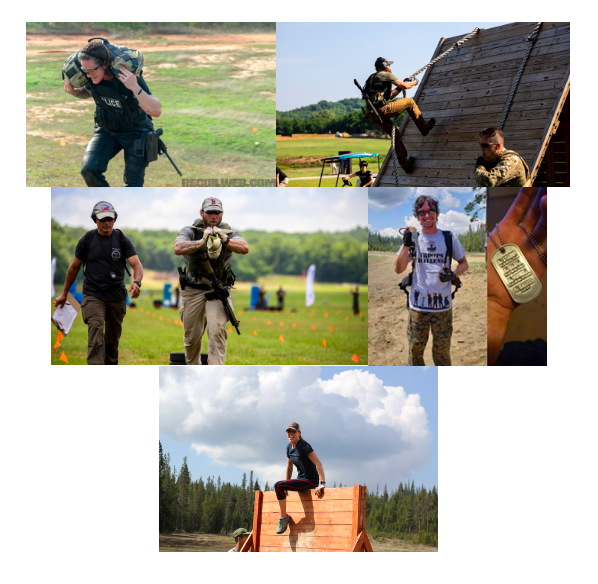 Registration fees
Individul Challenge
Closed
Online registration closed
Individual Challenge for both Tactical Fitness + Shooting Challenge

$55.00

Early Bird Pricing, Sign up before October 15th
---
Team Challenge
Closed
Online registration closed
Team of 2. Each can participate in the Fitness Challenge + Shooting Event OR One person can do the Shooting Event. You can split up the events anyway you like. We take the top score for each event out of 2 tries for each event

$45.00

Early Bird Pricing, Until October 15th
---
Contact information
Event contact

Tammy Kovaluk

Phone

458-218-1223

Website