ALL PARTICIPANTS AND VOLUNTEERS:
REGISTRATION IS NOW OPEN!!!
For EVENT information, contact Stephen Puckett at 
 steve@bluebellfunrun.com 
(979) 661-0543
For REGISTRATION/PACKET PICK-UP, contact Tracy Campbell at 
(979) 277-3756
For VOLUNTEER INFORMATION contact Jamie Maurer:
jmaurer@brenhamk-12.net 
(979) 451-9866
Started in 1978, this race benefits the Brenham High School Athletic program through an organization called Run for the Youth of Washington County. Brenham High School athletes serve as volunteers for the race to benefit numerous winning athletic programs, including baseball, track, cross country, golf, volleyball, football, basketball, softball, tennis, swimming and soccer.
The course starts and finishes at Brenham High School on FM 2935 off of Loop 577 on the north side of town in scenic and historic Washington County. The Trestle Trail guides runners down paved, winding roads taking you through Brenham and Washington County's beautiful countryside — rolling hills covered in bluebonnets.
It's fun for kids and adults, novice and expert alike with individual and team events in both the 5K and 10K as well as a Kids' 1-Mile Run. And for those that desire an even greater challenge, we have a Half Marathon route (course will be open for 3.5 hours).
 Even the friends and family who are on hand to support the runners get the Blue Bell Ice Cream!
Family/Group Discount: Families of 4 or more members will receive $5 off for each participant. Participants must be registered in one transaction to receive the discount.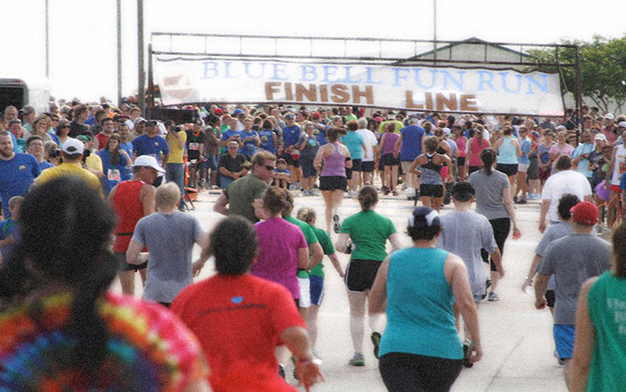 Team Racing
Whether it's for motivation or just plain fun, the Blue Bell Fun Run invites you to participate in the Team Competition available for the 5K/10K/Half-Marathon events. Valid team entries consist of a minimum of five (5) individuals scoring the top 5 times recorded.
Age/Awards Divisions
Event schedule
April 17 4:00 PM CDT - Packet Pickup
April 18 6:00 AM CDT - Packet Pickup/Race Day Registration
April 18 7:30 AM CDT - Half-Marathon Open/Team
April 18 8:00 AM CDT - Kids 1-Mile Run
April 18 8:30 AM CDT - 10K Open/Team
April 18 8:45 AM CDT - 5K Open/Team
April 18 9:00 AM CDT - 5K Walkers
April 18 9:45 AM CDT - Awards Ceremony: Kids Mile
April 18 10:00 AM CDT - Awards Ceremony: 5K/10K/Team/Half-Marathon
Contact information
Name

Stephen Puckett

Email

Phone

+1 979-661-0543

Website