The Frostbite Race Presented by Chick-Fil-A Starkville, which was started over 34 years ago, is a chilly annual event that draws runners from Starkville and surrounding areas. In cooperation with the Greater Starkville Development Partnership, this year's Frostbite will continue to be bigger and better than ever! Just like last year, this year's Frostbite will begin and end on Main Street and incorporate the Cotton District, Mississippi State University campus and Starkville's Historic District into the course. The traditional winter half-marathon will also include a 10K and 5K races to include more intermediate and novice runners and families. Chip timing, custom medals, and high quality swag will also help the Frostbite appeal to more runners and improve community involvement. In addition, a portion of this year's proceeds will help support a local charity.
Registration fees
5K
Closed
Online registration closed
Online registration closed
---
10K
Closed
Online registration closed
Online registration closed
---
HALF MARATHON
Closed
Online registration closed
Online registration closed
---
2019 Highlights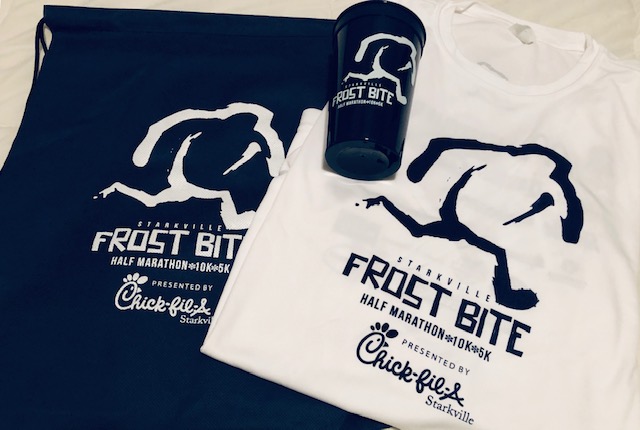 Course Maps

F.A.Q.
Due to the nature of ordering "swag", the number of items have to be estimated several weeks ahead of time for ordering and shipping purposes. We'll do our best to accomodate everyone and make it right if we run out of items, but please try to understand and be patient.
SOUPER BOWL ANNOUNCEMENT
Half Marathon participants will receive FREE entry into the Souper Bowl soup competition after they finish. They will only need to present their half marathon bib at the entrance of the soup competition which will be next to the finish line. You will also receive one free drink/beer ticket.
Friends, family, and 5k/10k participants can purchase tickets now (which we'd recommend) at the link below:
https://662tix.com/events/souper-bowl-1-25-2020
**Any questions related to the Souper Bowl should be directed to the Starkville Partnerhsip office.**
What's the address of the start/finish area?
-106 E Main St, Starkville 39759, will get you to where you need to be.
Will it be cold?
-Most likely, but based on how the weather has been recently down South, who knows. Prepare for anything and check the forecasts leading up to race day.
Will there be an early packet pickup location?
-Yes. It will be at Chick-Fil-A Starkville from 5:30-7:30pm on January 24.
You will be able to pick up your packets race day at the race site starting at 7:30am.
The half will start at 9am sharp with the 5k/10k starting about five minutes after that.
What do I bring to pick up my packet?
-Bring yourself and a photo ID so we know it's you.
Can I sign up the day of the race?
-Please make arrangements to sign up before the deadline.
Where are some recommended places to stay?
-The LaQuinta is this year's hotel sponsor so please mention THE FROSTBITE when you are making reservations for a special discount while rooms last. Please click on the LaQuinta logo on the registration website which will direct you to a hotel page that contains the special event pricing. This hotel is only about 1.5 miles from the start/finish area and easy to get to.
Where can I park?
-Since the race has been moved to Main Street Starkville, you should have no problem finding a parking spot in and around the area. You may have to walk a few blocks but not much more than that.
Will there be a post party?
-Absolutely. The Frostbite will be partnering this year with the Souper Bowl annual soup competition with many local restaurants represented. There will be live music and a stage, and the awards ceremony will begin for the race a few minutes after 12 noon. Half Marathon participants will receive one complimentary entry into the Souper Bowl event, but if any other participants, friends, or family are interested in purchasing tickets, a link will be provided here closer to race day.
Are strollers allowed?
-Yes, but this course does have some small hills so if you don't think you can control it, please don't try it.
Will there be a relay team sign up for the half?
-Since there's a 5k and 10k option, we won't be offering a relay team sign up for the half.
Will this race be chip timed?
-Yes, by Stearn's Race Timing.
What's the time limit for the half?
-The limit is 3 hours. After that time, the volunteers on the course will start to head home.
What kind of swag will there be?
-Long sleeve moisture wicking shirts, race souvenir cups, and custom swag bags will be given to all participants. Additional custom swag, free entry ticket into the all-you-can-eat Souper Bowl, and medals will also be given out.
Event schedule
January 25 9:00 AM CST - Event Start
January 25 12:00 PM CST - Post Party/Award Ceremony
Contact information
Event contact

Brad